02 December 2011
Seal of Approval: A Medieval Mystery
At a current estimate, the British Library's collections number 170 million books, manuscripts, newspapers, stamps and other related material. Our medieval curators are responsible for the Library's wax seals, most of which were once attached to old documents. These seals were transferred to the British Library at its incorporation in 1973; the British Museum still holds many of the matrices from which the seals were made.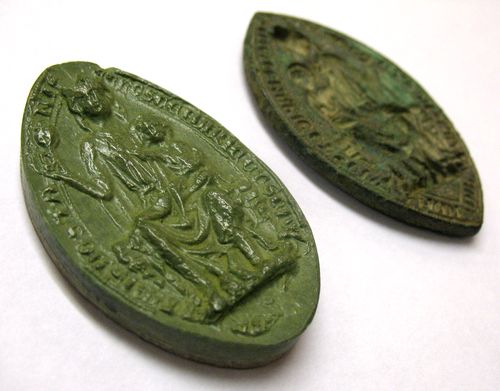 We recently heard about the discovery of a medieval seal matrix, found in a field in Surrey. The matrix is made of bronze, dates from the 13th century, and belonged to the Augustinian canons of Stone Priory in Staffordshire. The British Library holds a sulphur cast made in the 19th century from a Stone Priory seal (Detached Seal LXXII. 43); and we were very fortunate that the owner of the matrix brought it in to show us, so that we could place the two objects side-by-side. As you can see, they are a perfect match.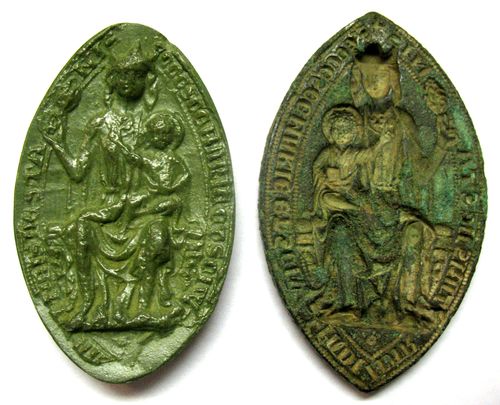 The matrix (on the right) is approximately 7 cm long and 5 cm wide, and weighs 84 grams. Like many ecclesiastical seal matrices, it depicts the Virgin and Child, with an inscription revealing that it belonged to the church of SS Mary and Wulfad of Stone.
It's still a mystery how a seal matrix from Staffordshire should have found its way into a Surrey field. Stone Priory was dissolved by King Henry VIII's commissioners in 1536, at the time when the smaller monasteries were suppressed. Did one of the last canons take the matrix with him, perhaps to Newark Priory in Surrey, which is near the find-site? The British Library and the matrix's owner would love to know if you have any suggestions.