20 January 2012
Henry VIII as King David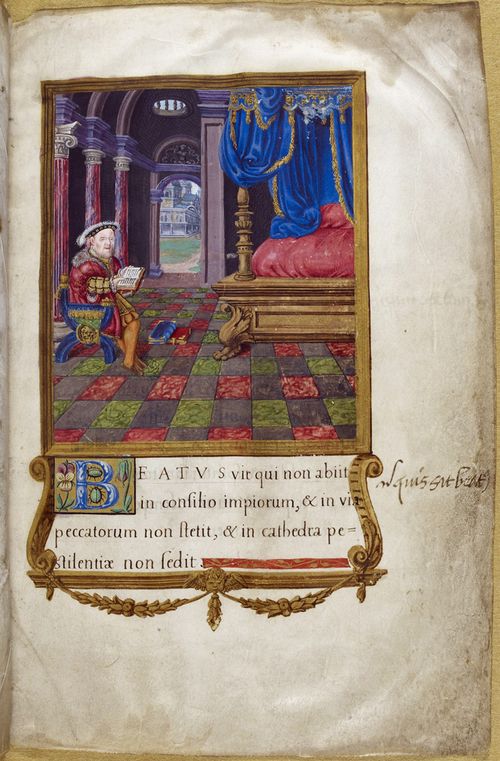 Miniature of Henry VIII in his bedchamber, from the Henry VIII Psalter, London, c. 1540, Royal 2 A. xvi, f. 3
The illustrations that Henry VIII commissioned in a Psalter (Royal 2 A. xvi) for his own use c. 1540 demonstrate that he saw himself as a king in the tradition of the biblical King David.  In the Psalter's opening portrait (above), Henry is shown seated in a chair in his bedchamber holding an open book and looking out at the viewer, who was, of course, originally Henry himself.  Henry was forty-nine when the manuscript was created, and in this image he looks his age.  It is not too fanciful to see the open book that the King holds as a representation of this very Psalter, the red binding of which survives, albeit in a rather worn state.  This portrait occurs at the beginning of Psalm 1, the location in a Psalter where an image of King David was traditional.
The King commissioned the Psalter from Jean Mallard, who signed his name in the dedicatory preface as the King's poet, and who wrote out the Psalms in a beautifully clear script of the type known as humanistic.  Mallard may have painted the portrait and the three others in the book that also feature Henry as David, one with Goliath (Psalm 26, f. 30), another with David's harp (Psalm 52, f. 63v; see below), and another in prayer (Psalm 68, f. 79). 
Detail of a miniature of Henry VIII as King David, holding a harp, with his court jester, William Somer (or Sommers), from the Henry VIII Psalter, London, c. 1540, Royal 2 A. xvi, f. 63v
By this period it would have been unusual to choose to create a manuscript Psalter in Latin, rather than the more popular Book of Hours.  Perhaps the opportunity for a direct alignment between Henry VIII and King David could account, in part, for the commissioning of such a personalised copy of the text. 
That Henry VIII used this manuscript is clear from extensive Latin annotations in his own hand, including the marginal note reproduced on f. 3 (top).  This note reads 'N[ota] quis sit beat[us]' ('Note who is blessed').  This is a reference to the text of Psalm 1 which reads, in part, 'Blessed is the man who hath not walked in the counsel of the ungodly... his will is in the law of the Lord, on on his law he shall meditate day and night.'  Henry wrote this during the height of the Protestant Reformation, and clearly included himself among the ranks of the most blessed.
The Psalter of Henry VIII is currently on display in the British Library's exhibition Royal Manuscripts: The Genius of Illumination, and is digitised in full in the Catalogue of Illuminated Manuscripts.  It is also available for download as part of the Library's eBook Treasures; with a special price of £7.99 (normally £9.99) through 20 January; so if you are interested, it may be best to hurry!
- Royal project team