23 January 2012
Libraries Gave Us Power
Don't forget that the third and final episode of Illuminations: The Private Lives of Medieval Kings is broadcast tonight on BBC Four (21.00-22.00). In this instalment Janina Ramirez examines the books of the Tudors, including court music composed for King Henry VIII (r. 1509-1547), and love notes between Henry and Anne Boleyn, his second fateful queen, written in the margins of a prayerbook.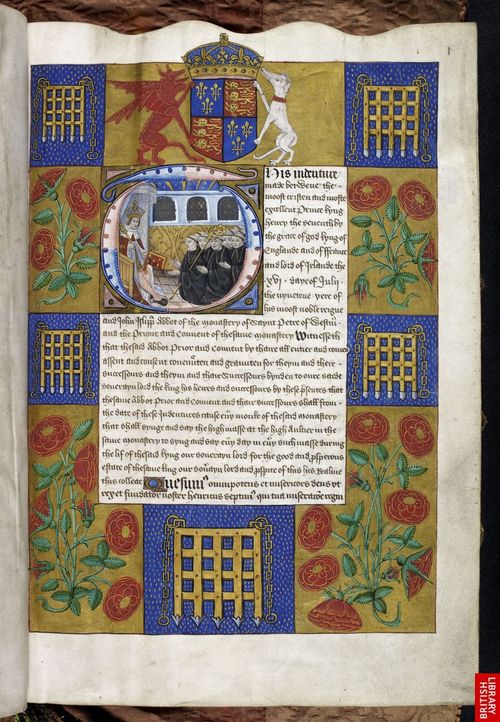 A copy of a transaction between King Henry VII of England (r. 1485-1509) and the monks of Westminster Abbey, issued in 1504: London, British Library, MS Harley 1498, f. 1r. See our earlier blog entry on this manuscript, which can also be viewed in the British Library's Catalogue of Illuminated Manuscripts.
Illuminations features many of the beautiful manuscripts on display in the British Library's current major exhibition, Royal Manuscripts: The Genius of Illumination. Try to catch the exhibition before it closes on 11 March 2012. Alternatively, all the items on display can be seen in our Facebook albums. You do not require a Facebook account to view them.
The first two episodes of Illuminations -- Ruling by the Book and What a King Should Know -- are still available to watch on the BBC iPlayer.