Musical Illuminations: Medieval Music with The Sixteen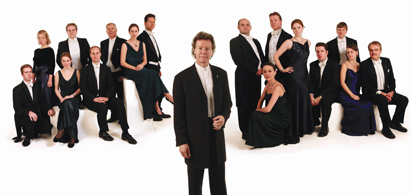 We are very pleased to tell all our readers about an upcoming special concert by the noted choral ensemble The Sixteen, who will perform at the British Library on 10 February. The Sixteen, led by their conductor and founder Harry Christophers, have been recording and performing worldwide for more than thirty-two years, and they are particularly noted for their interpretations of early English polyphony and other masterpieces of the medieval and Renaissance periods. 
The event on 10 February will include the opportunity for an after-hours visit to our exhibition Royal Manuscripts: The Genius of Illumination, which has inspired The Sixteen's new CD, 'The Genius of Illumination.'  Following this, the ensemble will present a programme of late medieval music entitled 'Musical Illuminations', which will include pieces by William Cornysh, Robert Davy, and even King Henry VIII himself.  A download of the full programme, including texts and translations, is available here.
This concert has unfortunately already sold out, but those who are unable to come to the performance can buy the CD in the British Library shop or online here.
Those who are fortunate enough to have tickets should be aware that the concert will be held in the Entrance Hall of the British Library (rather than the Conference Centre, where events are usually  hosted).  This will be an unseated performance; doors will open at 19.30 and time will be allowed to visit the Royal exhibition.  The Sixteen will perform from 20.30 until 21.20. 
On a related note, there are only about 6 weeks remaining to see the exhibition Royal Manuscripts: The Genius of Illumination, which will close on 11 March.  Last weekend saw record numbers of visitors, and we expect it to be even busier in the final days, so please plan your visit accordingly!
You can also now follow us on Twitter:  @blmedieval