Beautiful Bindings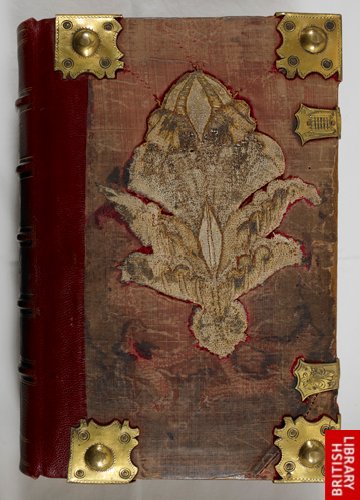 The upper cover of the Queen Mary Psalter (London?, c. 1310-1320: London, British Library, MS Royal 2 A XXII), rebound for Queen Mary of England (1553-1558).
Many medieval and early modern manuscripts lack their original bindings. It's a sad fact that one of the first things new owners sometimes do is to have their books rebound, in the process often destroying crucial historical evidence.
However, a few items in our exhibition Royal Manuscripts: The Genius of Illumination (11 November 2011-13 March 2012) retain their historical bindings, and here are two examples. The magnificent Queen Mary Psalter was presented to that queen in October 1553, having been rescued by Baldwin Smith, a quick-thinking customs official. Its two covers both display Mary Tudor's pomegranate motif, which she had inherited from her mother and Henry VIII's first queen, Catherine of Aragon (d. 1536). The clasps are engraved with the Tudor emblems of a portcullis, fleur-de-lis, and a lion and dragon, making it clear to all and sundry that this book was the queen's personal possession.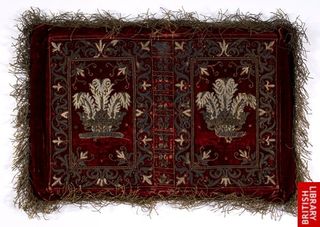 Chemise binding of the works of Pandolfo Collenuccio and Lucian (Rome and Florence, c. 1509-1517: London, British Library, MS Royal 12 C VIII), made for Prince Henry of England (d. 1612).
The second manuscript depicted here once belonged to King Henry VIII of England (1509-1547), having been made in Italy at the commission of Geoffrey Chamber. But its chemise binding of crimson velvet adorned with seed pearls and silver thread has the badge and motto of a later owner, Prince Henry, son of James I of England and VI of Scotland. Henry was a noted book-collector, and was presented with this volume by Nicholas Bond, President of Magdalen College, Oxford, on the occasion of his matriculation on 29 August 1605. Perhaps Bond wished to return the manuscript to a royal reader.
One moral of this story -- you can't always tell a book's origin from its cover.
You can read more about both volumes in the Royal exhibition catalogue.