30 March 2012
What's Unique About the British Library?
Sitting on the train to work this morning, I started to ponder what makes the British Library unique. What do we have in our collections that can't be found elsewhere? Here's what I came up with (forgive the rotten poem, it is a Friday after all).
Two original Magna Cartas, issued in 1215,
Lady Jane Grey's Prayerbook, England's nine-day queen,
Five Anglo-Saxon Chronicles, bloody tales of yore,
Shakespeare's only playscript, The Book of Thomas More,
Two fourth-century Bibles, inscribed in ancient Greek,
Lots of tiny charters, written in script oblique,
Leonardo's Notebook, written upside down,*
The very first depiction of good old London town.
*[okay, back-to-front doesn't rhyme] 
And here, for good measure, is an image of King Henry VIII, just possibly singing Greensleeves to his court jester (who may be thinking to himself, "It goes from bad to verse").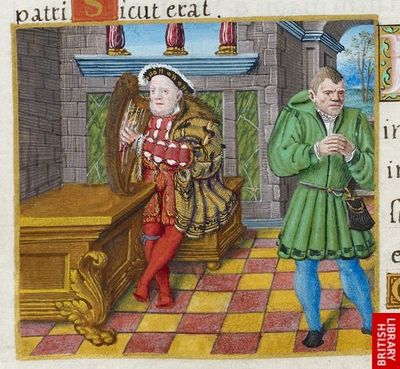 Detail of a miniature of Henry VIII as David and his court jester, William Somer, at the beginning of Psalm 52 (London, British Library, MS Royal 2 A. XVI, f. 63v).
Julian Harrison, Curator of Pre-1600 Historical Manuscripts