29 May 2012
Magna Carta's 800th Anniversary
The year 2015 marks the 800th anniversary since Magna Carta was issued by King John of England (1199-1216). As you may already be aware, the British Library holds two of the four surviving original Magna Cartas, produced in June 1215 (the others are at Salisbury Cathedral and Lincoln Cathedral), together with other important documents relating to Magna Carta, including the Articles of the Barons and the papal bull of Innocent III by which the charter was annulled.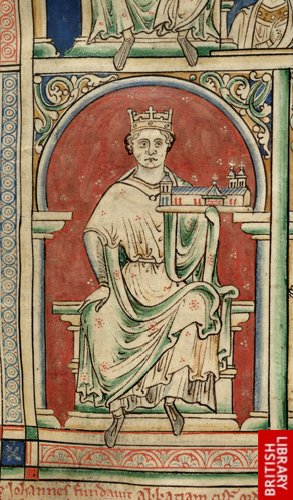 King John, in Matthew Paris, Historia Anglorum, St Albans, 1250-1259 (London, British Library, MS Royal 14 C VII, f. 9r).
We are delighted to announce that the British Library is partnering with the University of East Anglia in a new, three-year, AHRC-funded research project on Magna Carta. Nicholas Vincent, Professor of Medieval History at UEA, is the Principal Investigator for the project, and Dr Claire Breay, Lead Curator of Medieval and Earlier Manuscripts at the British Library, is one of the co-investigators, as are Professor David Carpenter of King's College London, Dr Paul Brand of the University of Oxford, Dr Louise Wilkinson of Canterbury Christ Church University, and Professor Andy Day of UEA.
The project aims to expand public and scholarly understanding of the making and meaning of Magna Carta. The outputs of the project will be disseminated on the web, at a conference in June 2015, and through the British Library's major Magna Carta exhibition in 2015.
For more information about Magna Carta, please see our earlier post, Magna Carta in 500 words. You can also go to our dedicated Magna Carta webpages to view one of the original manuscripts, watch our virtual curator answer frequently asked questions, and read a translation of the document into English.