31 May 2012
Royal Workshop: A Call for Your Feedback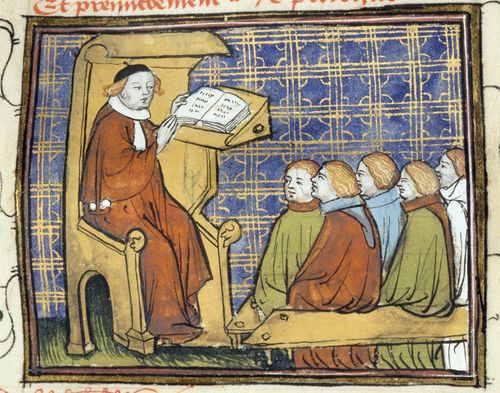 Detail of a miniature of a lecture, from Bartholomaeus Anglicus (translated by Jean Corbechon), De proprietatibus rerum (Livre des proprietez des choses), France (Paris?), 1st quarter of the 15th century, Royal 17 E. iii, f. 93v
As regular readers of this blog will have seen, the British Library is running a workshop to be held at the University of Durham on 6 June 2012 (that's just one week away!). You are warmly invited to attend this workshop, which is free and open to the public. It will begin at 2pm and will take place in The Williams Library, St Chad's College (click here for a map).
In addition to your attendance, we would welcome your feedback and responses to some of the questions posed below. Selected responses written into the comments section of this blog or emailed to royal-manuscripts-digitization@bl.uk will be read aloud at the workshop, and, of course, fully attributed if you choose to provide your name.
This workshop is structured so that guided presentations will blend with open discussion, allowing for a productive and mutually beneficial event for us here at the British Library and you, as researchers and users of our resources.
The workshop will be divided into two parts.
Part I:  Research using digital resources
A presentation by Dr Joanna Fronska, which gives insights into the 'behind the scenes process of digitisation', the Catalogue of Illuminated Manuscripts, and the British Library's new Digitised Manuscripts website.
After Dr Fronska's presentation, discussion will be opened up to workshop participants, centring on the questions below. We would also welcome your responses to the following questions:
How do you use digital resources in your research?
What do you like / dislike about existing digital resources?
Which websites are most useful?
What are the respective merits of our Digital Catalogue of Illuminated Manuscripts versus our new Digitised Manuscripts website?
What developments, such as annotation tools or inter-library searchability, would be most useful for your research?
After a coffee and tea break, the workshop will resume with part two.
Part II: Short Panel presentations on manuscripts in the Royal collection
A number of speakers will present brief papers that address following questions:  
'How were the illuminated manuscripts in the royal library used and received by their owners?'  
What are the characteristics of illustrated manuscripts collected by English monarchs?
How did monastic manuscripts enter the royal collection, or what was their function within the library?
How representative is what survives of the royal library, and why is there a relative lack of liturgical or private devotional books in Royal?
All workshop participants will be invited to contribute to the conversation, while it is taking place among the panellists (in other words, we will not be holding questions till the end but creating an open discussion based around a prepared structure).
A summary of the discussions will be published on the Medieval and Earlier Manuscripts blog, with a possibility of papers being offered to the Electronic British Library Journal. 
We look forward to seeing you at the University of Durham!
Detail of an historiated initial 'C'(olor) of an artist mixing colours, from James le Palmer's Omne Bonum, England (London), c. 1360- c. 1375, Royal 6 E. vi, f. 329