14 May 2012
Thomas Hobbes on Optics Online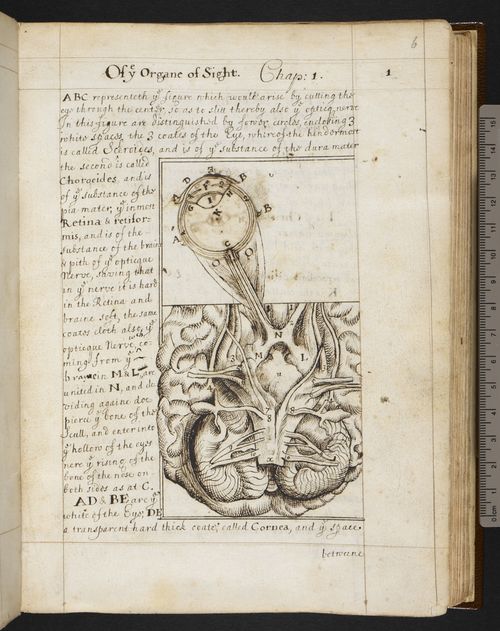 A drawing of the connection of the eye and the brain, part of Thomas Hobbes's treatise on optics: London, British Library, MS 3360, f. 6r.
The manuscript of Thomas Hobbes's tract, A Minute or first Draught of the Optiques, is now available online on the British Library's Digitised Manuscripts site. Harley MS 3360 was made in Paris in 1646, as a presentation copy for William Cavendish, marquis of Newcastle (d. 1676), to whom the work is dedicated. This manuscript contains the title-page (f. 1r), dedication to Cavendish (ff. 2r-4r), list of contents (f. 5r-v), and the treatise itself in two parts (ff. 6r-71r, 72v-193r). It entered the Harley library on 7 August 1724, which collection was sold to the nation in 1753 for £10,000 under the Act of Parliament that also established the British Museum.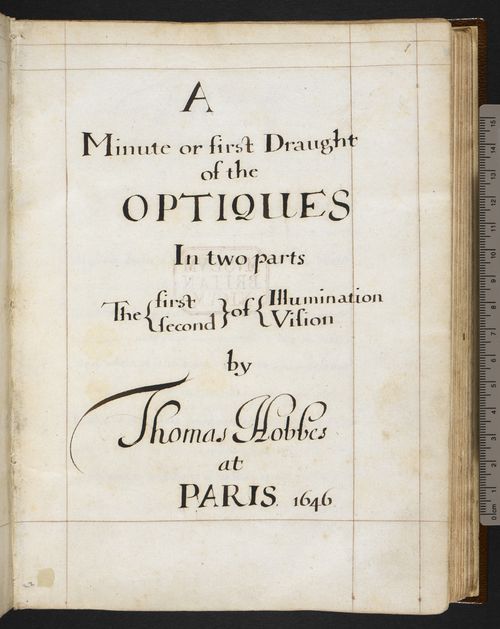 The title-page of Hobbes's tract: London, British Library, MS Harley 3360, f. 1r.
Thomas Hobbes (1588-1679) was a philosopher, perhaps best-known for his major treatise on psychology, politics and religion, Leviathan, published in 1651. Hobbes was himself resident in Paris throughout the period 1640-1651, when both the tract on optics and Leviathan were composed. He had been a keen student of optics since at least the 1630s, having been sent in 1637 a copy of René Descartes's Discours de la méthode, which also contained an essay on refraction. Having the entire manuscript of A Minute or first Draught of the Optiques online means that the whole work can be widely consulted for the first time, in the process enlightening Thomas Hobbes' contribution to this discipline.
The digitisation and cataloguing of this manuscript was made possible through the generosity of William and Judith Bollinger, as part of the British Library's Harley Science Project.