03 May 2012
Visiting the British Library
It's nearing that time of year when medievalists leave their dusty garrets and, armed only with a laptop and a London AtoZ, make their annual summer pilgrimage to the British Library. Should you be considering coming, here are some handy tips to make the most of your trip to London.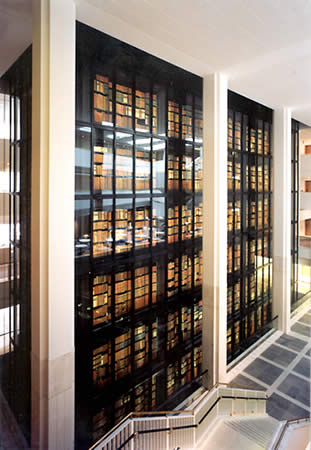 1.  If you do not already have a reader's pass, please follow this link on reader registration. In particular, please note that we require new readers and those renewing or replacing a reader's pass to bring two original identification documents, one showing proof of your home address and one showing your signature. The appropriate forms of identification are listed here.
2.  It's always worthwhile to check in advance if the items you wish to consult will be available. At any given time, some of our manuscripts may be on display in our Sir John Ritblat Gallery: Treasures of the British Library, and others will be in the temporary exhibition Writing Britain: Wastelands to Wonderlands (11 May-25 September 2012). Many of our manuscripts are also restricted on account of their age, fragility or illumination, and we may require a written recommendation before permission is granted to examine them. We recommend that you contact mss@bl.uk in order to verify the status of your manuscripts. You may also find it helpful to consult our online catalogue.
3.  Please note that the British Library will be closed for public holidays on 7 May, 4 June, 5 June and 27 August 2012. See this link for our seasonal closures.
4.  In summer 2012 the Olympic and Paralympic Games are coming to London. The British Library is situated close to St Pancras station, from where many spectators will depart for the Olympic Park. To avoid travel congestion for its readers and staff, the British Library building will therefore open at 10.00 each day from 26 July until 12 August (and at 11.00 on Sundays). Please see this link on visiting the British Library during the Olympic Games. You can read some stories associated with the Olympics here.
5.  It's worth repeating the message that we actively discourage the wearing of gloves when handling our manuscripts. The recent coverage of our acquisition of the St Cuthbert Gospel generated much feedback on the thorny issue of when it is appropriate to wear gloves, and we're keen to continue spreading the message whenever possible!

We recommend that you use gloves only when challenging an opponent, holding a hawk in your hand, or doing the washing-up: detail of a miniature of the Earl Marshall challenging the Earl of Derby by flinging down his glove before him, Bruges, c. 1470-1472 (London, British Library, MS Harley 4380, f. 141r).