01 June 2012
A Calendar Page for June 2012
For more details on calendar pages or the Hours of Joanna of Castile, please see the entry for January 2012.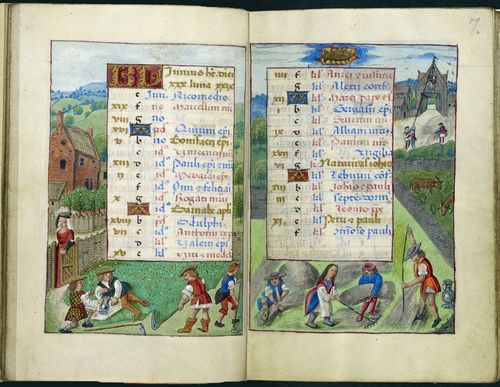 Calendar pages for June, Hours of Joanna of Castile, Bruges, between 1496 and 1506, Additional 18852, ff. 6v-7
Most calendars depict June as a month of true labour, a time to leave behind the pleasures of early spring.  This is largely the case for this calendar, but not entirely, as we can see on the left-hand folio above.  Two men are at work mowing in a walled meadow, but a couple of their fellows have put down their tools to relax on the grass and have a drink.  A well-dressed lady seems to be entering the meadow to join them (presumably in the drinking rather than the mowing).  At the top of the facing folio is a strange-looking crab for Cancer, while at the bottom is a scene of men and a woman mowing hay and gathering it into bundles.  At the upper right another group is at work winching these bundles into a barn.