01 July 2012
A Calendar Page for July 2012
For more details on calendar pages or the Hours of Joanna of Castile, please see the entry for January 2012.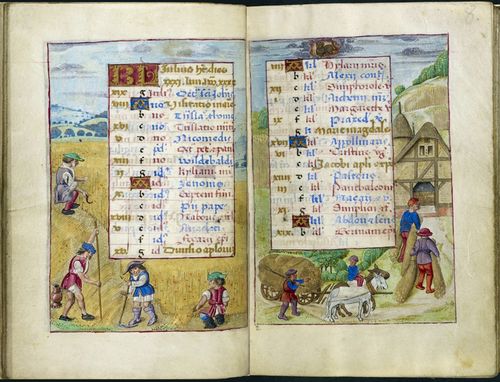 Calendar pages for July, from the Hours of Joanna of Castile, Netherlands (Bruges), between 1496 and 1506, Additional 18852, ff. 7v-8
The strenuous work of summer continues in these two miniatures from the calendar for July, which focuses on the yearly harvest of wheat.  On the left folio four men are at work in a field, in what must be very warm weather; the men have all rolled up their sleeves, and two seem to have divested themselves of their trousers as well.  On the right, beneath a small and rather scowly lion (for the zodiac sign Leo) another group of men are bringing their harvest to a timbered barn.