30 July 2012
Once More Beneath the Surface - Call for Papers for Kalamazoo 2013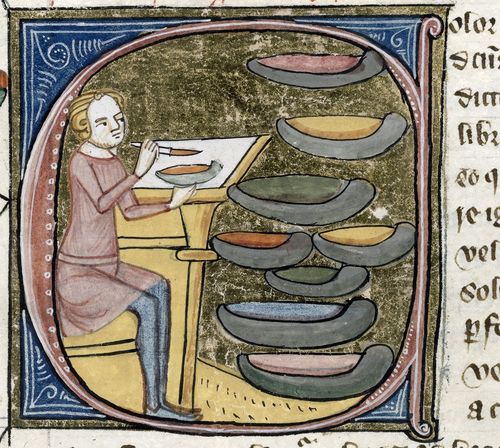 Detail of an historiated initial 'C'(olor), of an artist mixing colours, from James le Palmer's Omne Bonum, England (London), c. 1360 - c. 1375, Royal 6 E. vi, f. 396
It has been very interesting - and extremely gratifying - to hear about the new discoveries and exciting research recently undertaken on items from the British Library's collection of medieval and earlier manuscripts (see here, for example, for Adam Cohen's guest post on Arundel 155, and here for my own work on Parc Abbey Bible, Additional 14788 - 14790).
In this light, we'd like to encourage any researchers interested in manuscript production to have a look at the call for papers for the 2013 Kalamazoo International Congress on Medieval Studies recently announced by the Research Group on Manuscript Evidence.  The always-excellent RGME is sponsoring and co-sponsoring a total of seven sessions, with three focusing specifically on material culture, methods of production, and technological investigations of illuminated manuscripts.
Within this group will be sessions on medieval writing materials, current issues in Middle English palaeography, and one on the making of medieval manuscripts.  This latter session, which I will be organising, looks to highlight new and ongoing technological research on medieval manuscripts, particularly focusing on new discoveries or interpretations of pigment use.  We are interested in studies from all stages of the research process, including works in progress or experimental techniques; please email me at sejbiggs [at] gmail [dot] com for more details, or see the Call for Papers here.
The RGME will also be offering a session on medieval manuscript collections in North America, in conjunction with King Alfred's Notebook LLC.  Three more, organised with the Societas Magica, have the following focuses: Astrology and Magic; Magic, Material Culture, and Technology; and Water as Symbol, Sign, and Trial: Aquatic Semantics in the Middle Ages.
Please have a look at the CFP, and get in touch with the RGME or myself with any questions.  And also let us know if you are interested in publicising your work on any British Library manuscripts here on the blog; we have a number of guest posts lined up for the future and are always happy to showcase new research.
- Sarah J Biggs