19 July 2012
The Talbot Shrewsbury Book Goes Online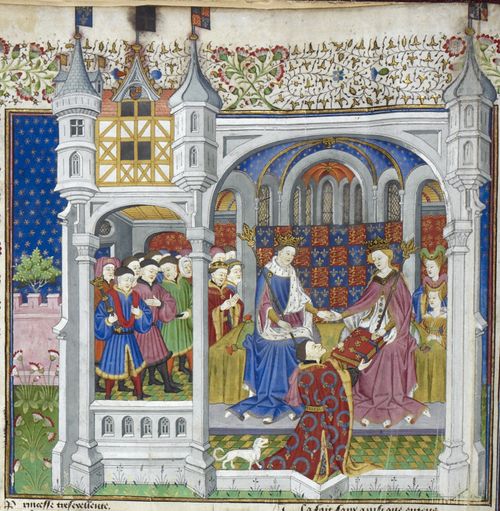 Detail of a miniature of John Talbot presenting the book to Queen Margaret of Anjou, seated in a palace beside King Henry VI of England, and surrounded by their court, from Poems and Romances (the 'Talbot Shrewsbury book'), France (Rouen), c. 1445, Royal 15 E. vi, f. 2v


The Talbot Shrewsbury Book (Royal MS 15 E. vi) is, as Dr Scot McKendrick put it, 'one of the most remarkable manuscripts to have been preserved in the Old Royal library'.  It is certainly the subject of many reader queries and curatorial enquiries, and judging by our recent correspondence, its upload to the Digitised Manuscripts website has been eagerly anticipated.
The manuscript is a unique collection of fifteen texts in French, incorporating chansons de geste, chivalric romances, and treatises on warfare and chivalry, concluding with the Statutes of the Order of the Garter (and we hope to have a longer post at a later point with much more detail about this extraordinary textual compilation).
The Talbot Shrewsbury Book is arguably best known for the two images that serve as a frontispiece to the volume.  On f. 2v (see above for a detail) is a scene of the manuscript being presented to Margaret of Anjou (b. 1430 - d. 1482) by John Talbot, 1st Earl of Shrewsbury (d. 1453).  The manuscript was a gift from Talbot to Margaret, in honour of her betrothal to Henry VI (r. 1422 - 1461).  In the miniature Margaret is shown enthroned with Henry, and crowned as the Queen of England, but it is likely that Talbot presented her with the manuscript prior to her journey to England to marry the king.  The complex diagram on the facing folio (f. 3r, below) lays out Henry VI's genealogical claim to the throne of France through his descent from St Louis IX (r. 1226 - 1270); Henry can be seen in the lower central roundel.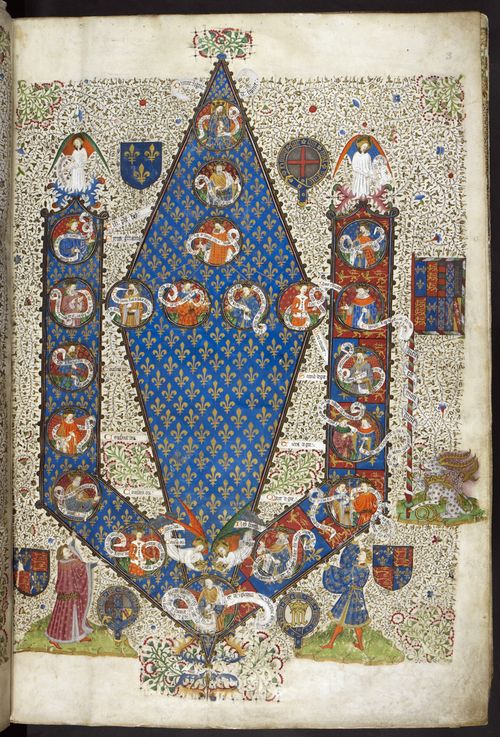 Miniature of the genealogical table of the descendants of St Louis IX in the form of a fleur-de-lys, from Poems and Romances (the 'Talbot Shrewsbury book'), France (Rouen), c. 1445, Royal 15 E. vi, f. 3r
Although the texts are varied, they were evidently carefully selected by the manuscript's patron, and the programme of illumination throughout was led by a single artist, who has come to be called the Talbot Master in honour of this volume. We hope you enjoy just a few of the many gorgeous miniatures below, and please be sure to check out the complete manuscript online here.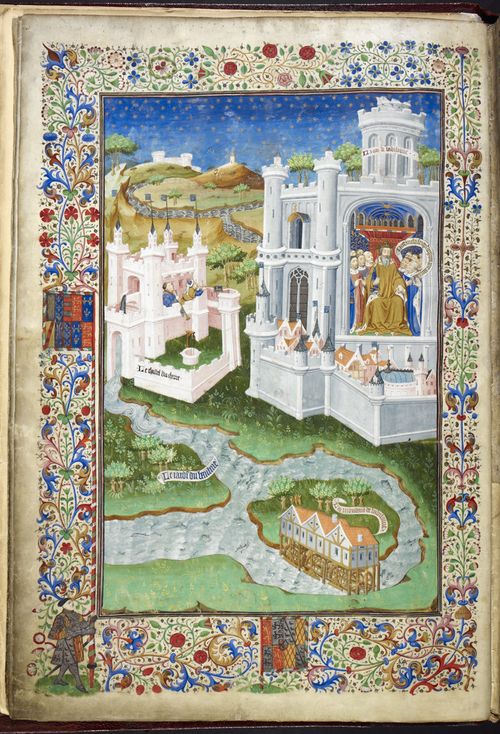 Miniature of the city of Babylon with Nectanebus enthroned in his palace, from Poems and Romances (the 'Talbot Shrewsbury book'), France (Rouen), c. 1445, Royal 15 E. vi, f. 4v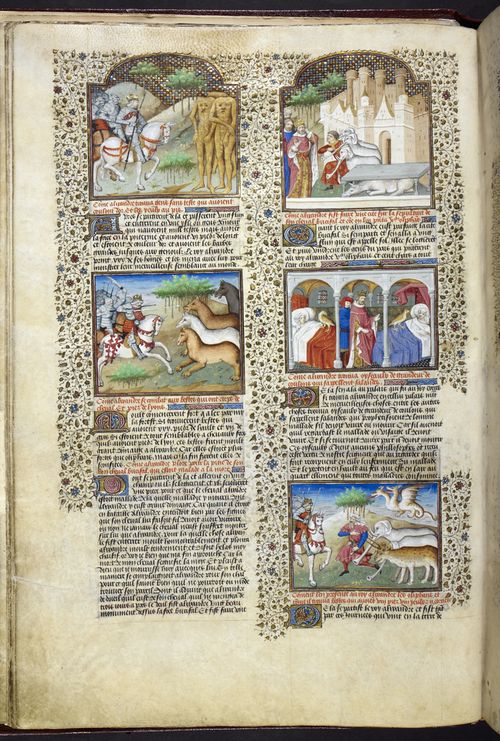 Miniatures of the following: first column: Alexander the Great encountering blemmyae; Alexander encountering horse-like creatures; second column: Alexander and the burial of Bucephalus; Alexander with ill people and caladrius birds; Alexander encountering a two-headed serpent, elephants, and other beasts, from Poems and Romances (the 'Talbot Shrewsbury book'), France (Rouen), c. 1445, Royal 15 E. vi, f. 21v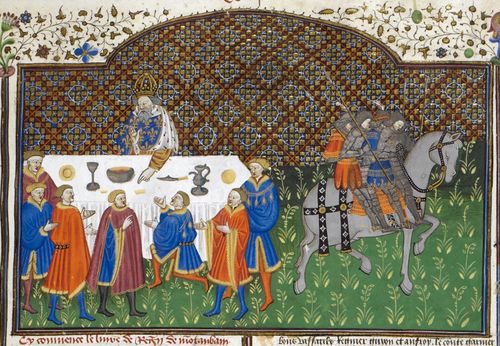 Detail of a miniature of Charlemagne at table, and Aymon's sons on the magical horse, Bayard, from Poems and Romances (the 'Talbot Shrewsbury book'), France (Rouen), c. 1445, Royal 15 E. vi, f. 155r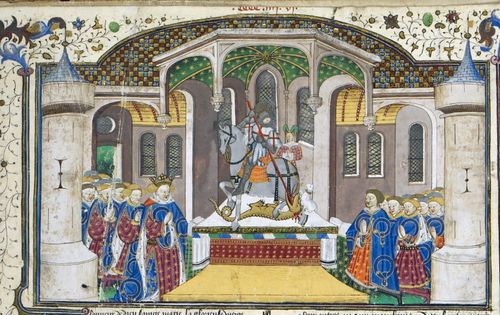 Detail of a miniature of the Chapter of the Garter, with a king and knights gathered around an altar surmounted by George and the Dragon, from Poems and Romances (the 'Talbot Shrewsbury book'), France (Rouen), c. 1445, Royal 15 E. vi, f. 439r


- Sarah J Biggs