15 August 2012
Royal Banner Used at the Purbeck Art Weeks Festival
The large banner from the British Library's Royal Manuscripts: The Genius of Illumination exhibition has had a dramatic reuse as part of the Purbeck Art Weeks Festival 2012, held from 26 May to 10 June.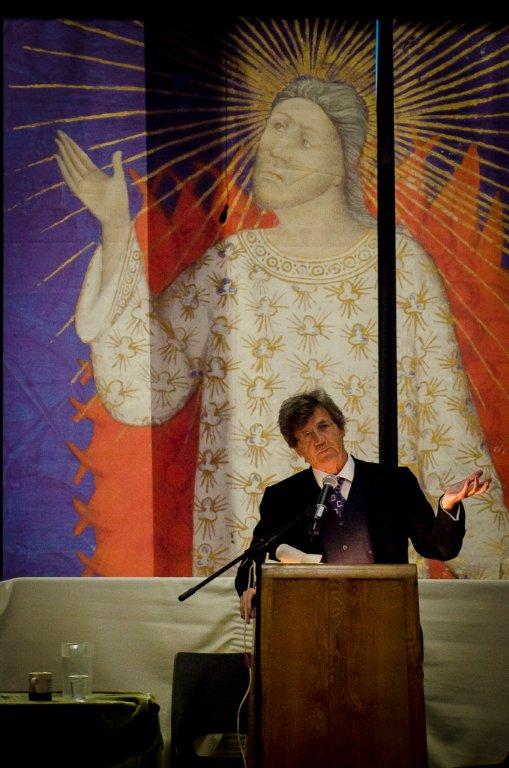 Photo by Mike Gale, courtesy of PURBECK! Journal
The second Dick Odgers Memorial Lecture on 8 June was delivered at the Purbeck School, Wareham, by the author and presenter, Melvyn Bragg. Bragg's lecture discussed the impact of the King James Bible: The Book of Books: the radical impact of the King James Bible 1611-2011. 
The stunning image of God the Creator from a French Bible historiale was therefore an appropriate backdrop for the event. One of the PAWs trustees commented that 'Melvyn was of course great and his talk was thoroughly enjoyed by the many people who packed into the Purbeck School hall to hear and see him.'
And that's not all—the banner may go on tour again as part of an exciting new exhibition to be curated by Turner Prize winning artist, Mark Leckey: 
15 February – 14 April 2013, The Bluecoat, Liverpool
27 April – 30 June 2013, Nottingham Contemporary
12 July – 20 October 2013, De La Warr Pavilion, Bexhill-on-Sea