01 August 2012
The Pleasure of Discovery: Call for Papers for Leeds IMC 2013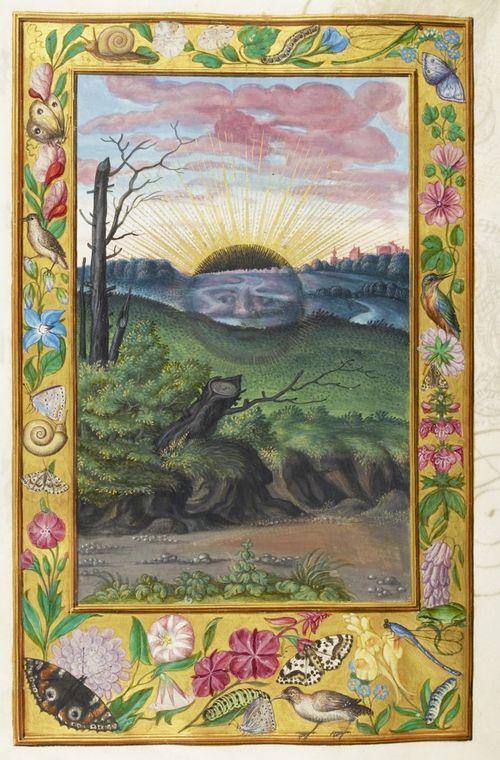 Miniature of a black sun (sol niger) setting on the outskirts of a city, from Salomon Trismosin's Splendor Solis, Germany, 1582, Harley 3469, f. 30v
It's Call-for-Papers week here at the British Library's Medieval and Earlier Manuscripts department! We are pleased to announce that we will be inviting contributions for several sponsored sessions at the International Medieval Congress in Leeds 2013.  The Congress will take place from 1-4 July 2013, and will focus on the theme of 'Pleasure' (for more information on the 2013 Congress, please click here).  
In keeping with this 'Pleasure' theme, we would like to invite papers in the following two categories:
1. Books of Pleasure / The Pleasure of Books:
The book was a source of pleasure throughout the Middle Ages, from Augustine's 'book of the heart' to Richard de Bury's Philobiblon. The very nature of pleasure—what it entailed and whence it derived—was not uniform, and artists, authors and readers all expressed their pleasure in a variety of forms. This session seeks papers that address the pleasure given (and taken) from books. Topics to be addressed might include (but are not limited to) any of the following:
-          visual or narrative depictions of leisure and pleasure / the iconography of pleasure
-          the complexities and contradictions of writing about or illustrating pleasure
-          explorations of the pleasure of books: creating, illuminating, owning, or reading
2. The Pleasure of Discovery: Recent Research and New Perspectives on British Library Manuscripts:
The Manuscripts Reading Room in the British Library is often privileged to witness new discoveries and the birth of fresh perspectives on objects in our collections. The pleasure in the moment of discovery and the urge to shout 'Eureka!' is, however, often muted out of respect for fellow researchers and the necessity of keeping quiet in a place of work. In the spirit of this conference theme, we invite papers that give full expression to the pleasures of discovery.
We are particularly interested in any recent research, new assessments, or (as yet) unpublished discoveries within the medieval manuscripts in the British Library's collections and encourage participants to re-live their initial jubilation in the moment of discovery.
Papers accepted for inclusion in the British Library's sponsored sessions may be submitted for peer-review for special publication in the Electronic British Library Journal (the eBLJ).  The British Library will also make available any extant manuscript photography for participants for use in their presentations.
Please email your abstract of about 100 words (per 20 minute paper) to Sarah J Biggs (sarah-j.biggs [at] bl [dot] uk) no later than 17 September 2012.  Please feel free to contact us with any questions.
Bursaries are available from the IMC to help defray the cost of accommodation and registration; please click here for the online form.