01 October 2012
A Calendar Page for October 2012
For more details on calendar pages of the Hours of Joanna of Castile, please see the entry for January 2012.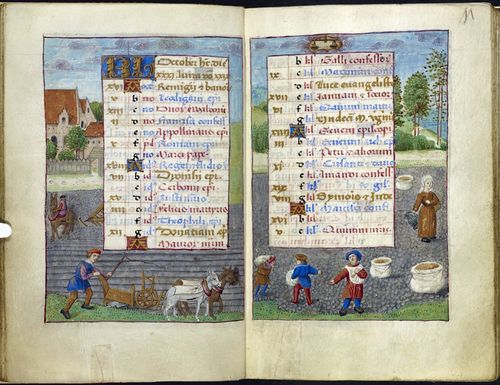 Calendar pages for October, from the Hours of Joanna of Castile, Netherlands (Bruges), between 1496 and 1506, Additional 18852, ff. 10v-11


The year's final cycle of plowing and sowing is underway in these two connected scenes from the October calendar pages.  On the left, two men work with a horse and an oxen team to plow a field, beneath a threatening sky.  On the right, a group of people are at work scattering seeds into the field, while a woman holds a beautiful metal jug (filled, one hopes, with the fruits of last year's wine-making).  In the roundel above can be seen a set of scales, a symbol for the zodiac sign Libra; this symbol was probably painted in error, as it is usually shown in September.