01 November 2012
A Calendar Page for November 2012
For more details on calendar pages of the Hours of Joanna of Castile, please see the entry for January 2012.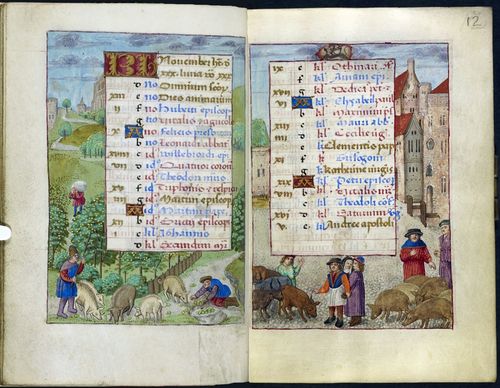 Calendar pages for November, from the Hours of Joanna of Castile, Netherlands (Bruges), between 1496 and 1506, Additional 18852, ff. 11v-12


A common scene for November calendars is the fattening of pigs for the winter.  The page on the left shows a typical example, with a peasant knocking acorns down from trees to feed a group of hungry animals, while a man on the right seems to be trying to coax a less-eager pig to eat.  On the right is a market square, bordered by tall buildings (including perhaps a church) and watched over by a centaur-archer, the traditional depiction for Sagittarius.  In the square a group of men (and a single nun, strangely enough) are engaged in the sale of cattle and pigs.