12 November 2012
Found in a Bricked-Up Chamber: The Reading Abbey Library Catalogue
In 2011, this blog featured a library catalogue from Rochester Cathedral Priory (London, British Library, MS. Royal 5 B XII), which attracted comments from several of our readers. A number of catalogues and book lists survive from the Middle Ages, being a remarkable source of information about the intellectual life of their owners. One of the most interesting examples is a 12th-century library catalogue from Reading Abbey (London, British Library MS Egerton 3031), one of the wealthiest Benedictine monasteries in medieval England, founded by King Henry I in 1121. The ruined walls of the chapter house and major buildings can be seen in the centre of Reading, and many artefacts are on display at Reading Museum and Art Gallery.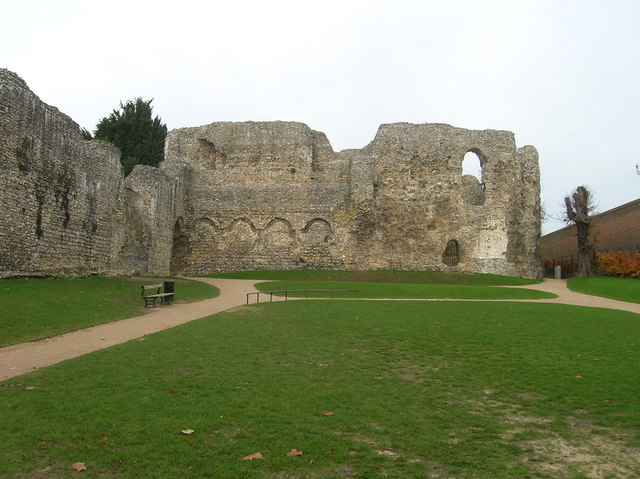 If we wish to learn more about the monks' daily lives, the library catalogue is a great place to look. It is part of a cartulary from Reading Abbey, purchased by the British Museum in 1921 using funds bequeathed by Francis Henry Egerton, 8th Earl of Bridgewater (d. 1829). The book has a remarkable history. It was discovered in 1790 in a bricked-up chamber by a workman who was demolishing part of a wall at Shinfield House, near Reading, home to Lord Fingall (whose family sold the manuscript to the British Museum). How the cartulary came to be there remains a mystery -- was the hiding place at Shinfield used by a Reading monk when Henry VIII's followers ransacked the monastery, or was it buried in the chamber at another time?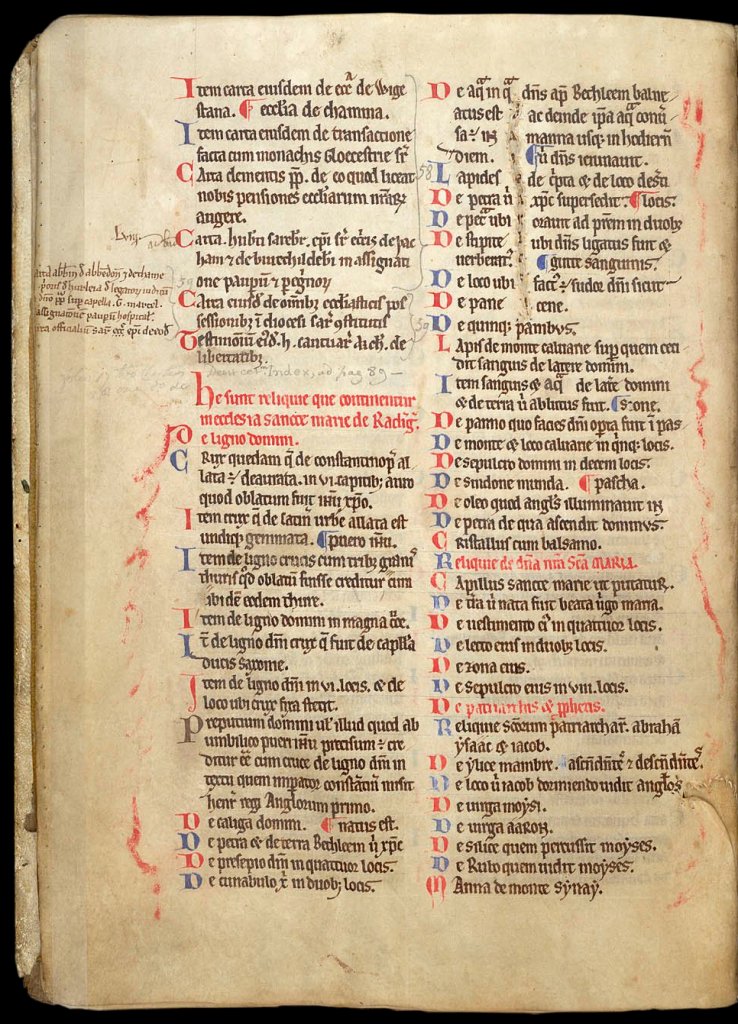 A list of 'relics which are kept in the church of St Mary, Reading', including pieces of the Holy Cross and a stone from the hill of Calvary with Christ's blood on it: London, British Library, MS. Egerton 3031, f. 6v.
Perhaps the contents provide a clue. The cartulary contains an inventory of the abbey's possessions, a list of vestments and relics, and a list of books including those owned by the cell at nearby Leominster. Such information about the property of a wealthy institution would be invaluable not only to the monks but also to later owners of the monastery's estates.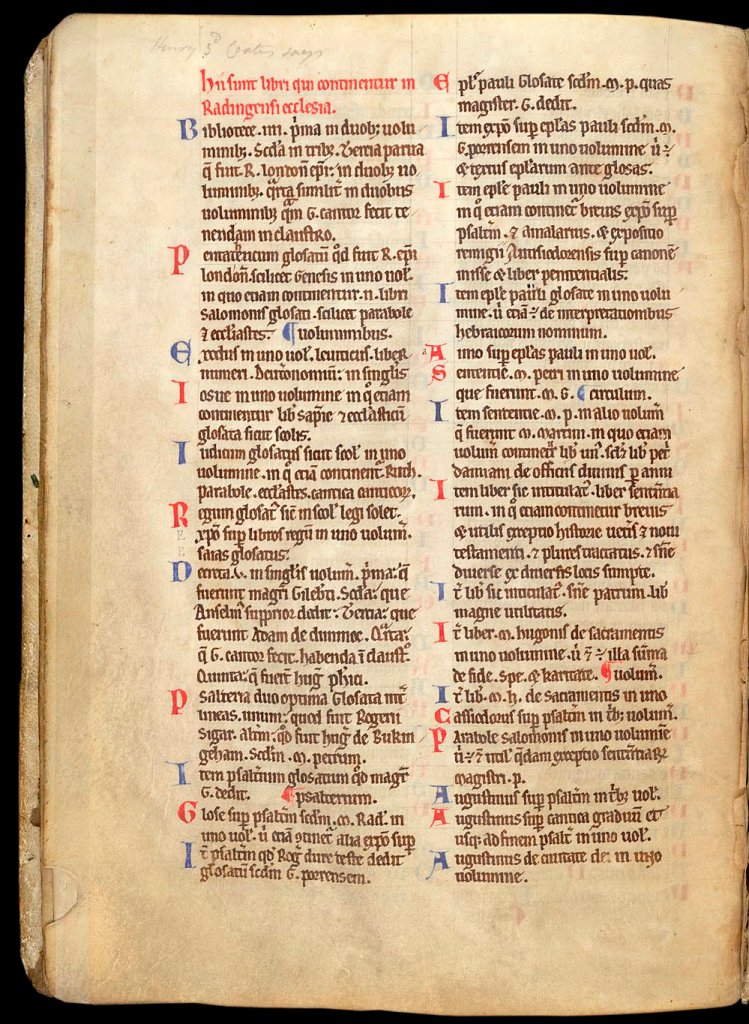 First page of the library catalogue: London, British Library, MS. Egerton 3031, f. 8v.
The library catalogue only takes up four pages, but it lists about 300 books according to subject with the heading in red ink, Hii sunt libri qui continentur in Radingensi ecclesia (These are the books contained in the church of Reading). It begins with four Bibles, each comprising three or four volumes. Next were glossed books of the Bible, one of which is probably British Library, Additional MS 54230, a copy of the book of Judges with other texts. One of the largest categories contains the works of the Church Fathers, particularly St Augustine, for whom 18 volumes are listed. Following these are a small collection of classical texts and, lastly, liturgical books, such as breviaries, missals and antiphoners for use in the daily devotions. Liturgical books for common use are seldom found in library catalogues and very few survive, but in this case the compiler of the catalogue included books kept away from the main monastic library, in the chapels, monks' rooms and even the infirmary.
It is sometimes possible to match the works in a catalogue to surviving manuscripts. For example, Bede's commentary on Luke, listed in the Reading catalogue, is now British Library, Egerton MS 2204. The decoration of the opening page is in a style associated with Reading Abbey and on the facing flyleaf is the ownership inscription Hic est liber sancte [effaced] Quem qui celaverit vel fraudem de eo fecerit anathema sit (This is a book belonging to St … (erased) cursed be whoever steals or misuses it).
Thanks to in-depth research by Neil Ker, Richard Sharpe, Alan Coates and others, many surviving manuscripts from Reading have been matched with the corresponding catalogue entries. Exemplars belonging to other institutions or individuals, from which Reading books were copied, have also sometimes been identified. And so a simple list of books made in the late-12th century provides a window not only into the types of books monks studied, but also one through which we can learn about where they travelled and how they obtained their books.
Chantry Westwell