28 January 2013
Celebrating an Anniversary in High Style: the Biblioteca Nacional de España and the British Library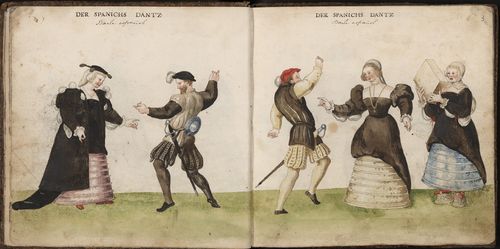 Miniature of 'The Spanish Dance'; from Códice de trajes, Germany, 1547, BNE MS Res 285, ff. 2v-3r.


2012 was a milestone year for the Biblioteca Nacional de España (BNE), the National Library of Spain: throughout the year, the library celebrated the 300th anniversary of its foundation in 1712, by King Felipe V.  In this initial incarnation it was the Biblioteca Pública de Palacio, the Palace Public Library, and in 1836 was transferred from ownership by the crown to the Ministerio de la Gobernación (Ministry of Governance).  Today, it is Spain's largest library, with collections stretching to 15 million printed books and tens of thousands of manuscripts.
In honour of these 300 years of history and letters, today's featured manuscript is not from the collections of the British Library, but from those of the BNE, as we are excited to contribute here our own 'virtual exhibition' to a series of joint exhibition projects that have been taking place throughout Spain.  Works from the BNE's collections -- including manuscripts, drawings, prints, paintings, maps, photographs, and books -- are being displayed in important museums and cultural institutions across Spain. They will thus reach new publics, be seen in fresh contexts, and inspire different viewpoints, as well as establish a dialogue with works from the collections of more than thirty Spanish institutions. The intention of the BNE and of Acción Cultural Española (AC/E) is to ensure that even those who cannot visit the Library in Madrid can still participate in an event that marks 300 years of a shared cultural history, and the British Library is eager to take part, bringing this cultural exchange to cyberspace!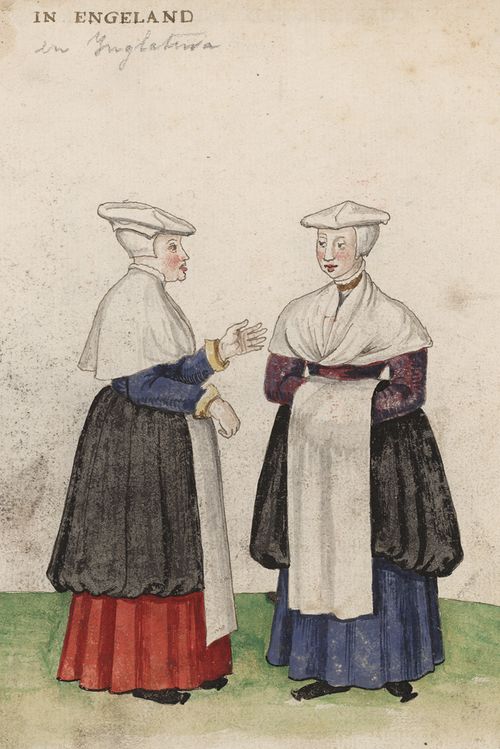 Detail of a miniature of women 'in England'; from Códice de trajes, Germany, 1547, BNE MS Res 285, f. 34v.
The focus of today's 'exhibition' is a recently acquired mid-sixteenth-century manuscript, called a códice de trajes, or 'costume book', made in Germany by an anonymous artist.  This is an example of a type of book that – while it may seem strange to us today, in our culturally interconnected world – was quite popular in the sixteenth century.  It is a collection of pictures of clothing worn by people from different countries and different walks of life, celebrating the diversity of national costumes.  Books like these are extremely valuable to us today, allowing us to recreate the dress of people who are far removed from us, not by space, but by centuries of time.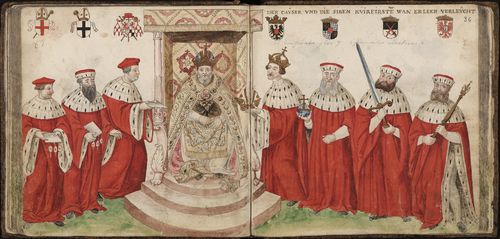 Miniature of Charles V, Holy Roman Emperor and King of Spain, surrounded by seven of his principal electors; from Códice de trajes, Germany, 1547, BNE MS Res 285, ff. 35v-36r.


In addition to pictures of people, grouped together on an empty ground as a kind of pictorial fashion-show, the manuscript also has an interest in ceremonial, depicting some of the important events of the period, along with the people who took part and, most importantly, the clothing they wore.  We can see here, therefore, Charles V, Holy Roman Emperor and King of Spain, enthroned between seven of his electors, identified by coats of arms and carrying imperial regalia.  Charles V is depicted as an older man – as he would have been at the time of the manuscript's production in 1547.  His portrait, like the depictions of costumes throughout the manuscript, is copied from other sources rather than taken from life, but the images still provide a beautiful and detailed glimpse into the colour and pomp of the sixteenth century.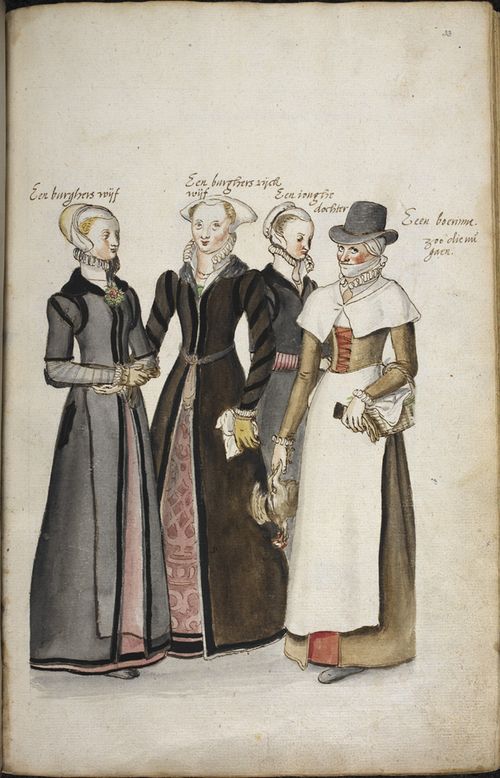 Miniature of Englishwomen, being (left to right) the wife of a citizen of London, the wife of a wealthy citizen of London, his young daughter, and 'a country-woman as they go nowadays'; from Lucas de Heere, A Description of England, Scotland, and Ireland, England, 1573-1575, Add. MS 28330, f. 33r.


One of the advantages of electronic media is the ability to bring together objects that, physically, may be very far apart.  It is wonderful, therefore, to be able to compare side-by-side the pictures from this BNE manuscript with illustrations from a book in the British Library's own collection.  A Description of England, Scotland, and Ireland, produced in Germany only a few decades later, contains beautiful coloured drawings by the painter Lucas de Heere, which clearly partake in the same tradition of descriptive portrayal of costume.  The group of Englishwomen shown above demonstrate the differences in city and country fashions, the three middle-class and wealthy Londoners on the left presenting a sharp contrast with the country-dweller on the right.  And perhaps the older among them might recognize in the Englishwomen of the BNE manuscript the fashions of their youth!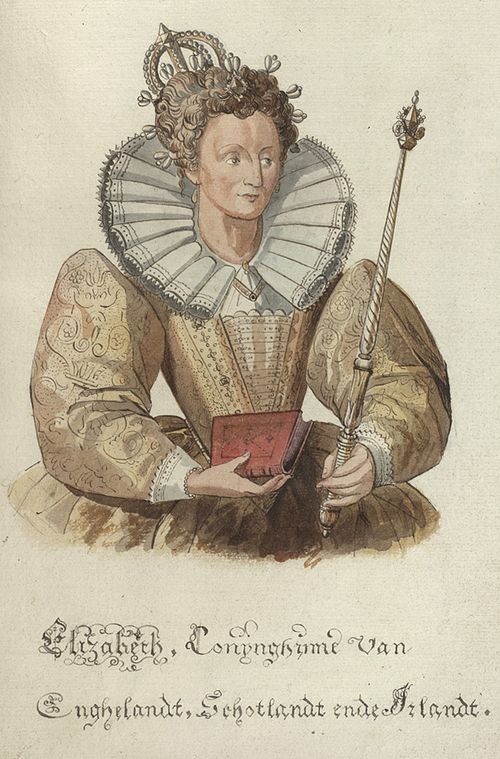 A shared interest in the appearance and costume of the monarch: detail of a miniature of Queen Elizabeth I, from Lucas de Heere, A Description of England, Scotland, and Ireland, England, 1573-1575, Add. MS 28330, f. 4r.


We have been delighted to produce this 'virtual exhibition' with the assistance of the Biblioteca Nacional de España, who have generously contributed images from their collection to appear in this post.  Happy Birthday, BNE!