14 February 2013
Be My Valentine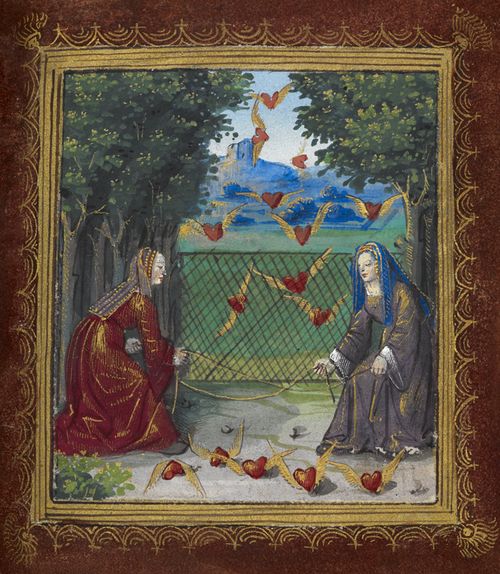 Detail of a miniature of the allegorical personifications of Friendly Expression and Courteous Manner, catching flighty hearts in their net; from Pierre Sala, Petit Livre d'Amour, France (Paris and Lyon), c. 1500, Stowe MS 955, f. 13r


Once you've picked out a Valentine's Day gift for your sweetheart, why not give yourself a Valentine's present, with a closer look at the Petit Livre d'Amour ('Little Book of Love')?  Over the weekend, we announced the availability of six new manuscripts as full digital reproductions on the Digitised Manuscripts website.  Among them, the Petit Livre d'Amour is an appropriate Valentine's Day celebration, having been a gift between lovers, from the author Pierre Sala (b. 1457, d. 1529) to his mistress Marguerite Builloud.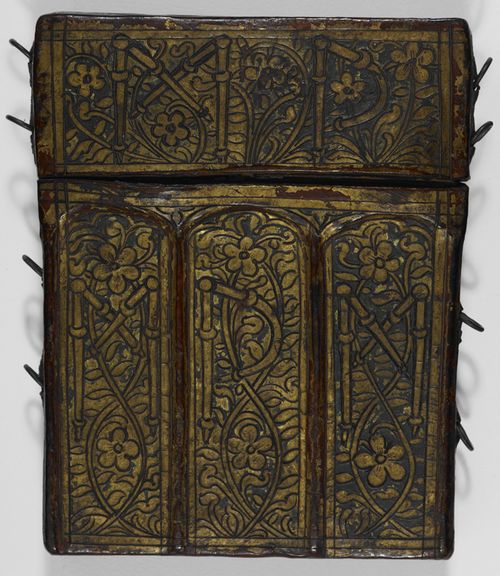 The manuscript's original, custom-made case, made of wood covered in leather; from Pierre Sala, Petit Livre d'Amour, France (Paris and Lyon), c. 1500, Stowe MS 955


References to the relationship between Pierre and Marguerite are all over the book.  The initials M and P appear often in decorative borders, and are even carved into the intricate patterns adorning the book's carrying case.  The small volume could be slipped inside this protective box for Marguerite to carry it with her.  The rings on the side of the box attached to chains, by which she could suspend it from her girdle.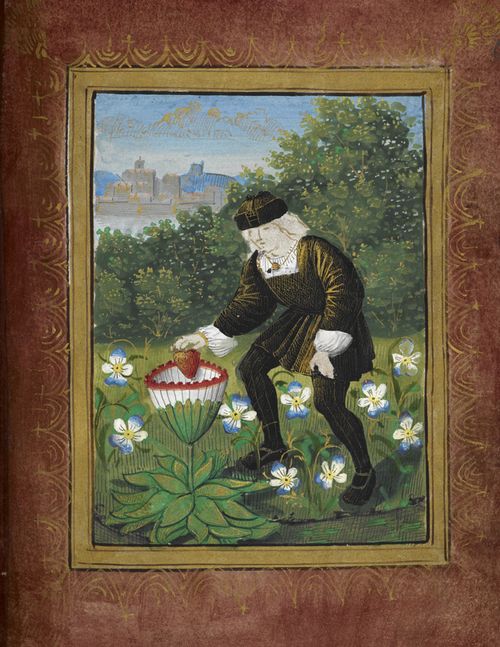 Detail of a miniature of Pierre Sala dropping his heart into a daisy; from Pierre Sala, Petit Livre d'Amour, France (Paris and Lyon), c. 1500, Stowe MS 955, f. 6r


Inside, diminutive illustrations, filling the book's small pages, transform the object into a sumptuous jewel, while also illustrating the love between author and reader.  In one particularly striking picture, a man – representing Pierre Sala himself – drops his heart into the cup of a large, red-and-white flower.  The flower is a daisy, a 'marguerite' in French, and so an allegorical representation of Pierre's beloved.  Close inspection of Pierre's face in this miniature reveals hints of a plan for the picture that was never fully realized.  The man's face is unfinished, showing only the rough sketch of facial features to be added later.  The illuminator left the face blank so that another artist – most likely Jean Perréal, a friend of Pierre's – could complete the allegory with a likeness of Pierre himself.  We can imagine how this would have looked by referring to the larger, full-page portrait of Pierre that Perréal did provide, at the end of the volume.  What do you think – a candidate for most eligible bachelor, c. 1500?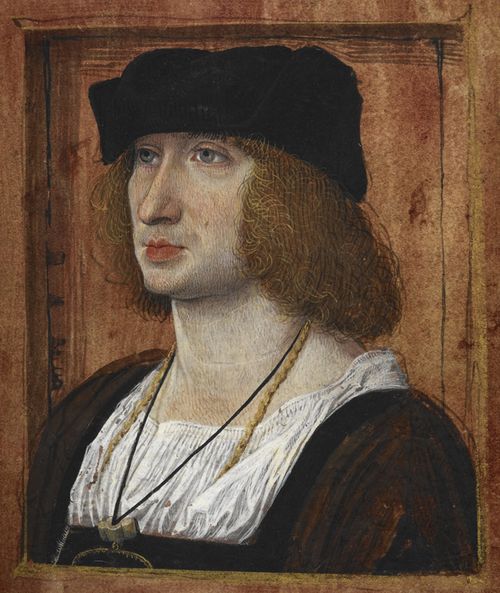 Sorry, ladies -- he's taken!  Detail of a portrait of Pierre Sala, made by his friend Jean Perréal; from Pierre Sala, Petit Livre d'Amour, France (Paris and Lyon), c. 1500, Stowe MS 955, f. 17r


Across from each of the manuscript's miniatures is a brief love poem in French, of Pierre's own composition.  These poems participate in a lyric tradition lamenting love's hardships and uncertainties.  On the page facing the image of two women capturing winged hearts with a net (shown at the top of the post), we read a brief verse about fickle, flighty hearts: 'Friendly Expression and Courteous Manner' (two personification allegories) 'have stretched out their snares at the corner of the wood, until the best time for an unstable, flying heart to pass by there'.  The word 'heart' in the middle of the last line is not written out, but indicated with a little drawing.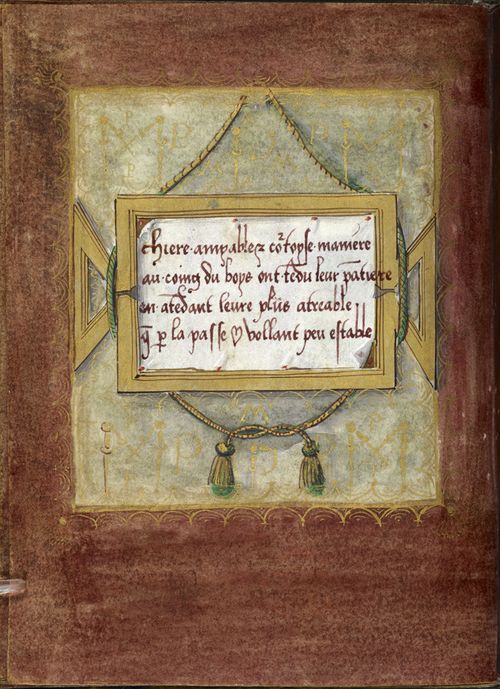 A verse on flighty hearts: 'chiere amyable & cortoyse maniere / au coing du boys ont tendu leur pantiere / en atendant leure plus atreable / que par la passe <3 vollant peu estable'; from Pierre Sala, Petit Livre d'Amour, France (Paris and Lyon), c. 1500, Stowe MS 955, f. 12v


Other poems direct their critique, if still obscurely, toward the lover himself: 'I have no support but this branch, nor hope of having any other help, but by folly, I cut it, and so will fall under the water'.  These sweet words – and their elegant package – must have pleased Marguerite; their relationship prospered, and she and Pierre eventually married.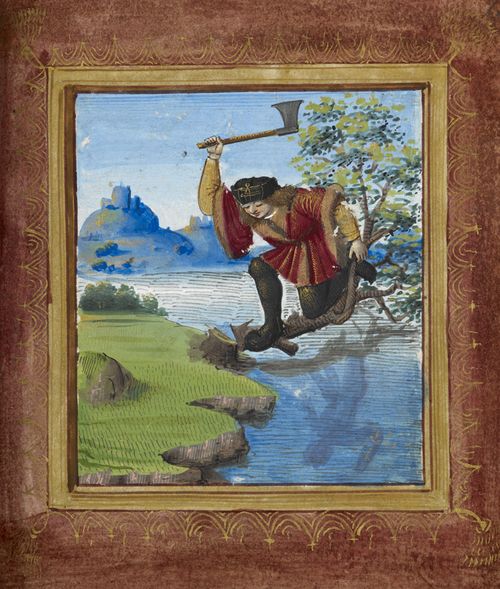 Disaster in 3...2...1...: detail of a miniature of a man cutting off the branch on which he is standing; from Pierre Sala, Petit Livre d'Amour, France (Paris and Lyon), c. 1500, Stowe MS 955, f. 15r