05 February 2013
Extra! Extra!: Richard III Lyth Buryd at Lecitor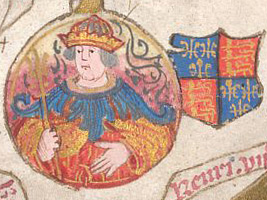 Detail of a miniature of Richard III (b. 1452, d. 1485); from the Biblical and genealogical chronicle from Adam and Eve to Edward VI, England (London or Westminster), c. 1511, with additions before 1557, King's MS 395, f. 33r


By this point, you have probably heard the big news out of Leicester: the skeleton found in the Greyfriars car park is indeed that of Richard III.  It is not very often that the world of medieval studies enjoys the thrill of 'breaking news'.  Of course, as has been well reported, it is not precisely news that Richard was buried in Leicester.  Those of us who were standing by to hear from the University of Leicester team can remember that it was not journalists but chroniclers who got the scoop. To name one example, a genealogical chronicle of the Tudor period includes Richard in the illustrated tree of succession, with the explanatory note: 'Richard that was sonne to Richard Dewke of Yorke & brother unto Kyng Edward the iiiith, was kyng after hys brother & raynyd ii yeres & lyth buryd at Lecitor [lies buried at Leicester]'.  A statement we now know is true!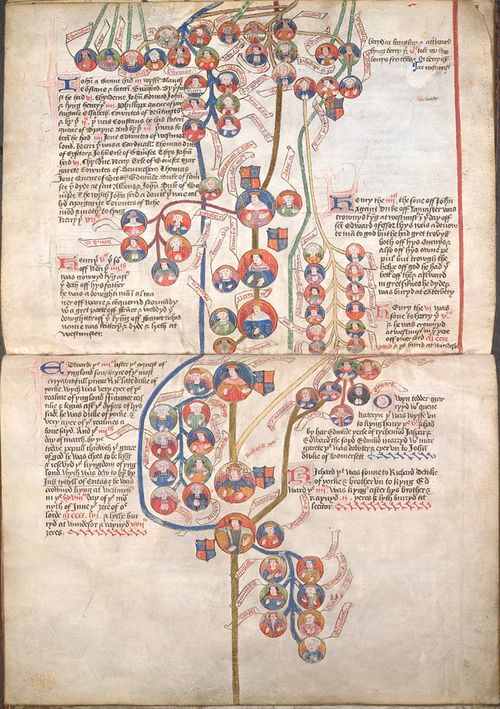 A tangled line of succession, culminating in (on the lower page, in roundels marked with coats of arms)  Edward IV, Richard III, and Henry VII; from the Biblical and genealogical chronicle from Adam and Eve to Edward VI, England (London or Westminster), c. 1511, with additions before 1557, King's MS 395, ff. 32v-33r


This genealogy handles Richard's demise and the subsequent succession in a way usual for medieval family trees: it visually erases the discontinuity.  Richard was killed in battle against the forces of his rival, Henry Tudor (Henry VII).  But here we see no great divide between the Plantagenet and Tudor dynasties.  Rather, Henry VII sits directly under Richard on the family tree, his lines of descent snaking up to join the main tree some generations in the past.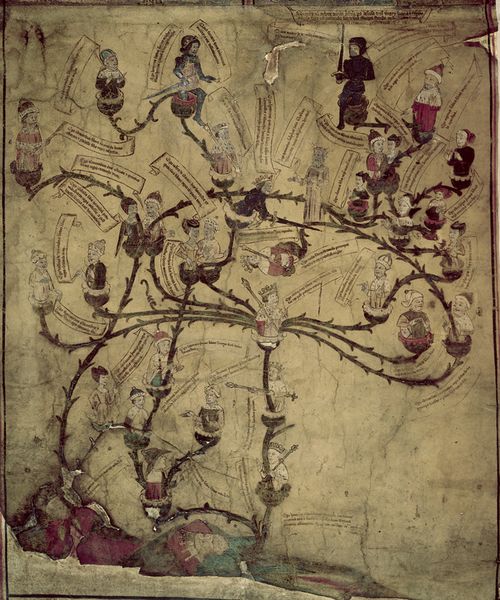 Detail of the genealogy of Edward IV, on (below) trees sprouting from Edward I (right) and Peter of Castile (left), and including the severing of Richard II from the tree by a sword-wielding Henry IV (center); from the typological life and genealogy of Edward IV, England, 1460-c. 1470, Harley MS 7353


This is perhaps not surprising in a document originating during the reign of Henry's own grandson, Edward VI.  But at least one genealogy takes a different approach to the death and deposition of another Richard, King Richard II.  Richard II was overthrown by Henry IV, the first of England's Lancastrian kings, whose grandson Henry VI was, in turn, overthrown by Edward IV to restore Yorkist rule.  For this manuscript made during Edward's reign, therefore, Richard II would have been the rightful king unjustly deposed by a usurper.  And in this image, we can see the cutting of the line of succession made literal by a sword-wielding Henry IV, the violence of the dynastic discontinuity perhaps also suggesting violence against Richard II's own person – he died while in Edward's custody.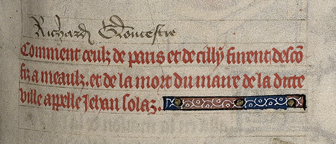 The autograph of Richard III (as Duke of Gloucester, before 1483); from Chroniques de France ou St Denis, France (Paris), last quarter of the 14th century, after 1380, Royal MS 20 C. vii, f. 134r


While Richard III's untimely end is one of the most colourful aspects of his story, it is also possible to reach out to the living king.  Richard owned a number of books during his life, a few of which still survive today, some in the British Library.  We know from signatures contained in its pages that Richard owned a copy of the French romance Tristan – a delightful tale of love and adventure.  And another book, on the 'Dedes of Knyghthode', holds the coats of arms both of Richard (as king of England) and of his wife, Anne Neville.  This volume was perhaps made for their young son Edward, who predeceased his father in 1484.  When we look at these books, they help bring back to life the hands that held them, a controversial monarch at a turbulent period in England's past.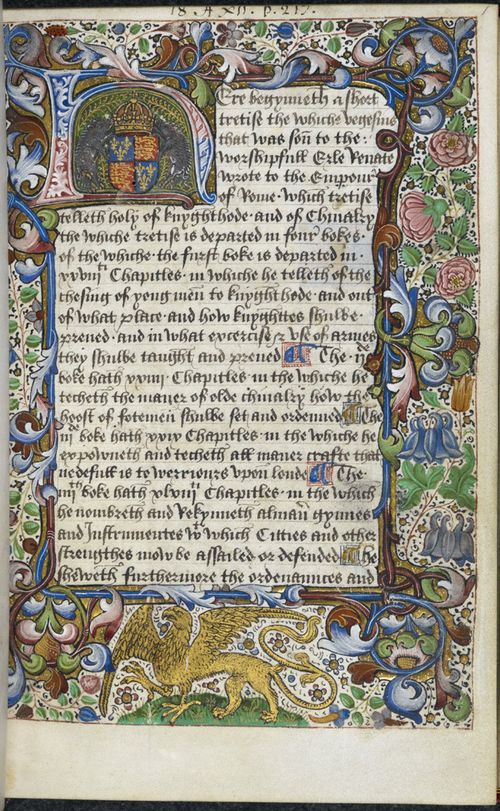 Initial 'H'(ere) of the arms of Richard III; from Vegetius, De re militari (The Book of Vegecy of Dedes of Knyghthode), England (London?), c. 1483-1485, Royal MS 18 A. ii, f. 1r
Nicole Eddy