Gospels of Tsar Ivan Alexander on YouTube
We recently announced that the magnificent gospelbook commissioned by Tsar Ivan Alexander, British Library Additional MS 36927, is available in full on our Digitised Manuscripts site. Readers of this blog may also be interested to learn that a video describing this manuscript's history is also now available on YouTube. "Portrait of a Masterpiece" is narrated by manuscript expert Ekaterina Dimitrova, and includes footage shot at the British Library, including an interview with Dr Scot McKendrick, Head of History and Classics.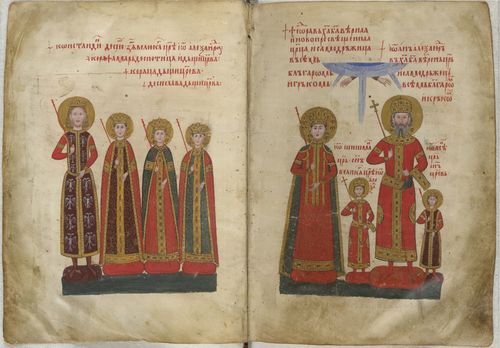 Royal portraits: f. 2v: Constantine, the son-in-law of Ivan Alexander, flanked by three daughters of the tsar: Kerathamar (Constantine's wife), Keratsa and Desislava; f. 3r: Ivan Alexander in imperial garb, accompanied by his wife Theodora, his son Ivan Shishnan in imperial garb, and another son Ivan Asen. Above, two hands emerge from a cloud, making gestures of blessing over the Tsar and his wife, from the Gospels of Ivan Alexander, Bulgaria, 1355-1356, Add MS 39627, ff. 2v-3r
The manuscript can also currently be viewed by visitors to the British Library, in The Sir John Ritblat Gallery: Treasures of the British Library. Meanwhile, we are grateful to Ekaterina Dimitrova for sharing this video with us. We hope that you too can join us in our mutual affection for this wonderful book.