01 March 2013
A Calendar Page for March 2013
For more details on calendar pages or the Golf Book, please see the post for January 2013.
Calendar page for March, from the Golf Book (Book of Hours, Use of Rome), workshop of Simon Bening, Netherlands (Bruges), c. 1540, Additional MS 24098, f. 20v
The full-page miniature at the opening of the calendar pages for March (above) shows the labours associated with the beginning of the agricultural season.  In the foreground, a man pauses from clearing a garden to tip his hat to two richly-dressed ladies, one of whom is carrying a small dog.  Outside of the garden, men are at work trimming vines, while a horseman crosses a moat into a small town in the background.  In the bas-de-page, a group of men are playing with rattles in what appears to be a far more wintry landscape than that above.  On the following folio (below) are the saints' days for March, along with a roundel containing a small ram, for the zodiac sign Aries.  At the bottom of the page a man is ploughing behind a team of horses, while another man on the right (partially trimmed away) is clearing the field of branches.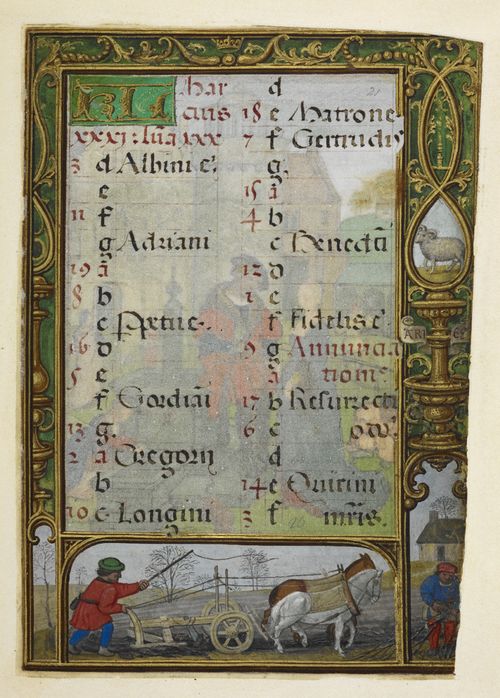 Calendar page for March, from the Golf Book (Book of Hours, Use of Rome), workshop of Simon Bening, Netherlands (Bruges), c. 1540, Additional MS 24098, f. 21r