12 March 2013
Hooray for Public Domain Images!
Recently we asked our readers how they have been using our public domain images. And we're extremely gratified by the many responses we have received, via Twitter (@blmedieval) and in the comments section at the end of the original blogpost. Here is a selection of your comments:
I do medieval recreation/reenactment, and I like to use the BL images as inspiration for my illuminated/calligraphed texts.
I recently published an article on medieval wood pasture management and was excited to be able to use manuscript images from the BL Catalogue of Illuminated Manuscripts as part of the analysis. An acknowledgement of the BL's service in providing the image was included in the endnote for each figure. Thanks so much for providing this service to scholars!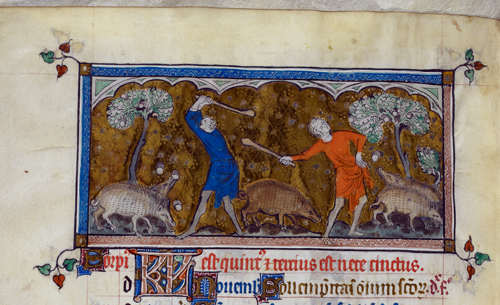 Detail of a miniature of men beating down acorns to feed their pigs, on a calendar page for November (London, British Library, MS Royal 2 B VII, f. 81v).
I'm teaching a course on Arthurian literature, art and film from the Middle Ages to the present in October, and am using the image of Arthur from Royal 20 A. II, f. 4 as the course image. It's wonderful to have this readily available representation of Arthur from a medieval manuscript, and hopefully will serve to inspire my students not only in terms of an interest in Arthurian studies, but also manuscript studies too!
I have used your images from the Queen Mary Psalter and your interface to make a point about mediated networks.
Yes (with attribution), on a poster for a Middle English poetry reading.
Thank you, yes! Lady Jane Grey 1  and Lady Jane Grey 2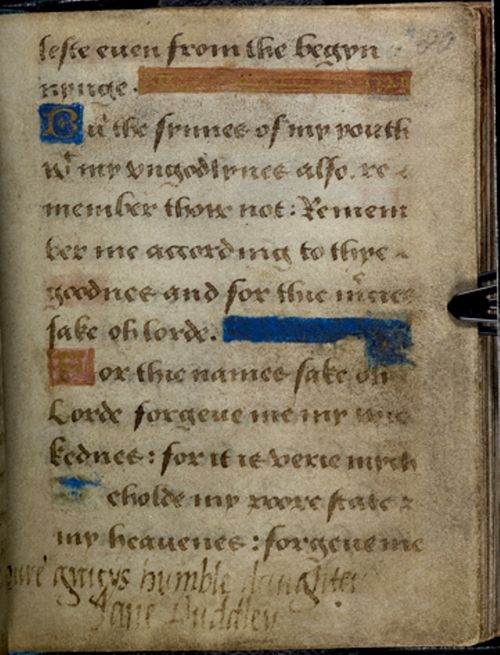 Text page with coloured initials and line-fillers, and a portion of a message written in the margin by Lady Jane Grey to her father, the Duke of Suffolk: '… youre gracys humble daughter Jane Duddley.' (London, British Library, MS Harley 2342, f. 80r). 
Yep, in my tumblr (but I mentioned it!). By the way, you're doing a very very great job, thanks! 
Just in time for prepping my 13th/14th c Northern Painting class.
Repeatedly in my blogposts, but more importantly (to me, anyway) on the front page of my MA thesis on the Confessor.
I've used bits for my site banner images.
And from one of our regular contributors came this: Well done. This is precisely the sort of thing that the national collection should be doing; enriching the culture of the nation of today by means of images from the public treasury of manuscripts.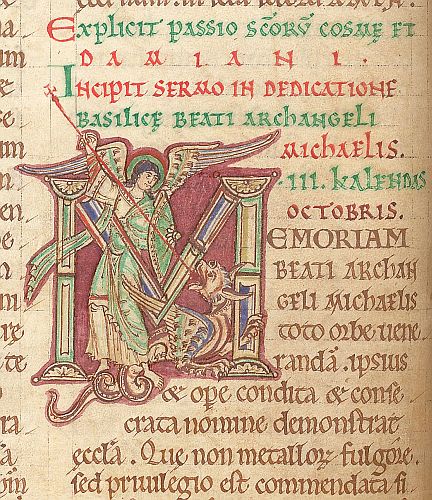 Historiated initial (London, British Library, MS Arundel 91, f. 26v).
We've been asked to clarify a couple of issues raised by some of our users. At present, the British Library's policy on the re-use of images in the public domain applies (in the case of our medieval manuscripts) to images downloaded from our Catalogue of Illuminated Manuscripts and from this blog. Readers who commission or purchase publication-quality images from our Imaging Services should note that they still need permission to reproduce them. Likewise, users should note that the technology behind our Digitised Manuscripts site currently precludes the downloading of images from that resource. This applies to all the manuscripts published as part of our Greek manuscripts, Harley Science and Royal digitisation projects.
Meanwhile, we hope that you continue to find new ways to use our images, so that together we can promote new research and gain new insights into our medieval and early modern heritage.