02 April 2013
A Calendar Page for April 2013
For more details on calendar pages or the Golf Book, please see the post for January 2013.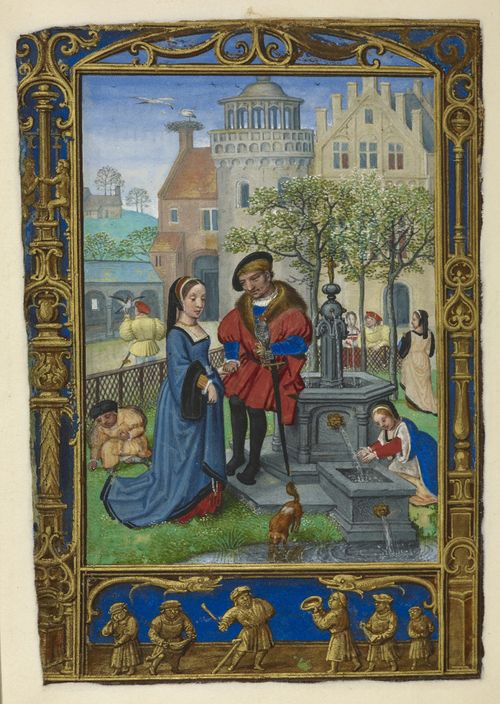 Calendar page for April with a courting scene, from the Golf Book (Book of Hours, Use of Rome), workshop of Simon Bening, Netherlands (Bruges), c. 1540, Additional MS 24098, f. 21v
The calendar for April opens with a typical scene for spring; an aristocratic couple are shown courting in a walled and flowering garden.  The richly-dressed lady's dog is nearby, lapping water from the garden's fountain.  Behind the couple, a nobleman is preparing to go hawking, another commonly-depicted pursuit for this time of year.  The theme of fertility and new life is echoed at the top of the miniature, where a pair of storks can be seen building their nest on the top of a chimney.  Below, six men are playing a game with a bat and ball.  On the following folio is a roundel with a painting of a bull, for the zodiac sign Taurus. At the bottom of this page a sherpherd and his bagpipe-playing companion are looking over their flock of sheep, complete with new lambs and a single goat.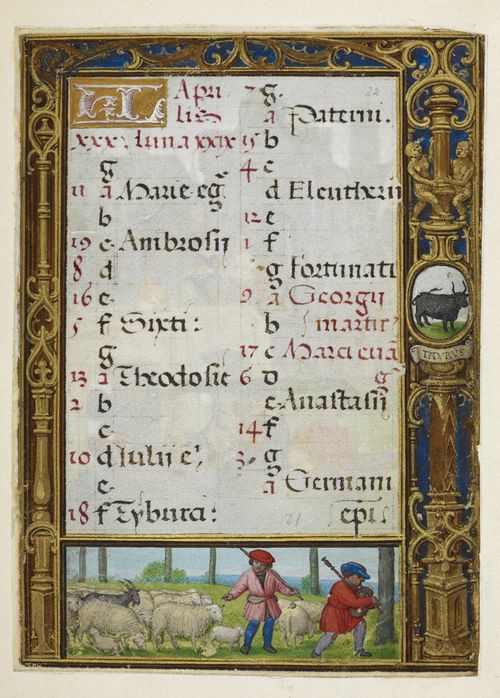 Calendar page for April with a bas-de-page scene of shepherds, from the Golf Book (Book of Hours, Use of Rome), workshop of Simon Bening, Netherlands (Bruges), c. 1540, Additional MS 24098, f. 22r