01 May 2013
A Calendar Page for May 2013
For more details on calendar pages or the Golf Book, please see the post for January 2013.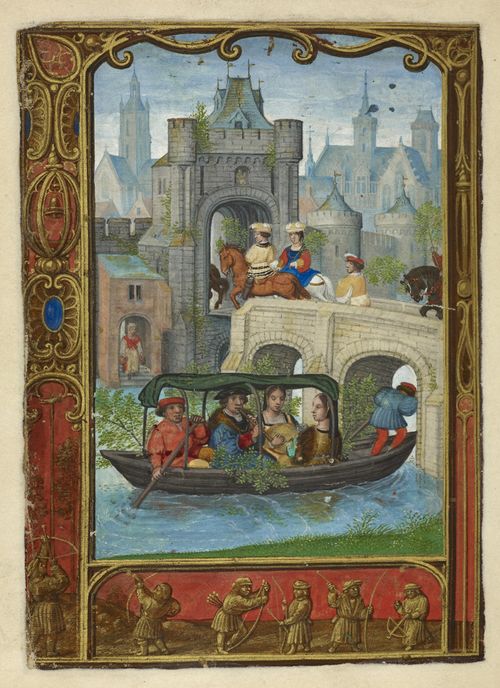 Calendar page for May with a boating scene, from the Golf Book (Book of Hours, Use of Rome), workshop of Simon Bening, Netherlands (Bruges), c. 1540, Additional MS 24098, f. 22v
The full-page miniature for May continues the theme of aristocratic courting, which may well be among the most pleasant of the 'labours' depicted in medieval calendars.  In this scene, two boatmen are rowing a nobleman and two well-dressed ladies along a river; the three are playing musical instruments and are surrounded by flowering branches.  On the bridge above them another aristocratic couple are riding on horseback, carrying branches and followed by their retainers. In the bas-de-page scene a group of men are practicing archery by shooting at a raised target (a popinjay?).  On the following folio two couples are riding on horseback through a lush landscape, below the saints' days for May and a roundel with a nude man and woman for the zodiac sign Gemini.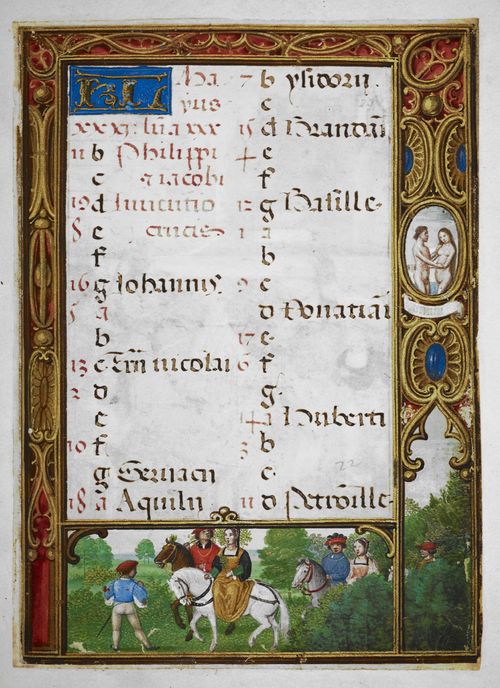 Calendar page for May with a riding scene, from the Golf Book (Book of Hours, Use of Rome), workshop of Simon Bening, Netherlands (Bruges), c. 1540, Additional MS 24098, f. 23r