20 May 2013
Look on these Works and Frown?
Our post on the Codex Alexandrinus last December brought this comment from Dave P.: "I wonder if conservators in 100 years time will look at this work and frown, as you do at older work?" The simple answer is that we hope not. Before conserving any collection item we consider all the options and are confident that we choose the most suitable and least invasive treatment available to us. But that, surely, is what past conservators thought too?
Add MS 39603  This  beautifully decorated 11th/12th century Greek cruciform Gospels now has pigment corrosion throughout. In the past it was treated by covering the damaged areas with a fine silk net to prevent further losses. This process is not easily reversible, should the manuscript require further conservation in the future.
Our brow-wrinkling is more likely to be pondering the why of an old repair than expressing displeasure with it. No conservator can justify unnecessary work or has the time to do it, so we should assume that everything we see was thought to be an essential and efficient treatment. If earlier generations have left us problems, they didn't do it deliberately! The only sensible reaction is to learn from their work what is effective and harmless in the long-term.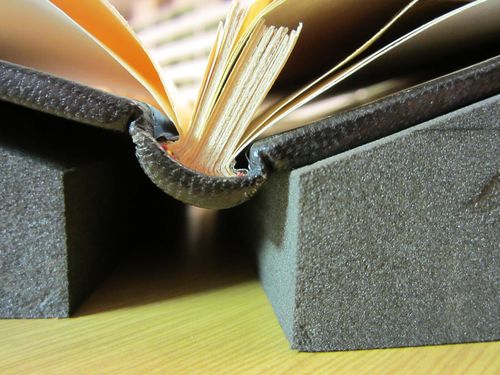 Add MS 43790B   When this manuscript of few folios was rebound, many short folds of blank modern paper were added to bulk the spine sufficiently to achieve a satisfactory round. The manuscript is well protected, but the book is wedge-shaped. In hindsight, it would have been better to use full size blank leaves.
Not all historic repairs make us frown. Some early sewn or laced repairs to splits in parchment have endured for many centuries. Similarly, Humphrey Davy's recipe for relaxing cockled parchment, a mix of spirits of wine (i.e. ethanol) and water, works very well and continued as a treatment until recently. The older the repair, the more likely it will use natural materials and simple techniques with known and trusted outcomes.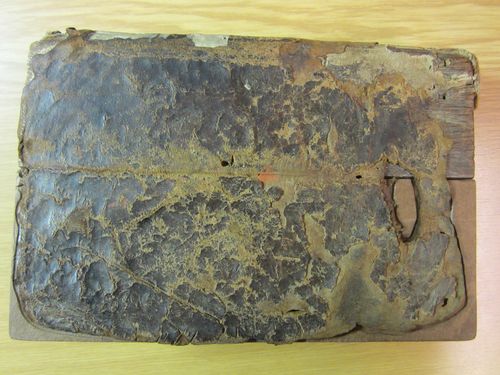 Add MS 64797  The wooden board split and part was lost, though the full-width covering leather remains.  An infill was carefully built up from layers of millboard (which has more desirable qualities than new wood). The top layer was recessed to hold and protect the old leather which would have been vulnerable to further damage if simply adhered on top of a flat board.
However, historically the available range of repair materials was limited, so tears and weak edges were supported with whatever was to hand. Occasionally, we find a medieval manuscript on parchment with strips of 18th century writing paper reinforcing damaged edges, apparently adhered with wet flour paste by a previous owner. We see now that such heavy repairs cause further damage to the weak parchment, and microscopy reveals that wetting parchment can degrade it too. These days we make lighter repairs, so that if there is further deterioration the repair materials will split, not the original, and we use adhesives that add no or little moisture to the parchment. But that earlier repair, however flawed, has both ensured the manuscript survived to the present, and forced us to improve our methods.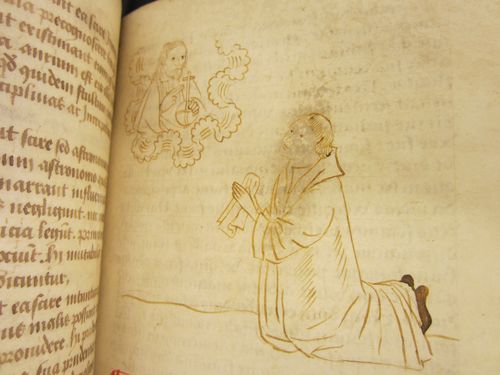 Harley 5201, f.90r  The damage is caused by touching or kissing the saint's image. It is unlikely to get worse and is a valuable record of historic devotional practices. It does not require treatment at present but, if it should, we would also try to preserve the material culture evidence.
A wide range of repair resources is now available to us. The British Library buys traditional materials like paper and adhesives of the highest quality, often made specifically for conservation. They are tested, so we can be sure they neither contain undesirable additives, nor will degrade over time to release damaging compounds. But we also have access to newly-developed specialist supplies for the more difficult tasks, where customary techniques are inadequate. We use these cautiously for, despite accelerated aging tests, we cannot be entirely certain how they will behave in 50 or 100 years from now. We remember problems with experimental treatments briefly used last century, and take them as a warning. We also make sure our repairs can be removed without causing any more damage, just in case re-treatment is necessary in the future.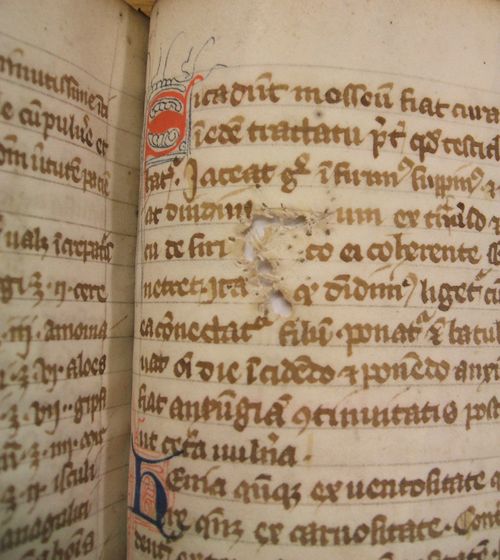 Harley 3334, f.59r   The holes suggest this flaw started to split during manufacture while the parchment was drying under tension, and the maker stopped it progressing by temporarily sewing or pinning. Once dry, the flaw was stable and the text could be written around the damage.
At the same time, our focus is changing from invasive treatment to preservation. It is better to use limited resources to slow down the deterioration of whole collections by controlling temperature and humidity, by providing simple protective enclosures, and by training staff and readers in good handling techniques, so that fewer items require active conservation in future. There is always likely to be the need for running repairs in a working library, but it is surely better to prevent damage when we can. For the future, digitisation will mean our manuscripts are less handled and spend more time in optimum storage conditions, so conservators of the future should need to intervene and treat manuscripts more rarely. Perhaps they will frown at some of our work, but we hope they will mostly be content that we did our best to preserve these unique objects for many more generations to enjoy.