06 May 2013
You Say Beowulf, I Say Biowulf
Students of medieval manuscripts will know that it's always instructive to consult the originals, rather than to rely on printed editions. There are many aspects of manuscript culture that do not translate easily onto the printed page -- annotations, corrections, changes of scribe, the general layout, the decoration, ownership inscriptions.
The famous Old English epic poem Beowulf is a case in point. Only one manuscript of Beowulf has survived, which is held at the British Library (Cotton MS Vitellius A XV). The writing of this manuscript was divided between two scribes, the first of whom terminated their stint with the first three lines of f. 175v, ending with the words "sceaden mæl scyran"; their counterpart took over at this point, implying that an earlier exemplar lay behind their text, from which both scribes copied.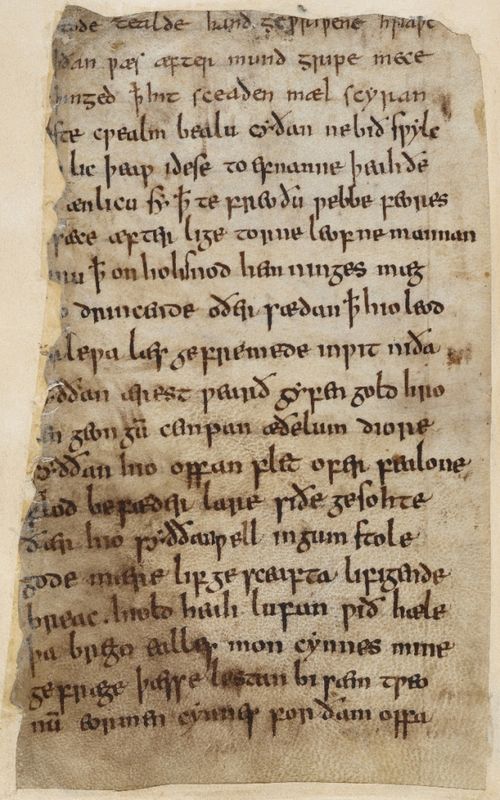 The point at which the scribes of Beowulf change (London, British Library, MS Cotton Vitellius A XV, f. 175v, lines 3-4).
The presence of the handwriting of two different scribes in the Beowulf-manuscript has other implications. The script of the second scribe is consistent with having been trained to write in the late-10th century, whereas that of the first is more typical of the period after AD 1000. On those grounds, the most likely time for these scribes to have collaborated is the early decades of the 11th century, perhaps during the reign of Æthelred the Unready (978-1016), although modern scholars are by no means agreed on that point.
Another distinction between those two scribes, perhaps less familiar to modern students of the text, is the varying way in which they spell the name of the eponymous hero Beowulf. On 40 occasions, Beowulf's name is spelt in the conventional manner (the first is found in line 18 of the standard editions, the last in line 2510). However, in 7 separate instances, the name is instead spelt "Biowulf" ("let's call the whole thing off"), the first case coming in line 1987 of the poem.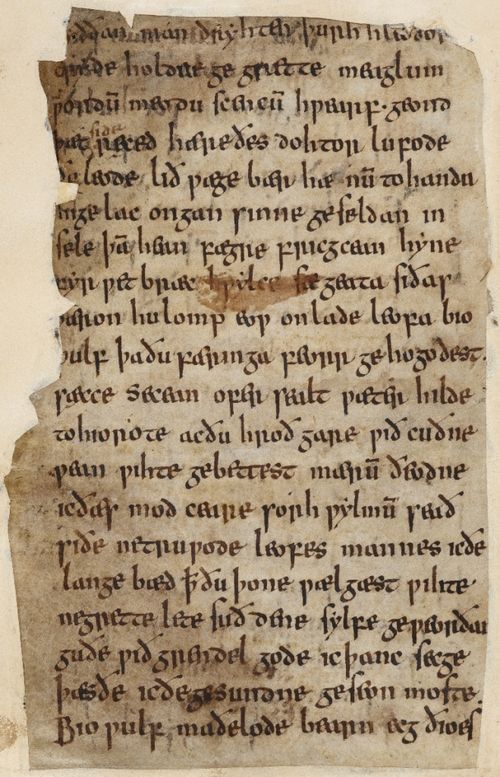 The spelling "Biowulf" occurs twice on this page, the first in lines 9-10 (Bio-wulf) and the second in the final line, both times using the Anglo-Saxon wynn (London, British Library, MS Cotton Vitellius A XV, f. 176v).
What's most apparent here is that the spelling "Biowulf" is confined to the second scribe, who nonetheless alternated it with "Beowulf". While this may be simply a scribal tick -- an uncertainty how the name should be spelled, or a simple inconsistency -- it does lend to the debate over the origin of the name, a summary of which can be found here. (Various suggestions include Bee-Wolf, Beow-Wolf, Biewolf and War-Wolf -- take your pick.)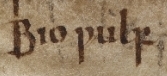 The spellings of Beowulf (London, British Library, MS Cotton Vitellius A XV, ff. 133r, 176v).
If you weren't already aware, images of the entire Beowulf-manuscript can now be found on our Digitised Manuscripts site, where you can investigate for yourselves how the manuscript was written.