01 July 2013
The Lindisfarne Gospels in Durham
The British Library is delighted to be a major lender to the exhibition The Lindisfarne Gospels in Durham, which runs from 1 July to 30 September 2013. No fewer than six of the Library's greatest Anglo-Saxon and medieval treasures are on display at Palace Green Library in Durham, among them the St Cuthbert Gospel, the Ceolfrith Bible and, of course, the magnificent Lindisfarne Gospels.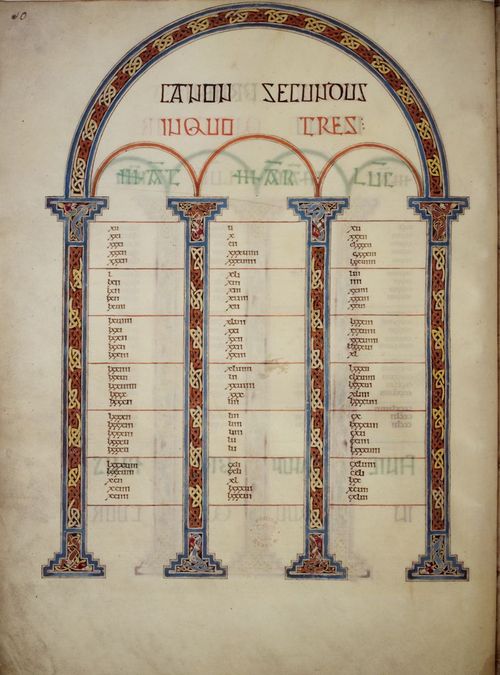 The Lindisfarne Gospels (London, British Library, MS Cotton Nero D IV, f. 11v).
The loan of these treasures marks the culmination of many years' planning and collaboration between the British Library, Durham University, Durham Cathedral and Durham County Council. It provides an outstanding opportunity for visitors to examine these books at close-hand, and in the context of other artefacts including objects from the Staffordshire Hoard and from the tomb of St Cuthbert.
The star object in this exhibition is undoubtedly the Lindisfarne Gospels, which (according to a colophon added on its final page) was made by Eadfrith, bishop of Lindisfarne (698-c. 721). The monastic community of Lindisfarne fled its home in response to Viking raids, carrying their books with them, settling temporarily at Chester-le-Street and finally at Durham. Every page of the Lindisfarne Gospels is witness to Anglo-Saxon artistic craftsmanship. Particularly noteworthy for art historians are its carpet pages, evangelist portraits and decorated initials; but the meticulous, half-uncial script is also of the highest calibre. The pages currently on display are from the canon tables which precede the four gospels (one of which is shown above). The Lindisfarne Gospels can be viewed in its entirety on the British Library's Digitised Manuscripts site, and can also normally be seen on display in our Treasures Gallery.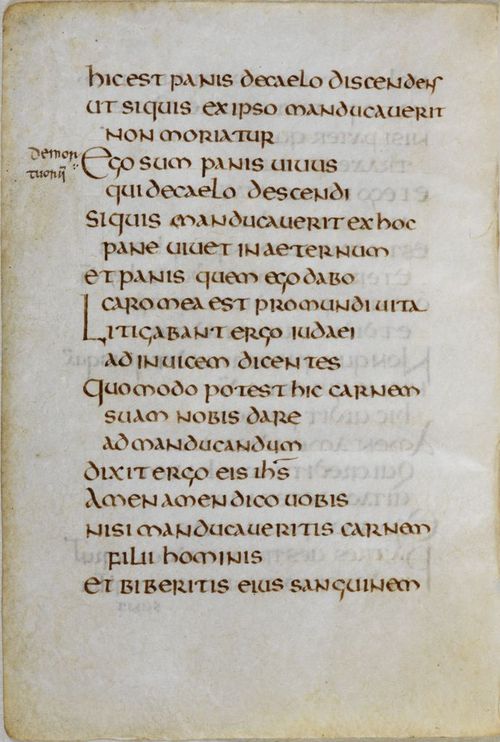 The St Cuthbert Gospel (London, British Library, MS Additional 89000, f. 28v).
Another manuscript to be seen in the Durham exhibition is the St Cuthbert Gospel, the oldest intact European book, still to be found it its original leather binding. This book was purchased for the nation in 2012 following the largest such fundraising campaign ever conducted by the British Library. Most scholars agree that it was made in around AD 698, at the time when Cuthbert's body was translated to a new tomb at Lindisfarne. The coffin was re-opened at Durham Cathedral in 1104, and the book (a copy of the Gospel of St John) found inside. Two of its text-pages can be seen at the Palace Green Library, one of which has a contemporary annotation, as also seen above. Once again, the entire manuscript can be viewed on our Digitised Manuscripts site.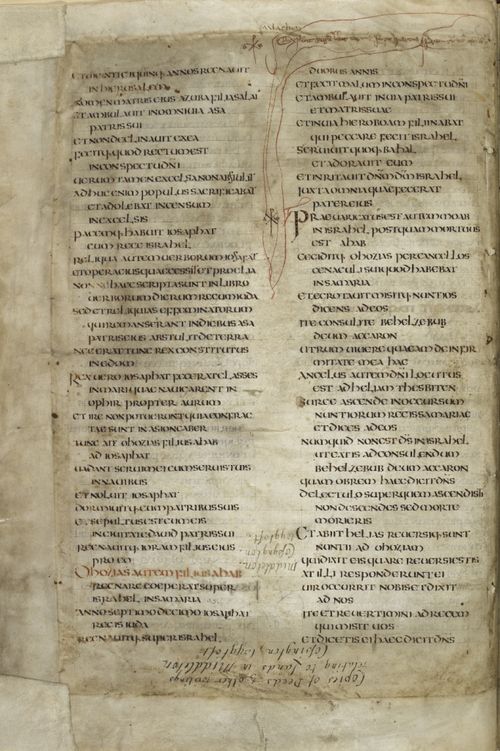 The Ceolfrith Bible (London, British Library, MS Additional 45025, f. 15r).
An early Bible associated with Anglo-Saxon Northumbria has also been loaned by the British Library to Durham. The fragmentary Ceolfrith Bible (Additional MS 45025) was one of three great pandects (single-volume Bibles) commissioned by Abbot Ceolfrith of Wearmouth-Jarrow (690-716). This Bible seemingly left its home at a very early stage, perhaps as a gift to King Offa of Mercia (757-796), before arriving at Worcester Cathedral Library. After the Middle Ages it was broken up to be used as binding papers in a set of Nottinghamshire estate accounts, before a handful of leaves were subsequently rescued and purchased on behalf of the British Library. This manuscript was the subject of a recent blog-post, describing its fortuitous survival.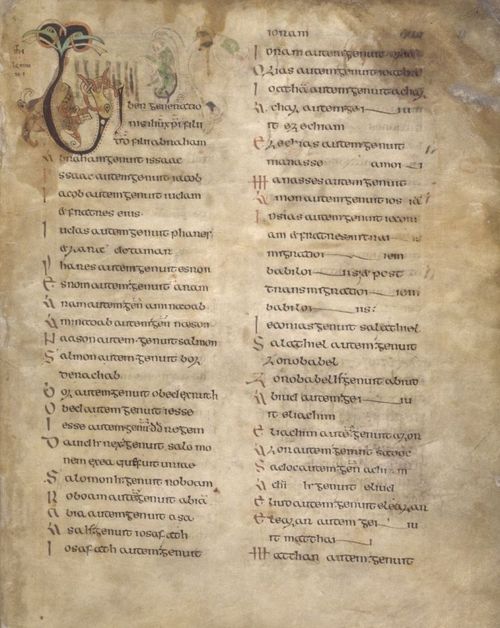 The Royal Athelstan Gospels (London, British Library, MS Royal 1 B VII, f. 15r).
As well as the Lindisfarne Gospels, a second Anglo-Saxon gospel-book has been loaned by the British Library to the Durham exhibition. This is the so-called "Royal Athelstan Gospels" (Royal MS 1 B VII), which was also shown at our own recent Royal Manuscripts exhibition, and is described in more detail in its accompanying catalogue. Made in Northumbria in the first half of the 8th century, this book contains an added manumission in Old English, stating that King Athelstan of Wessex (924-939) had freed a certain Eadhelm from slavery.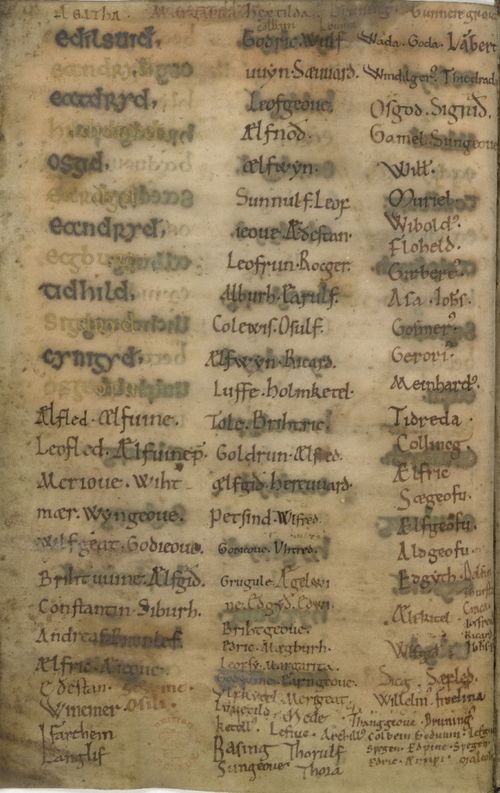 The Durham Liber Vitae (London, British Library, MS Cotton Domitian A VII, f. 7v).
The fifth British Library manuscript in the new exhibition is the Durham Liber Vitae or Book of Life (Cotton MS Domitian A VII). This book was made in the 9th century, written in gold and silver ink, and was continued by generations of monks until the Dissolution of the monasteries in the 16th century. It contains the names of members of the monastic community, together with those of other religious and benefactors, including various Anglo-Saxon kings: you can read more about it in our post The Durham Book of Life Online.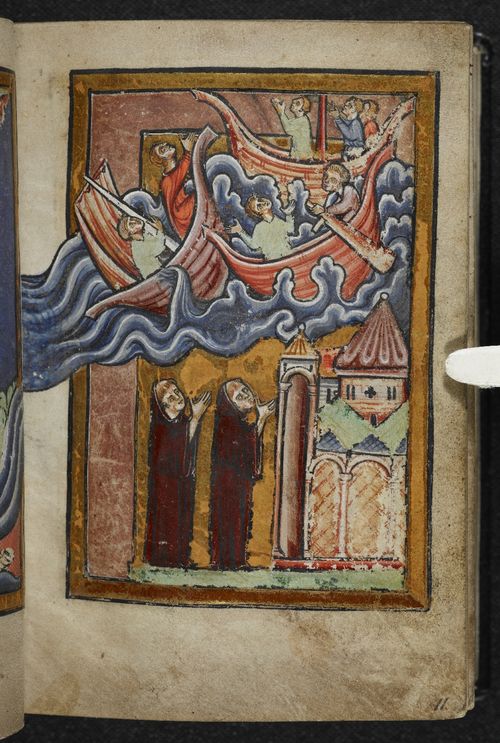 Bede's prose Life of St Cuthbert (London, British Library, MS Yates Thompson 26, f. 11r).
Last, but definitely not least, the British Library's famous illustrated Life of St Cuthbert (Yates Thompson MS 26) forms part of the Durham exhibition. This book contains the text of Bede's prose Life of Cuthbert, accompanied by a series of exquisite full-page miniatures. It has been featured regularly on our blog, most notably in the post entitled A Menagerie of Miracles (who can forget the image of the otters washing Cuthbert's feet?).
Lending these manuscripts to Durham underlines the British Library's commitment to increase access to its world-famous collections, and to promote new research into medieval manuscript culture. To find out more about them, have a look at Digitised Manuscripts, where all six books can be examined in great detail. Lindisfarne Gospels Durham: One Amazing Book, One Incredible Journey is on show at Palace Green Library until 30 September 2013.