02 July 2013
A Calendar Page for July 2013
For more details on calendar pages or the Golf Book, please see the post for January 2013.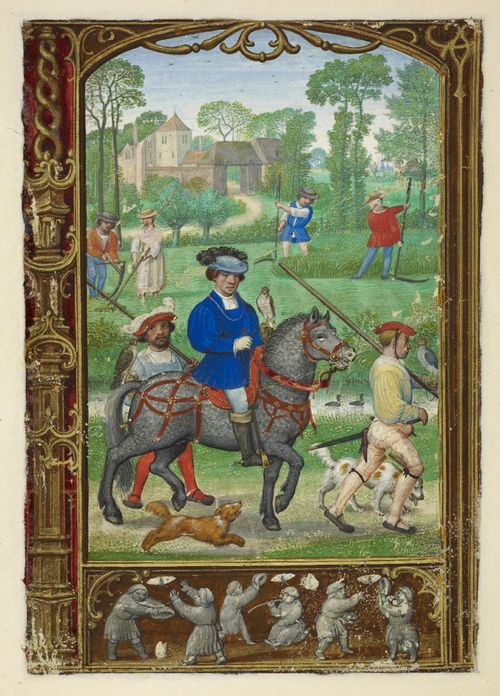 Calendar page for July with a miniature of a nobleman going hawking, with haymakers behind him, from the Golf Book (Book of Hours, Use of Rome), workshop of Simon Bening, Netherlands (Bruges), c. 1540, Additional MS 24098, f. 24v
Our glimpse into the summer pursuits of aristocrats continues in this miniature from the month of July.  In the foreground, a nobleman is setting out on horseback to hunt with falcons; he is accompanied by two retainers carrying more birds of prey, along with two dogs who seem eager for the hunt.  Behind him, a group of haymakers are at work mowing a field.  In the bas-de-page, a group of men are trying, unsuccessfully it appears, to capture some outsized butterflies.  On the following folio can be found the saints' days for July and a rather fierce-looking lion for Leo.  Below we can see the conclusion of the haymakers' labours, as they head off into the distance with a horsecart laden with their harvest.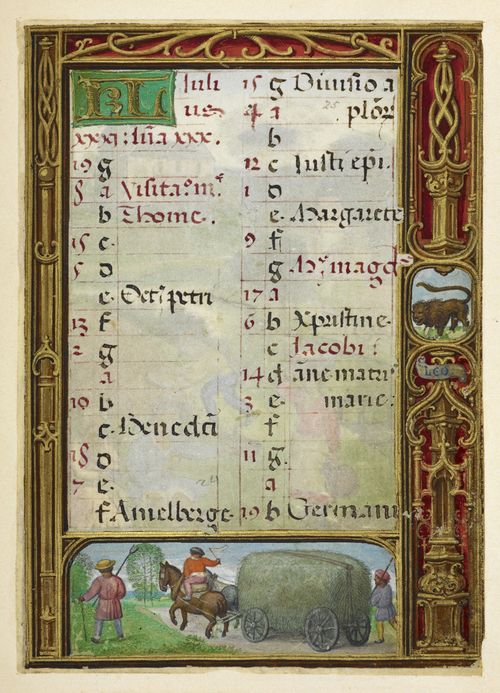 Calendar page for July with a bas-de-page scene of a haycart, from the Golf Book (Book of Hours, Use of Rome), workshop of Simon Bening, Netherlands (Bruges), c. 1540, Additional MS 24098, f. 25r