15 July 2013
Magna Cartas to be Unified for First Time
The British Library, Lincoln Cathedral and Salisbury Cathedral are delighted to announce that their copies of Magna Carta, issued by King John in 1215, are to be unified for the first time in 2015. In an event to be staged at the British Library in London, scholars, curators and conservators closely involved in the study of Magna Carta will be given the unique opportunity to examine the Magna Cartas side-by-side. What's more, no fewer than one thousand, two hundred and fifteen (1,215) members of the public, selected in a ballot, will be able to view the original documents together for themselves.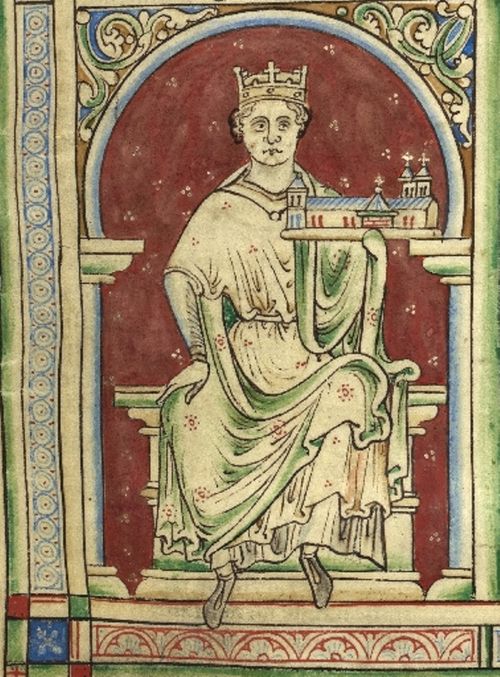 Miniature of King John in Matthew Paris, Historia Anglorum: St Albans, c. 1250 (London, British Library, MS Royal 14 C VII, f. 9r)
The year 2015 marks the 800th anniversary of Magna Carta. The three institutions have been working closely to organise this one-off event, which will initiate a year of global celebrations of this key constitutional document. Claire Breay, Lead Curator of Medieval and Earlier Manuscripts at the British Library, says "Magna Carta is the most popular item in the Library's Treasures gallery, and is venerated around the world as marking the starting point for government under the law. Bringing the four surviving manuscripts together for the first time will create a once-in-a-lifetime opportunity for researchers and members of the public to see them in one place, and will be a fantastic start to a year of celebrations." The unification is kindly supported by the law firm Linklaters, whose partner Richard Godden comments: "The arbitrary authority of the state is just as much a threat today as it was in the day of King John and the principles enshrined in Magna Carta remain essential not only in relation to personal liberty but to creating an environment in which business can prosper. We forget them at our peril."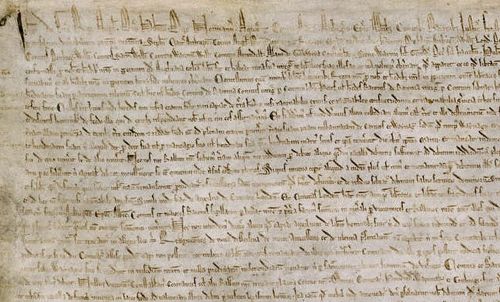 Detail of one of the British Library's copies of the 1215 Magna Carta (London, British Library, MS Cotton Augustus II 106)
Magna Carta was issued by King John of England in June 1215, in an attempt to stave off the demands of his rebellious barons. Although Magna Carta was annulled by Pope Innocent III within ten weeks, revised versions were issued on behalf of John's successors Henry III (1216–1272) and Edward I (1272–1307), in 1216, 1217, 1225 and 1297 respectively. On this final occasion Magna Carta was entered onto the statute roll, and thus became enshrined in English law. Its key clause has never been annulled, and has ensured Magna Carta's status as one of the foundations of international law, since it influenced the drafters of the United States Declaration of Independence (1776), the Universal Declaration of Human Rights (1948) and other constitutional texts. The relevant clause (actually clauses 39 and 40 combined) reads as follows:
No free man shall be seized or imprisoned, or stripped of his rights or possessions, or outlawed or exiled, or deprived of his standing in any other way, nor will we proceed with force against him, or send others to do so, except by the lawful judgment of his equals or by the law of the land. To no one will we sell, to no one deny or delay right or justice.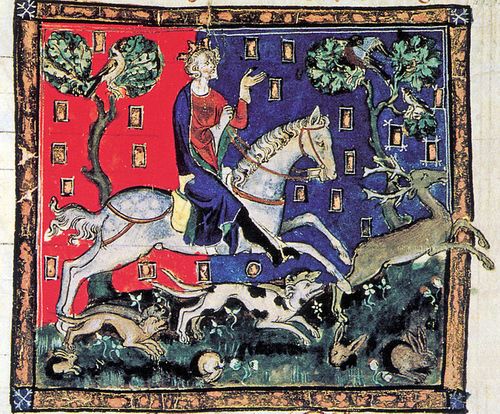 Miniature of King John hunting on horseback: England, 14th century (London, British Library, MS Cotton Claudius D II, f. 116r)
Once Magna Carta was sealed (not signed) by King John, a number of copies were distributed to the sheriffs and bishops of England in June and July 1215. Just four of these copies of the original 1215 version of Magna Carta have survived, two of which are now held at the British Library and one each at Lincoln and Salisbury. The Lincoln and Salisbury Magna Cartas are presumably those sent to the respective cathedrals in 1215; the British Library's two copies both belonged to the antiquary Sir Robert Cotton (d. 1631), one of them being sent to him in 1630 by the lieutenant of Dover Castle, and the other being found in a London tailor's shop. Only one of the four original documents still has its seal attached, but that copy (at the British Library) was damaged badly by a combination of fire in 1731 and a failed attempt at restoration in 1834.
Lincoln Cathedral's copy of Magna Carta on occasion travels for display at other institutions, while one of the British Library's two copies was loaned to the Library of Congress for the United States bicentennial celebrations in 1976. However, it is still exceedingly rare for these documents to leave their usual homes, and entirely unprecedented for them to be brought together in one place. The fact that they were written and distributed over a number of weeks in 1215 means that this is the first time ever that these copies of the original Magna Carta have been unified.
You can read more about Magna Carta, including seeing the Magna Carta viewer, a complete translation, and virtual curator videos, on the British Library's website.