19 August 2013
Get Ready to 'Save-As': New Uploads to the Catalogue of Illuminated Manuscripts
As many of you hopefully already know, the British Library offers two different ways to work with digital versions of our medieval manuscripts.  Our Digitised Manuscripts website contains complete coverage of many of the items in our collections, while the Catalogue of Illuminated Manuscripts is another very useful source of digital catalogue records and images.

Miniature of the Crucifixion, from a leaf from a missal, northern France or Netherlands, 2nd half of the 13th century, Additional MS 34652, f. 5
The Catalogue of Illuminated Manuscripts is based on a Microsoft Access database, so it has allowed us to develop some very detailed search tools.  CIM (as we call it) is particularly useful for iconographical searches, since each image is described individually.  You can search for various terms either in these specific image descriptions, or within the wider manuscript records.
We are pleased to announce that from 13 August you will be able to find even more images and manuscripts in the Catalogue, which now includes over 4,200 manuscripts (with separate parts for another 1,000) and 36,000 images.   
We update the online Catalogue twice a year, so please do send along any additional bibliography, your comments, and or suggested corrections to mss [at] bl [dot] uk, and we will include these in the next upload.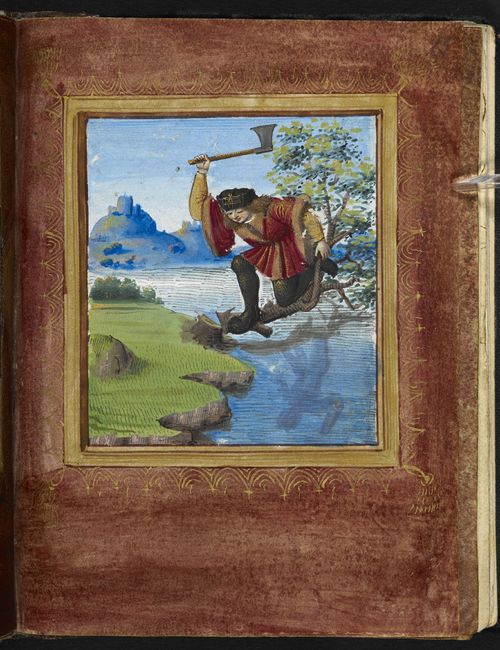 Miniature of a man cutting down a tree on which he sits (an illustration of the proverb: 'chopping down the branch that supports you'), from Pierre Sala's Petit Livre d'Amour, France (Paris and Lyon), 1st quarter of the 16th century, Stowe MS 955, f. 15r (for example, we've already corrected the just-spotted typo in the description of this image!)
All of the images in CIM are provided under a Public Domain Mark, meaning that, within certain restrictions of reasonable use, images from this catalogue are freely available to the public.  We ask that you maintain the library's Public Domain tag, and provide a link or other credit back to the source on the British Library's site – but otherwise, we are happy for you to help us share these riches even more widely with the world!
Or, if you are just interested in exploring, why not take a tour of some collection highlights?  Our curatorial staff have teamed up with other experts to put together a series of virtual exhibitions, exploring topics that range from manuscripts of the Bible to King Arthur and his Knights of the Round Table to medieval bestiaries.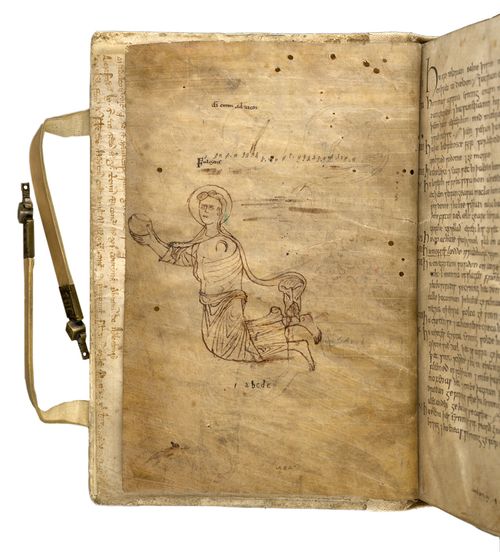 Drawing of Matthew the Evangelist and a musical sequence on 'Fulgens' in Anglo-Norman neums, with the opening showing metal clasps and part of a front flyleaf, from Orosius' Historum adversum paganos, England (Winchester?), between c. 892 and c. 925, Add MS 47967, f. 1v
We will soon have a blog post for you on our recent uploads of Anglo-Saxon manuscripts to CIM, but in the meantime, happy searching!
 - Kathleen Doyle and Sarah J Biggs