06 August 2013
Michael Wood and King Alfred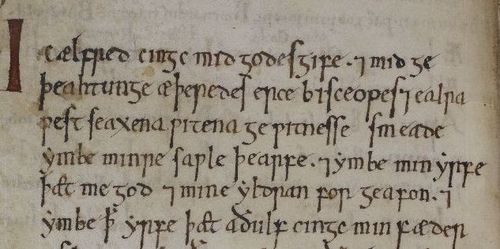 The opening words of King Alfred's will, beginning "Ic Ælfred cinge", in an 11th-century copy: London, British Library, MS Stowe 944, f. 29v.
Earlier this year, Michael Wood, the historian and broadcaster, came to film some of the British Library's Anglo-Saxon manuscripts for his new television series, King Alfred and the Anglo-Saxons. Some of you may know Michael's previous books and programmes, such as The Story of England, The Story of India, Conquistadors, and In Search of the Dark Ages; and he is a familiar face at the British Library (for instance, he chaired a discussion with Seamus Heaney, Michael Morpurgo and Benjamin Bagby at our Beowulf festival in 2009, and he was a speaker at our Royal manuscripts conference in 2011).
Two of our curators, one conservator and several British Library manuscripts feature in episode one of the new series, to be broadcast tonight on BBC Four (21.00–22.00). It's always a pleasure to work with Michael Wood, who is a trained Anglo-Saxonist, and we look forward (like everyone else!) to watching his new programme, entitled "Alfred of Wessex". As ever, it will be available subsequently on the BBC iPlayer (United Kingdom viewers only).
Meanwhile, you might like to know that can see the whole of King Alfred's will on the British Library's Digitised Manuscripts site ... and you can read more about it here.