20 August 2013
St John the Evangelist in the Lindisfarne Gospels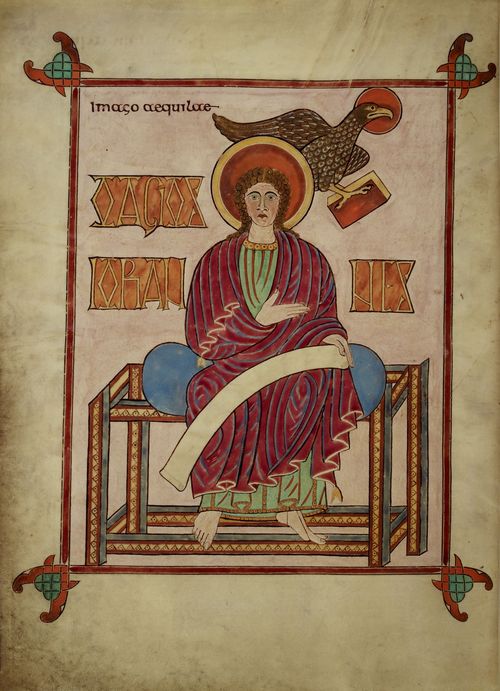 St John the Evangelist in the Lindisfarne Gospels (London, British Library, MS Cotton Nero D IV, f. 209v).
Now on show in Durham, until 30 September 2013, is this miniature of St John the Evangelist in the Lindisfarne Gospels. The page in question prefaces the Gospel of John in this famous, Anglo-Saxon gospelbook. John is depicted sitting on a blue cushion, with a scroll held in his left hand, and with his evangelist symbol (an eagle, imago aequilae) above his head. The pigments are as rich as the day they were painted, a combination of oranges, reds, blues and greens.
The Lindisfarne Gospels is the centrepiece of the Durham exhibition, staged in Palace Green Library, a stone's throw (literally) from the impressive Romanesque cathedral. Also are show are other British Library manuscripts, most notably the St Cuthbert Gospel (which we bought for the nation in 2012 for £9 million), plus treasures from the British Museum, Corpus Christi College Cambridge and other institutions, and items from the Staffordshire Hoard. Catch the exhibition while you can, it's a treat!
You can read more about the exhibition here. And you can see the Lindisfarne Gospels in its entirety on our Digitised Manuscripts site.
Don't forget to follow us on Twitter, @blmedieval.