12 August 2013
Twelfth-Century Girl Power
One of our recent uploads to Digitised Manuscripts is the indisputably fabulous Melisende Psalter (Egerton MS 1139); have a look at the fully digitised version here. This extraordinary manuscript is not only a superb example of 12th-century Crusader art, but also a fitting legacy for the remarkable woman for whom it was most likely created - Melisende, the Queen of Jerusalem.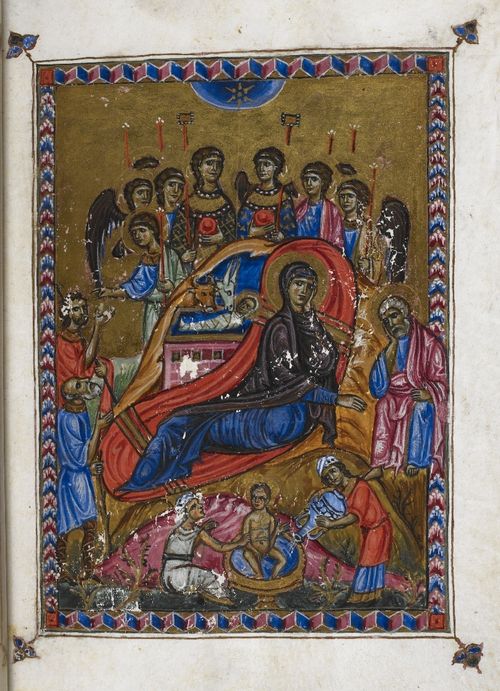 Detail of a miniature of the Nativity of Christ, from the Melisende Psalter, Eastern Mediterranean (Jerusalem), 1131-1143, Egerton MS 1139, f. 2r
Melisende was born in 1105, and spent her early years in Edessa, a territory that had been conquered by her father, Baldwin, a Frankish crusading knight who met with much success on the battlefield. His wife (the deliriously-named Morphia), to whom he was much devoted, was the daughter of an Armenian prince, and a formidable figure in her own right. As their eldest daughter, Melisende was heavily influenced by her strong and ambitious parents, and grew up surrounded by the traditions of both East and West – not to mention a near-constant state of warfare.
When Melisende was 13 her father was elected the King of Jerusalem. Lacking sons, the newly-crowned Baldwin II took the unusual step of naming his eldest daughter the heir to his kingdom, and Melisende soon became an active participant in the administration of the crusader state. Baldwin eventually arranged a match between Melisende and the Frankish military commander Fulk V, Count of Anjou and Maine, after taking steps to ensure that his daughter's position would be assured after her marriage.
Melisende and Fulk ascended to the joint rule of Jerusalem after Baldwin II's death in 1131, but Fulk did not wait long before he sought to strip Melisende of her power and seize the throne for himself alone. Melisende was more than a match for him, however. Possessing a canny knowledge of diplomacy, able military commanders, and the loyalty of her subjects, she quickly put an end to his attempted coup. The couple eventually reconciled, but Melisende's position was sacrosanct ever after; the historian William of Tyre later wrote that Fulk never again tried to 'take the initiative, even in trivial matters, without [her] knowledge'.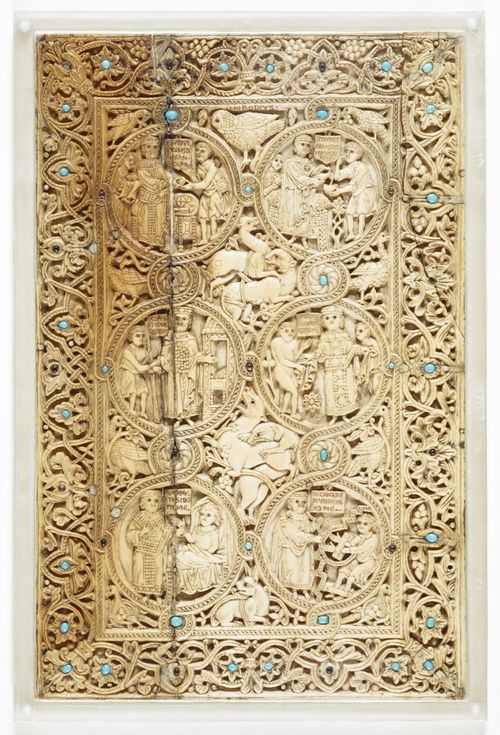 Ivory plaque from the lower binding, of the six vices and six works of charity, illustrating Matthew 25:35-36, from the Melisende Psalter, Eastern Mediterranean (Jerusalem), 1131-1143, Egerton MS 1139
Some scholars have argued that the Melisende Psalter was a gift from Fulk to Melisende after their reconciliation – a glorious form for an apology to take, if true. There is certainly plenty of evidence for this suggestion. The death of Baldwin II is listed in the Psalter's calendar, but Fulk's death in 1143 is not noted, which implies that he was alive at time it was created. The Psalter was originally encased in two ivory plaques (now detached), one of which includes a carving of a bird labeled as 'herodius' (see above); in the French vernacular this bird was also called a 'foulque', a rather obvious allusion to Fulk.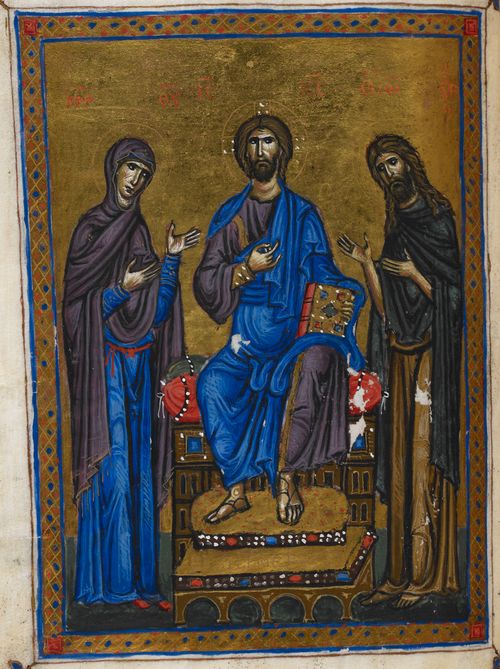 Detail of a miniature of the Deesis, from the Melisende Psalter, Eastern Mediterranean (Jerusalem), 1131-1143, Egerton MS 1139, f. 12v
Like Melisende herself, the Psalter is a unique synthesis of East and West. The text, liberally highlighted with gold lettering, conforms to the standards of the Holy Sepulchre, but its style and script is closest to contemporary French or English productions, and the calendar is a copy of one developed for use in the diocese of Winchester. At the beginning of the manuscript is a series of 24 full-page miniatures with scenes from the New Testament; the presence of such scenes is common in western European Psalters from this period, but the images in Melisende's are of a distinctly eastern style, reflective of the Byzantine Orthodox liturgical tradition. These masterful illuminations were created by an artist named Basilius, who signed his name ('Basilius me fecit' or 'Basilius made me') on the last miniature in the series (this inscription is just barely visible in the stool beneath Christ's feet; see above).
Some of our favourite highlights from the manuscript are below; have a look at the entire manuscript here.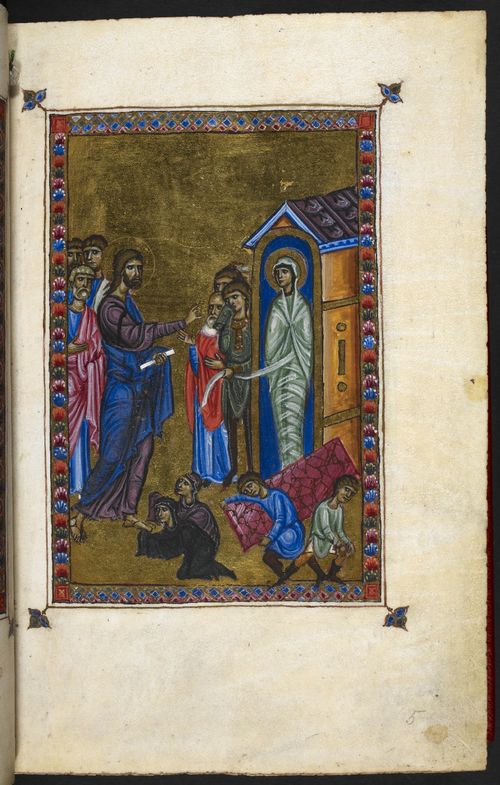 Miniature of Christ and the raising of Lazarus, from the Melisende Psalter, Eastern Mediterranean (Jerusalem), 1131-1143, Egerton MS 1139, f. 5r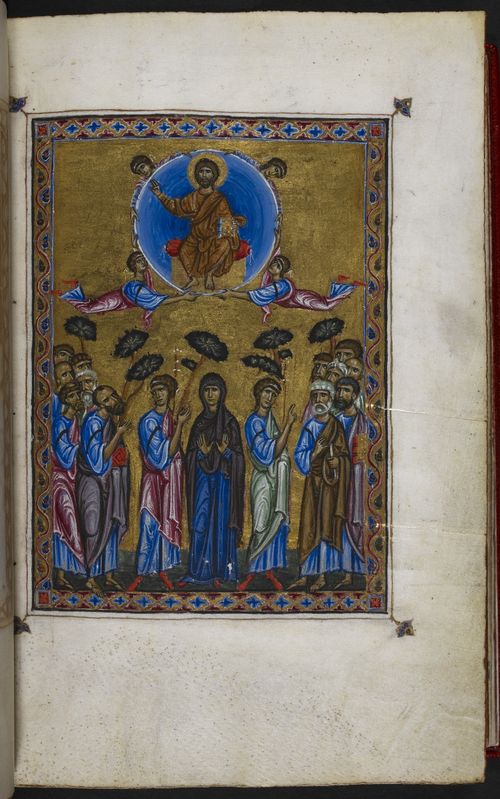 Miniature of the Ascension of Christ, from the Melisende Psalter, Eastern Mediterranean (Jerusalem), 1131-1143, Egerton MS 1139, f. 11r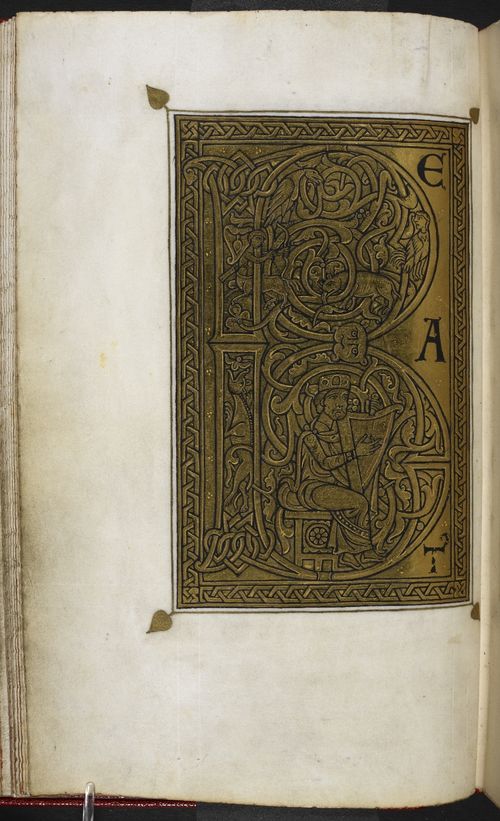 Historiated initial 'B'(eatus vir) of David harping, from the Melisende Psalter, Eastern Mediterranean (Jerusalem), 1131-1143, Egerton MS 1139, f. 23v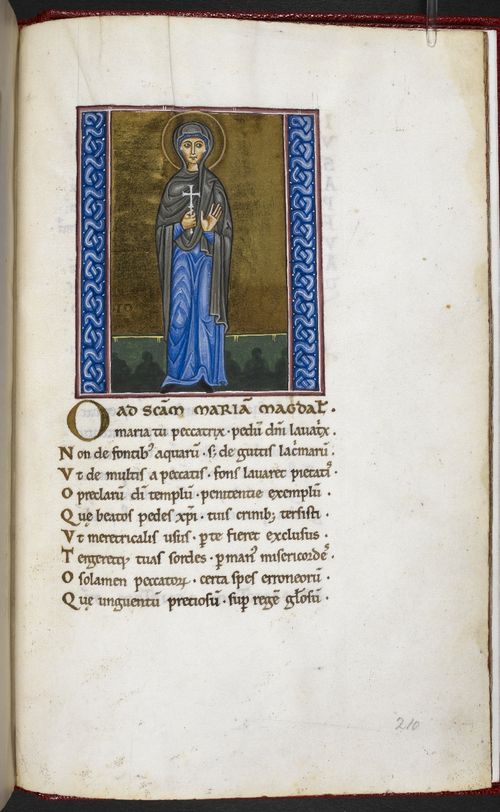 Miniature of Mary Magdalene, at the beginning of a prayer to her, from the Melisende Psalter, Eastern Mediterranean (Jerusalem), 1131-1143, Egerton MS 1139, f. 210r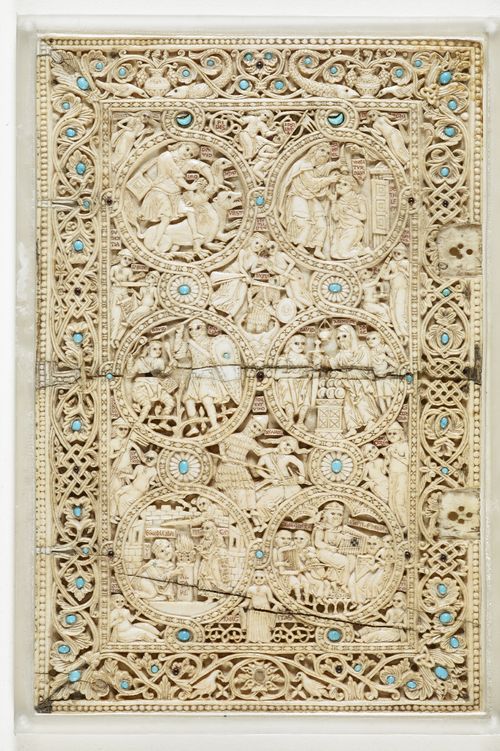 Ivory plaque from the upper binding, with scenes from the life of David, from the Melisende Psalter, Eastern Mediterranean (Jerusalem), 1131-1143, Egerton MS 1139
- Sarah J Biggs