06 September 2013
Seamus Heaney: An Appreciation
It is a week since Famous Seamus sadly passed away. Seamus Heaney, Nobel Laureate for Literature, came to the British Library as part of our Beowulf week in October 2009. In front of an enthralled audience, he read extracts from his award-winning translation of Beowulf. Heaney then listened in turn as Michael Morpurgo and Benjamin Bagby performed their respective versions of the poem, before all three discussed Beowulf under the expert chairmanship of Michael Wood.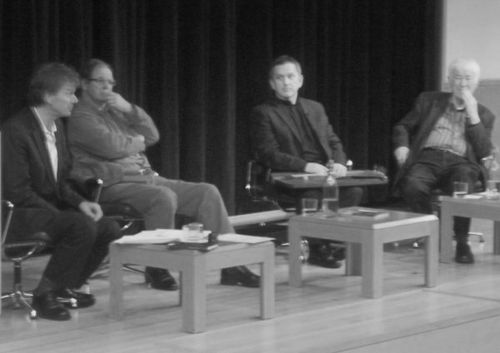 The Beowulf event at the British Library in 2009, featuring (from left to right) Michael Wood, Michael Morpurgo, Benjamin Bagby and Seamus Heaney
As a curator at the British Library, it's always rewarding to find ways of making our medieval manuscripts come to life, and to demonstrate how they remain relevant to modern and future generations. Seamus Heaney's participation in our week of Beowulf events was a notable highlight -- how to take an epic written in a long-dead language, and to re-invent and re-interpret it for modern listeners.
Heaney's version of Beowulf had won the Whitbread Prize for Book of the Year in 1999. Around that time, the British Library acquired from him nine typewritten drafts, with handwritten annotations, of the first page of his version of Beowulf (Additional MS 78917). When visiting us in 2009, Seamus Heaney expressed his delight to see examples of his draft displayed alongside the original manuscript of Beowulf, together with paintings loaned by Michael Foreman, the illustrator of Michael Morpurgo's re-telling of the story for children.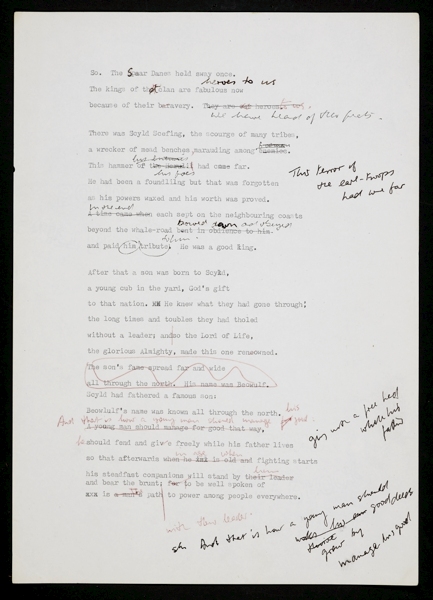 A draft of Seamus Heaney's award-winning version of Beowulf (London, British Library, MS Additional 78917).
Before appearing onstage at the British Library, Seamus Heaney had attended the previous evening's performance by Benjamin Bagby, who sings the story of Beowulf and Grendel in the original Old English, to the accompaniment of the harp. I gave Heaney a copy of our Treasures in Focus introduction to Beowulf, and he very kindly signed my own copy of his Beowulf translation. I thanked him for so kindly agreeing to perform in our event; but no, the pleasure was his, he replied, it had been a privilege to see Bagby sing Beowulf, the poem which Seamus Heaney had in turn transformed into a modern masterpiece. It was one of those truly special moments, to witness the coming together of two great poets, wordsmiths who lived a thousand years apart but were united by their love of the poetic form.
The Old English poem Beowulf ends with the burial of the eponymous hero. We can do Seamus Heaney no better compliment than to repeat here the same lines in his own words, with the gracious permission of Faber and Faber, his publishers.
"Then twelve warriors rode around the tomb,
chieftain's sons, champions in battle,
all of them distraught, chanting in dirges,
mourning his loss as a man and a king.
They extolled his heroic nature and exploits
and gave thanks for his greatness; which was the proper thing,
for a man should praise a prince whom he holds dear
and cherish his memory when that moment comes
when he has to be convoyed from his bodily home."
Julian Harrison, Curator of Pre-1600 Historical Manuscripts