10 October 2013
British Library Ivories in the Gothic Ivories Project
Regular readers of our blog will (hopefully) already be using the magnificent website of the Gothic Ivories Project.  This project is based at the Courtauld Institute of Art, and is dedicated to producing a database which aims to include all the readily available information on every surviving Gothic and neo-Gothic ivory, accompanied by at least one image.  The focus of the project is on objects made in Europe dating from c. 1200 - c. 1530 (excluding Embriachi work) and also modern imitations.  The online database now contains data about 3,800 objects from nearly 300 museums around the world; these objects are illustrated by more than 10,000 images.  Ultimately it will be possible to view in one place images and detailed information on about 5,000 pieces. 
Like the British Library's Catalogue of Illuminated Manuscripts, the Gothic Ivories online resource allows wide-ranging searches on iconography, provenance, and origin.  Now, two British Library manuscripts with ivory plaques inserted into their bindings have been included in the project.
The first is an English ivory, found on the cover of Add MS 10301, an English Legendary from the end of the 14th century.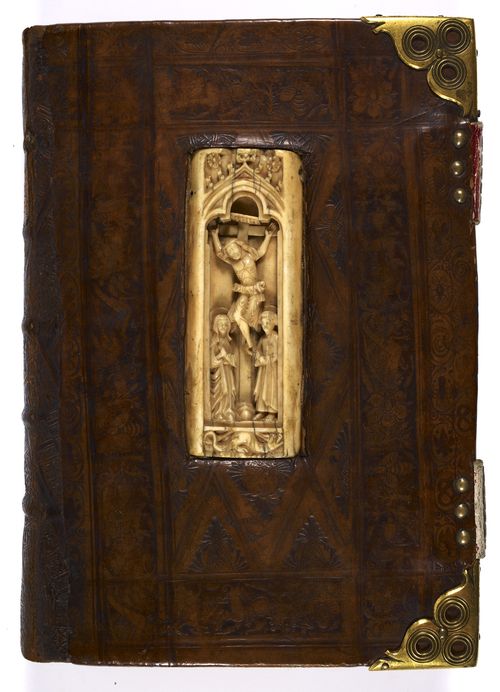 14th century ivory panel of the Crucifixion with Mary and John the Evangelist, with a dragon in the lower border, and two rosettes in the spandrels, Add MS 10301
And the second is a French ivory, now inserted into the binding of Add MS 36615, a 14th century French copy of Le Roman de Godefroy de Bouillon.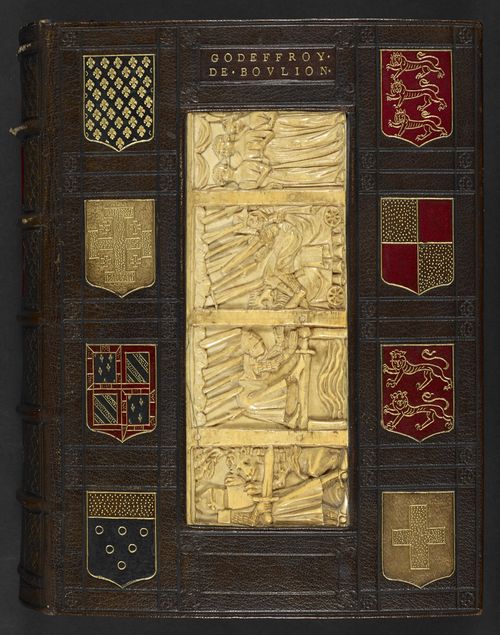 14th century ivory fragment, probably originally from a casket with scenes from Arthurian romance, including: Gawain in armour fighting the lion; Lancelot, driven by his love for Guinevere, crossing the sword bridge while spears and darts fall on him from the sky; Gawain, at the Castle of Merveille, sleeping with his own sword on the perilous bed; and the three maidens at the Castle of Merveille, Add MS 36615
The British Library's images have been included in the Gothic Ivories website under our new Public Domain policy.
- Kathleen Doyle and Catherine Yvard