27 November 2013
Marginali-yeah: Take 2! The Incomparable Luttrell Psalter
It is almost impossible to discuss the fabulous and incomparable Luttrell Psalter (Add MS 42130) without resorting to hyperbole.  Produced in Lincolnshire, England c. 1320-1340, for Sir Geoffrey Luttrell, its namesake and patron (please see our earlier blog post for more details), the manuscript is a glorious explosion of visual delights.  Besides the illuminated and historiated initials, the Psalter contains hundreds of marginal and bas-de-page images which display a staggering and creative diversity.  A very few (compared with the overwhelming numbers in the manuscript!) selected details are below; please have a look at the fully digitised manuscript here for much much more.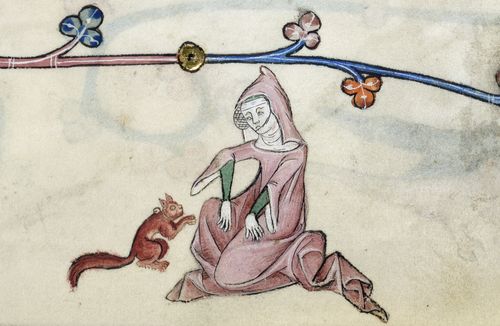 A lady with a pet squirrel, Add MS 42130, f. 33r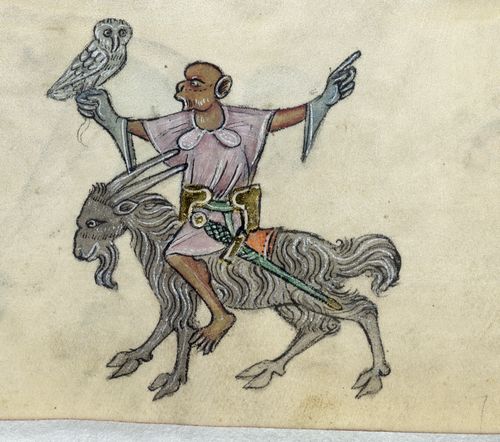 A monkey riding a goat whilst hawking (except with an owl, so not hawking), Add MS 42130, f. 38r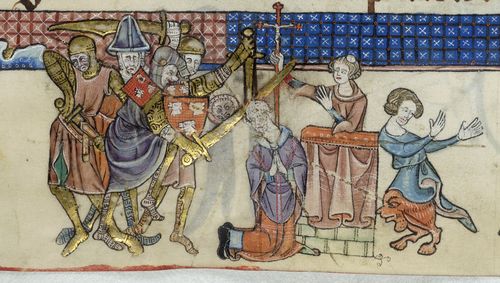 The martyrdom of Thomas Becket, with a grotesque nearby, and later 'x' marks effacing the painting, Add MS 42130, f. 51r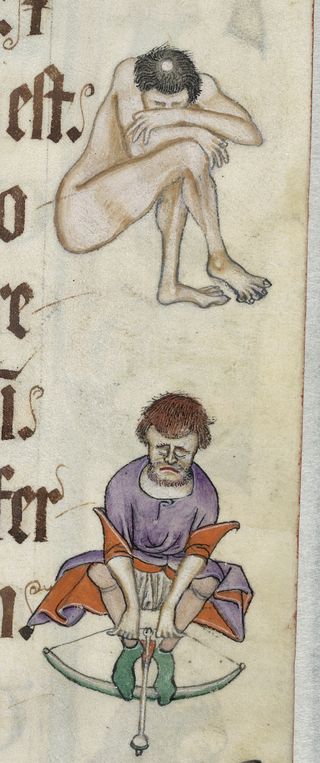 A dejected, nude, and tonsured man (a winning combination!) with an archer below, Add MS 42130, f. 54r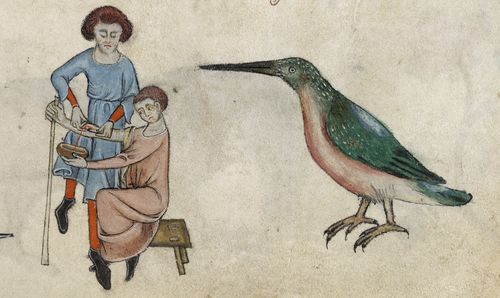 A man being bled into a bowl while an attentive bird looks on, Add MS 42130, f. 61r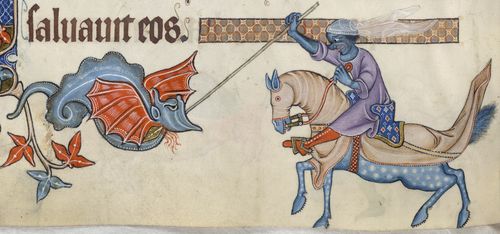 A blue-skinned man (perhaps a Saracen or Ethiopian?) doing battle with a dragon (not a snail in sight), Add MS 42130, f. 83v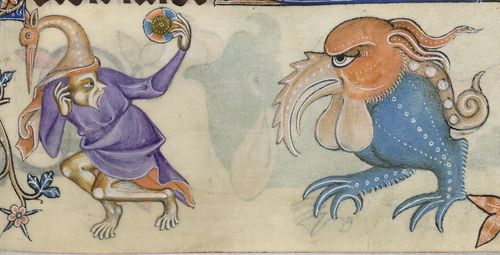 Medieval Angry Birds, Add MS 42130, f. 145r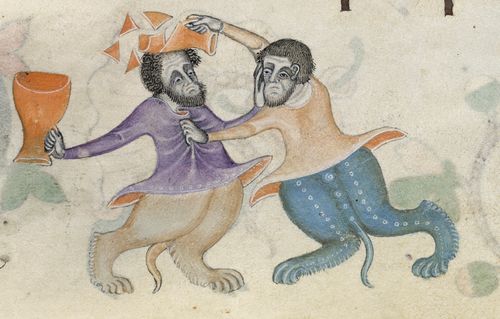 Two grotesques fighting and fighting dirty, Add MS 42130, f. 153r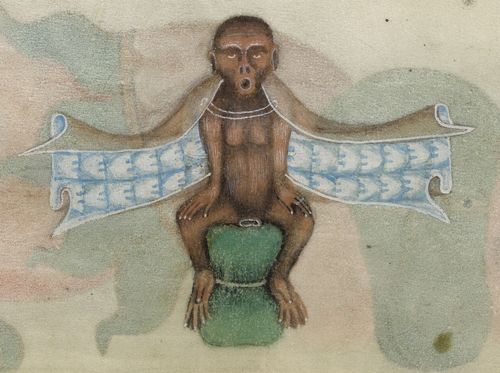 A monkey being extremely rude, as far as we can tell, Add MS 42130, f. 189v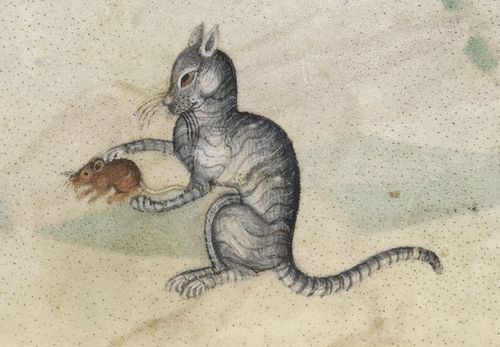 A cat (of course!), Add MS 42130, f. 190r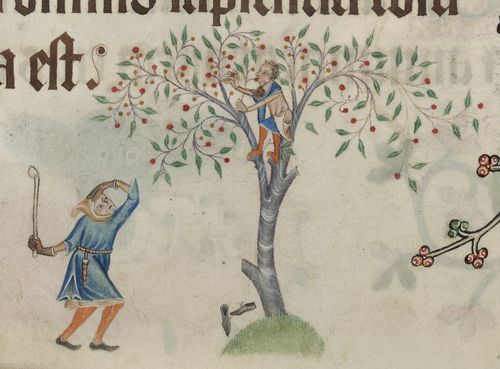 Stealing fruit, Add MS 42130, f. 196v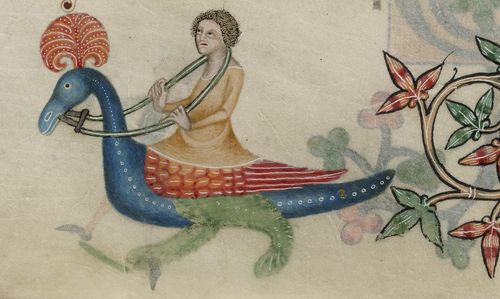 A female grotesque riding, um, herself, Add MS 42130, f. 198v 


This grotesque is unimpressed, Add MS 42130, f. 202r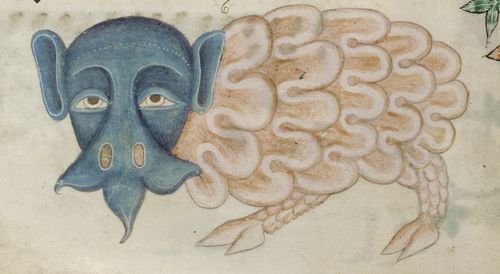 Eeyore-ish, Add MS 42130, f. 208v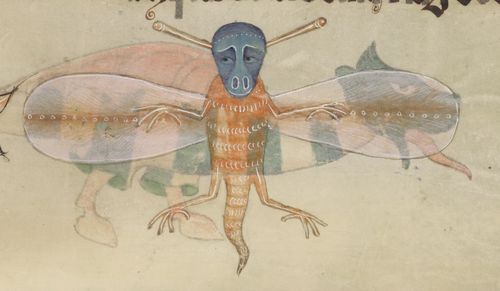 Check me out, Add MS 42130, f. 210r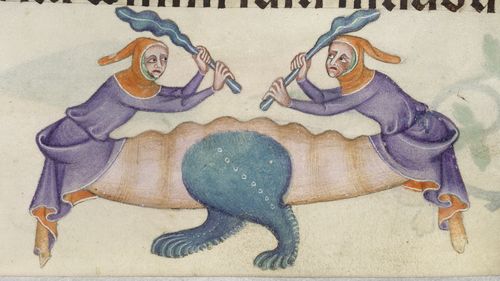 This won't end well, Add MS 42130, f. 211r
Please let us know if you have any other favourites; you can always leave us a note in the comments below, or get in touch with us on Twitter @BLMedieval.
- Sarah J Biggs