23 December 2013
Medieval Top Ten
It's that time of the year when we all look back at what we have accomplished (and also when we so frequently resort to clichés like 'it's that time of year').  It has been a fantastic 12 months for our blog, due in large part to our fabulous readers.  We thought we'd take this chance to highlight our ten most popular posts, which were chosen by you (or at least chosen by your clicks!).  In true countdown fashion, we'll start with:
10.  Anglo-Saxon Treasures Online:  the announcement about our department's very first uploads to Digitised Manuscripts (it seems so long ago!); we were off to an excellent start with the Lindisfarne Gospels and the Old English Hexateuch.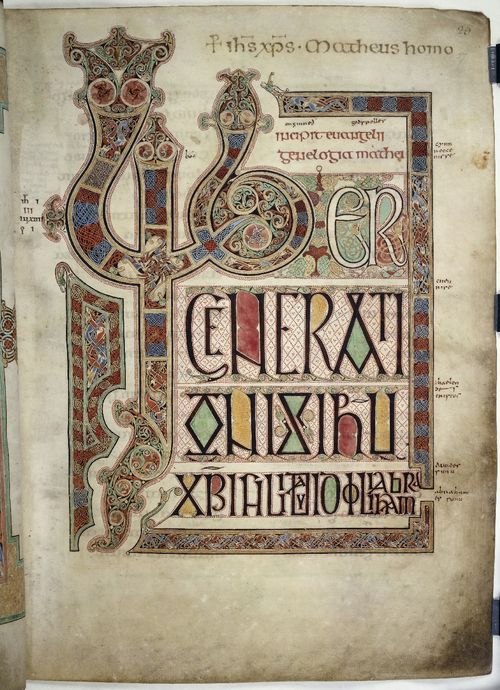 Beginning of the Gospel of Matthew, from the Lindisfarne Gospels, Cotton MS Nero D IV, f. 27r
9.  Hebrew Illuminated Manuscripts Online:  an exciting announcement about the inclusion of more than 100 Hebrew manuscripts to our Catalogue of Illuminated Manuscripts site, with a full list of hyperlinks included!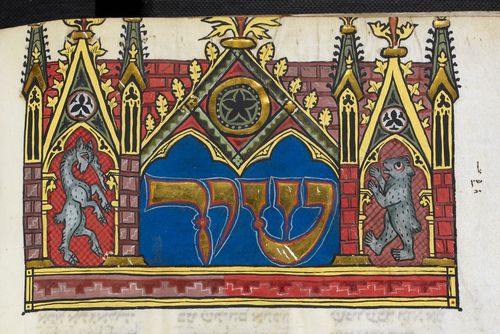 Initial word panel Shir ('song' inhabited by a unicorn and a bear, from the Duke of Sussex's German Pentateuch, Add MS 15282, f. 296v
8.  Robert the Bruce Letter Found at British Library:  a post highlighting the exciting discovery by Professor Dauvit Broun, University of Glasgow, of a previously-unknown letter from Robert the Bruce to Edward II.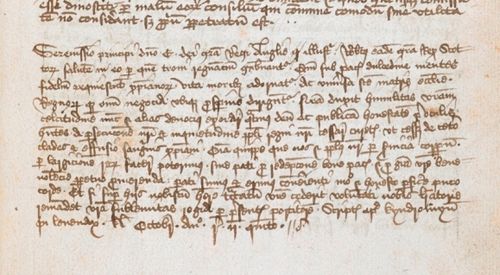 Detail of the letter from Robert the Bruce to Edward II, Cotton MS Titus A XIX, f. 87r
7.  St Cuthbert Gospel Saved for the Nation:  a celebration of the British Library's acquisition of the late 7th century St Cuthbert Gospel after the most successful fundraising campaign in the Library's history.  Now in our collections as Add MS 89000, you can now view the fully-digitised manuscript online.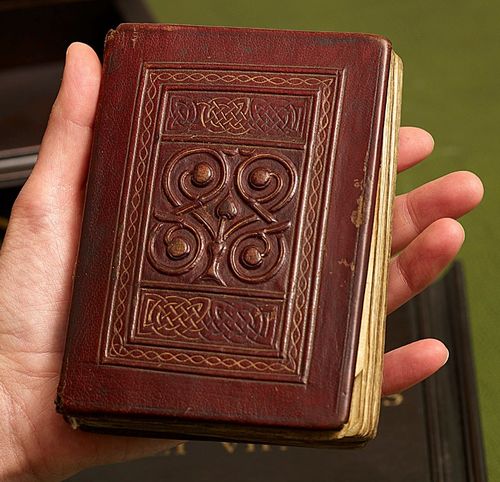 Front binding of the St Cuthbert Gospel, Add MS 89000
6.  White Gloves or Not White Gloves:  not to wreck the surprise or anything, but the answer (almost always) is not.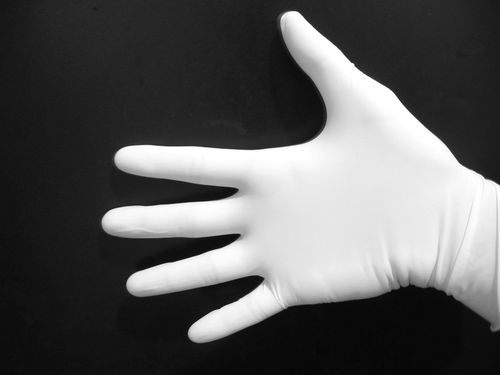 5.  Loch Ness Monster Found at British Library:  another amazing discovery by our unstoppable research team! We'll just leave it at that.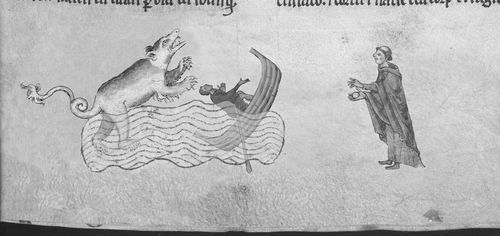 Image of the Loch Ness Monster, as recovered using RZS©
4.  Hwæt! Beowulf Online:  we were thrilled to publicise the digitization of one of the Library's great treasures, the Beowulf manuscript (Cotton MS Vitellius A XV; click the link for the fully-digitised version).  And many of you seemed equally thrilled!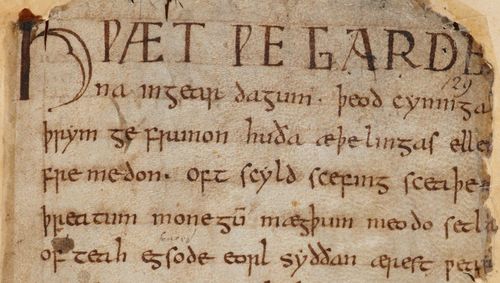 Detail of the opening words of Beowulf: 'Hwæt!' ('Listen!'), Cotton MS Vitellius A XV, f. 132r
3.  Lolcats of the Middle Ages:  far and away the most popular post from our on-going series on medieval animals – for obvious reasons, we think.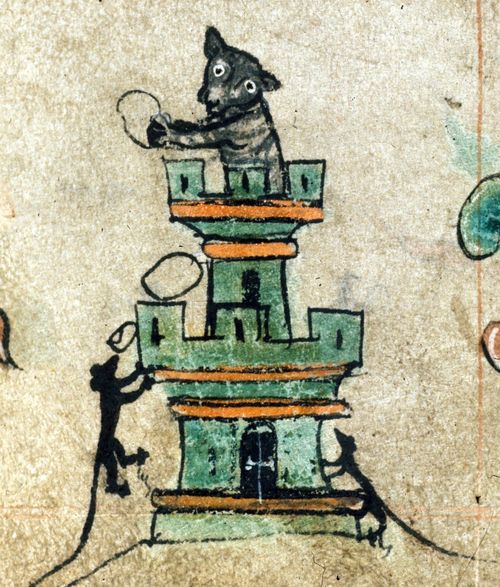 Detail of a miniature of mice laying siege to a castle defended by a cat, from a Book of Hours, Harley MS 6563, f. 72r
2.  Knight v Snail:  this piece on the prevalence of images of knights fighting snails in the margins of 13th and 14th century manuscripts was great fun to write, and it was even more enjoyable to see the fantastic response it received.  It set a British Library record for the most hits in a single day, was picked up by the Guardian, and most gratifying, many of you wrote in with some excellent thoughts on this mysterious marginalia; thank you so much!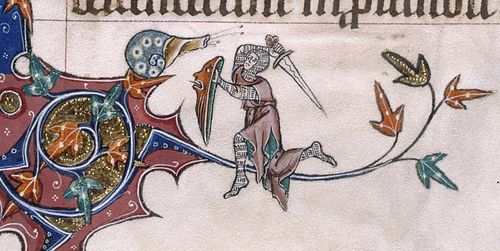 Detail of a knight battling a snail in the margins of a 14th century Psalter, Add MS 49622, f. 193v
So now, with no further ado, we come to…
1.  Unicorn Cookbook Found at the British Library:  the discovery of this gem of a manuscript, shrouded in secrecy for months, met with an amazing reaction when it was finally revealed on 1 April 2012, and it continues to be a perennial favourite.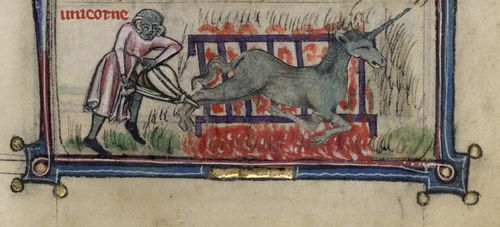 Detail of a unicorn on the grill in Geoffrey Fule's cookbook, Additional MS 142012, f. 137r
Thanks from all of us in the Medieval and Earlier Manuscripts section!  Don't forget to follow us on Twitter: @BLMedieval.
- Sarah J Biggs