25 January 2014
'She cares not a turd': Notes on a 16th century Squabble
While we were preparing the catalogue entry for Harley MS 7334, one of our most recent uploads to Digitised Manuscripts, we came across a very curious marginal note, and would like to solicit your ideas about it.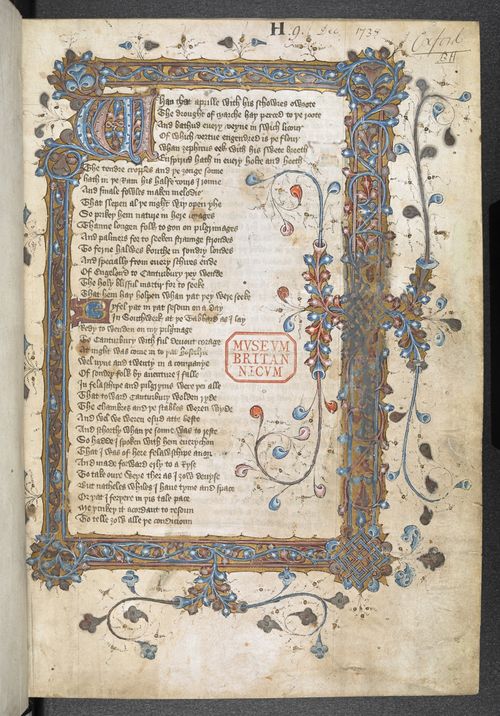 Decorated initial 'W'(han) at the beginning of the Canterbury Tales, England (London or East Anglia, c. 1410), Harley MS 7734, f. 1r
But first a bit of background.  This manuscript is a relatively early copy of Chaucer's famous Canterbury Tales, and was created c. 1410 in England, probably in East Anglia.  The scribe who penned it was responsible for other manuscripts containing the Canterbury Tales (such as Corpus Christi College, Oxford, MS 198, for example), leading some scholars to propose that it was a production of a commercial scriptorium specialising in such texts.  Harley MS 7334 has a rather complicated ownership history, and passed through a number of different hands during the tumultuous 15th and 16th centuries.  The task of untangling its provenance is both aided - and complicated - by the profusion of notes, signatures, and inscriptions that can be found throughout the manuscript, many of which were added by later hands.

Detail of an inscription concerning Elizabeth Kympton [Kimpton] and Edward Waterhouse, Harley MS 7734, f. 81r
It is one of these inscriptions that caught our eye, for reasons that will shortly become clear.  In the right-hand margin of f. 81r (above) is a note in a mid-16th century hand.  It reads 'Mrs Kympto[n] shall have an ill name by Mr Waterh[ows] but she cares not a turd and yet she is a gentlewo[man] clerly enoug[h] how say you she Kna[ves?]' with the later part of the inscription much rubbed away.
Well. This is very strange indeed.  And it is not the only such note in the manuscript.


Detail of an inscription concerning Elizabeth Kympton [Kimpton] and Edward Waterhouse, Harley MS 7734, f. 187r
On f. 187r can be found a similar sentiment.  This note reads: 'Mrs Kimpton is like to have an ill name by mr waterhous but she cares not a…'.  Again, the rest of this communication has been effaced, although one imagines that it expresses a similar idea to the previous.  So what are we to make of this?    
These odd addenda have received little attention in the literature about this manuscript.  One scholar describes the first inscription only fleetingly as a 'bit of gossip' and, perhaps overly-concerned with the delicate sensibilities of his readers, he declines to transcribe it.  Our own research has yet to turn up much of substance about the mysterious woman who 'cares not a turd', save a few brief details. An Elizabeth Kympton is listed in the will of Lady Anne Grey (d. 1557/8), who owned this manuscript in the mid-16th century.  Lady Anne also named an Edward Waterhouse as one of her legatees; the two were probably part of Lady Anne's household, although the precise nature of their relationship to her and to each other remain unknown.  Several more clues can be found in the manuscript itself.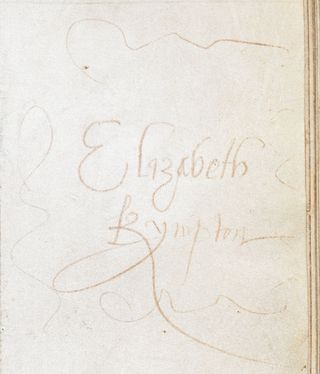 Detail of an inscription reading 'Elizabeth Kympton', Harley MS 7734, f. 129r
The name 'Elizabeth Kympton' is written in the margin of f. 129r, and we find it again on f. 61r. Intriguingly, this time her name is coupled with that of Edward Waterhouse, and conveniently dated to 1557.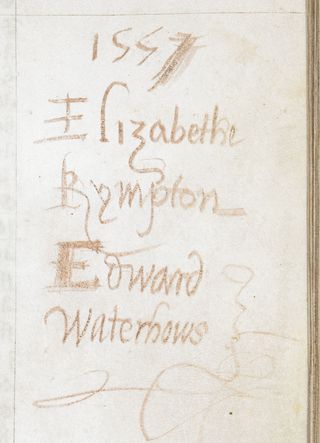 Detail of an inscription reading '1557 / Elizabeth Kympton / Edward Waterhows', Harley MS 7734, f. 61r
We know a bit more about Edward Waterhouse (later Sir Edward); he was born in 1533, and was the youngest son of the auditor to Henry VIII.  As a young adult he came under the patronage of Sir Henry Sidney, and became Sir Henry's personal secretary when the latter was appointed Lord Deputy of Ireland in 1565 (Sir Henry's name is also inscribed in this manuscript, apparently by Edward, see f. 170r).  But prior to embarking on his career Edward must have spent some time in the household of Lady Anne Grey.  He was clearly a prodigious annotator; he was responsible for a number of notes throughout the manuscript, including a line on the final folio: '1556.  Anne Grey Wife to the Lord John Grey and dowghtor to Wyllim Barlee Esquier owith this book. E. W.'


Detail of an inscription by Edward Waterhouse about Lady Anne Grey, Harley MS 7734, f. 286v
The handwriting here is comparable to that in the much-effaced note on f. 187r.  Could Edward have been the author of the two 'ill name' inscriptions?  And what could have been the motivation for such an odd fit of pique?  Did this arise from a lovers' quarrel, or from some other cause?  
One final point, which may or may not be relevant:  the bizarre inscription on f. 81r can be found in the midst of the Man of Law's Tale, the fifth of Chaucer's Canterbury Tales.  This is a story about a Christian princess named Custance who was bethrothed to the Sultan of Syria.  According to the tale, the Sultan's mother intervened to prevent the marriage, and set Custance (or Constance) adrift at sea.  She eventually came ashore on the Northumbrian coast, where she met the king, Alla, and they fell in love.  In a horrible stroke of luck, the now-pregnant Custance again found herself the victim of a meddling mother-in-law, who intercepted and altered a letter from her.  Custance was banished yet again to sea by an angry Alla, ending up in Italy, but the story had a happy ending when the repentant Alla went in search of her and they were eventually reunited.  The Edward/Elizabeth note on f. 81r can be found next to a description of Alla's despairing and angry response to his mother's forged letter from Custance.  He then wrote his own letter to give to the drunken messenger who delivered his mother's epistle; the Man of Law's Tale then continues (we're providing the modern English translation):
'This letter he seals, secretly weeping / Which to the messenger was given soon / And forth he goes; there is nothing more to do. / O messenger, filled with drunkenness / Strong is thy breath, thy limbs ever tremble / And thou betray all secrets. / Thy mind is lost, thou chatter like a jay / Thy face is completely changed.  / Where drunkenness reigns in any group / There is no secret hidden, without doubt. / O Donegild [Alla's mother], I do not have any English suitable to describe / Unto thy malice and thy tyranny! / And therefore to the fiend I thee consign; / Let him write about thy treachery! / Fie, like a man, fie! O nay, by God, I lie / Fie, like a fiendish spirit, for I dare well tell / Though thou here walk, thy spirit is in hell!'
On that note, we'll turn this over to you; please do let us know your thoughts on this still mostly-hidden secret.  You can leave a comment below, or contact us on Twitter @BLMedieval.   
-          Sarah J Biggs