Update to the Catalogue of Illuminated Manuscripts
Here in the British Library's department of Medieval and Earlier Manuscripts, we work tirelessly to make our collections accessible and better known among scholars and the public.  While much attention focuses on our Digitised Manuscripts resource, let's not forget about the Catalogue of Illuminated Manuscripts.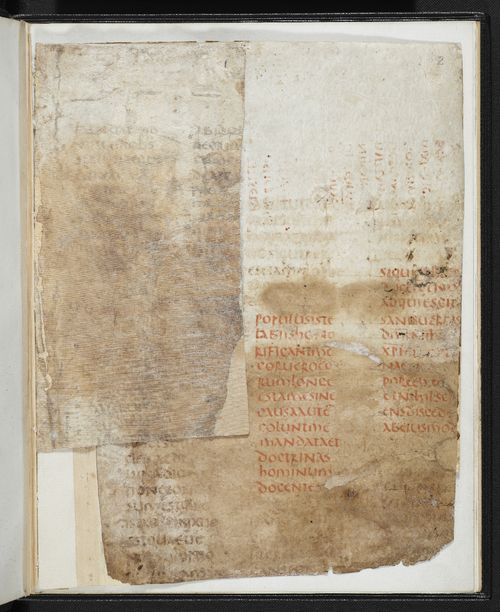 Text page fragments in uncial script, from Cyprian's Epistles, North Africa (Carthage?), 4th – 5th centuries, Add MS 40165A, f. 1r
Recently updated, CIM (as we like to call it) now boasts a total of 4,277 manuscripts and some 36,163 images.  These range from a 4th/5th-century copy of Cyprian's Epistles, perhaps brought to England by Theodore of Tarsus and Hadrian of Canterbury (Add MS 40165A), to a collection of facsimile manuscript pages produced in 1873 by John Obadiah Westwood, a palaeographer and entomologist (Egerton MS 2263) – with a lot in between.
Since the last update in August 2013, we have been cataloguing Anglo-Norman manuscripts from the Additional collection.  Although some of them only contain only decorated initials, the contents are wide-ranging and filled with surprises.
Here are a few favourites (with more to come, so stay tuned!):
The earliest English cookbooks? (Add MS 32085 and Royal MS 12 C XII)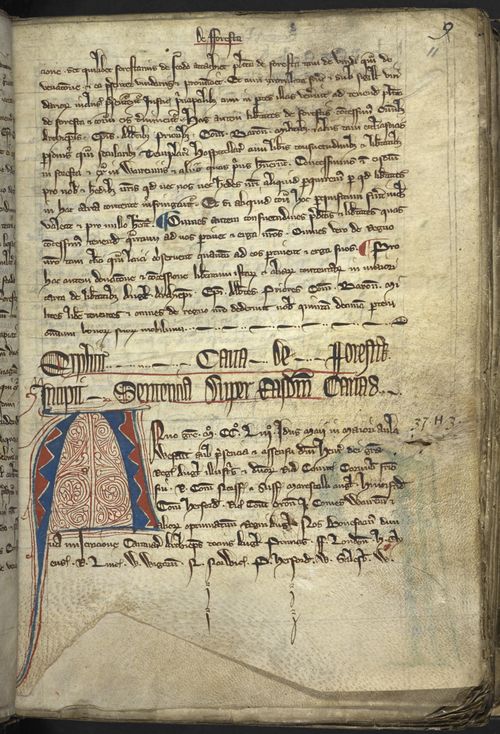 Puzzle initial, from the legal text 'Sentencia Super Easdem Cartas', England, late 13th or early 14th century, Add MS 32085, f. 11r.
Both manuscripts contain a varied collection of miscellaneous texts – from prophecies to arithmetical puzzles, from charters to a lapidary – bound together after they were copied.  They have one ingredient in common: collections of recipes in Anglo-Norman French, believed to be the earliest surviving examples of English cuisine.  If you fancy trying your hand at medieval cookery, check out Constance B. Hieatt and Robin F. Jones's edition and translation.
Some of the recipes are mouth-watering (but no roasted unicorn, sadly), and the names are especially appetising:
Teste de Tourk (Turk's Head): a type of quiche filled with rabbits and poultry; add eels to 'enhance' the flavour!
Nag's tail: the ingredients include pigs' trotters and ears, grease and wine.
Sang Dragoun: dragon's blood is a colourful name for what appears to be rice pudding.
Tardpolene: alas, no tadpoles, but just soft cheese, dates and almonds.
Scientific and chiromantic texts (Add MS 18210)
This scientific compilation contains Latin texts by Galen, the 'Dragmaticon' of William of Conches (tutor to Henry II), as well as some texts on telling the future.  Two are unique to this manuscript: one on spatulomancy/scapulamancy (divination through the use of a shoulder-bone), and another on haematoscopy (prognostication through the examination of blood).  A less visceral means of forecasting is recorded in a treatise on geomancy, where one must interpret the patterns formed by tossing handfuls of rocks on the ground.  A handy table is provided as a guide: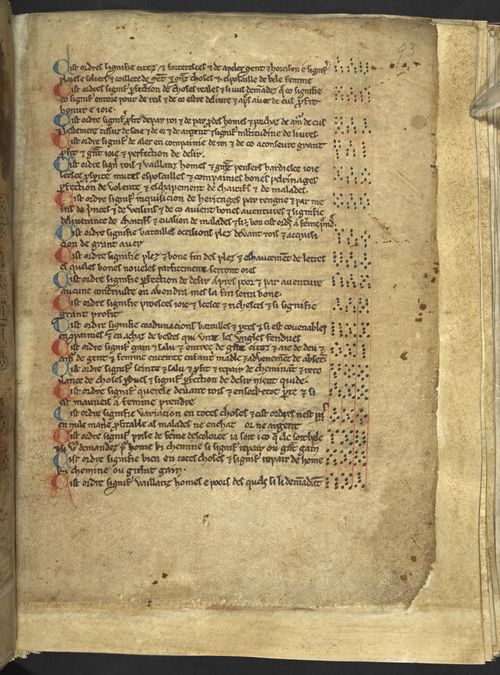 Table of patterns, from a treatise on geomancy, England or N. France, c. 1275- c. 1325, Add MS 18210, f. 93r.
Who wouldn't want the stones to predict 'proesces ioie et leesce et richesces et si signifie grant profit' (nobility, joy, gladness, riches and great profit)?
We have also continued to update and augment entries with further details on the contents, provenance and bibliographies relating to illuminated manuscripts.  Tune in for some further highlights later on.
Don't forget that it's possible to find manuscripts in the Catalogue by means other than their shelfmarks.  One can conduct advanced searches by keyword, date range, language, provenance, scribe, artist – and so on!  You can bring together manuscripts of the same period in order to compare decorative styles, or see examples of a specific artist's work at a glance.  One of the best features is that you can search for keywords within the images (try searching for 'snail' and see what comes up!).
The Catalogue also includes virtual exhibitions of British Library manuscripts, and an illustrated glossary (most useful for getting to grips with tricky terminology).  Enjoy!
                                                                                               -  James Freeman and Chantry Westwell