17 April 2014
Internship in the Medieval and Earlier Manuscripts Section
The British Library is pleased to be able to offer an internship in the Medieval and Earlier Manuscripts section of the History and Classics Department for a doctoral or post-doctoral student in history, history of art, medieval language or other relevant subject.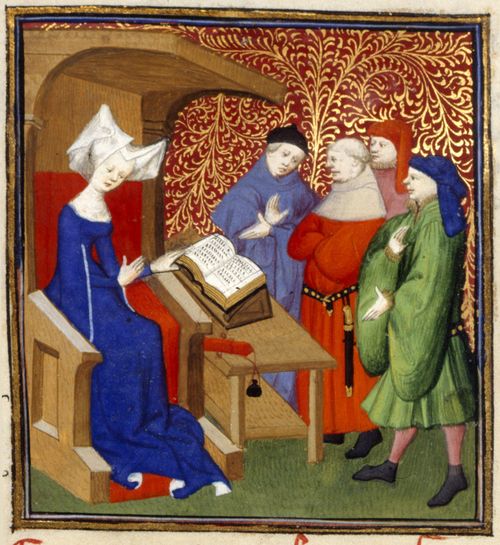 Detail of a miniature of a woman reading moral proverbs at the beginning of the
'Proverbes moraux', from Christine de Pizan's Book of the Queen, France (Paris), c. 1410 - c. 1414, Harley MS 4431, f. 259v
The intern will be involved in all aspects of the work of the Medieval and Earlier Manuscripts section, including responding to enquiries, providing talks for students and patrons, selecting and presenting manuscripts for display in our exhibition gallery, assisting in exhibition preparation, and cataloguing, thereby gaining insight into various curatorial duties and aspects of collection care.  During the internship at the Library, the intern will enjoy privileged access to printed and manuscript research material, and will work alongside specialists with wide-ranging and varied expertise. 
A major focus of the internship will be to enhance the online Digitised Manuscripts and Catalogue of Illuminated Manuscripts websites by creating and supplementing catalogue entries for medieval manuscripts and accompanying images, working under the supervision of the Curator of Illuminated Manuscripts.  The internship will also provide an opportunity for the student to assist in presenting manuscripts to a general audience in our major Magna Carta anniversary exhibition, exhibitions in the Sir John Ritblat Treasures Gallery, and to develop research skills in medieval and Renaissance history and art history. 
The programme is only open to students who are engaged actively in research towards, or have recently completed a PhD in a subject area relevant to the study of pre-1600 illuminated or other medieval manuscripts, who have eligibility to work in the UK. 
The term of internship is either full time (36 hours per week) for six months, or part time for twelve months, depending on how many hours the successful candidate can offer.  Applicants are asked to specify which work pattern they would prefer in the application.  The salary is £8.80 per hour. The internship will start in July 2014 after relevant security clearances are obtained.
The selection process will include questions about the date, origin, and decoration of a particular manuscript to be shown at the interview.
For further information about the position, please contact Kathleen Doyle, Curator of Illuminated Manuscripts at [email protected].
To apply, please visit www.bl.uk/careers quoting vacancy ref: COL000490 and upload a CV and Cover Letter. The Cover Letter should include answers to the following three questions:
    1.     Please give examples of your experience in cataloguing medieval manuscripts.
    2.     Please provide examples of your experience in writing about your research for a general             audience.
    3.     Please give an example of how you have adapted your own communicating style to deal with             different people and situations.
Closing Date: Thursday 15th May 2014
Interview Date: Monday 2nd June 2014