11 April 2014
On a Roll
Harley Roll Y 6 – the Guthlac Roll – has been fully digitised, and a new catalogue description and high-resolution images are now available on Digitised Manuscripts.  This newest upload takes place, appropriately, on St Guthlac's own feast day.  It also coincides with the conclusion of a two-day conference at the University of London, which has marked the beginning of the 1300th year since Guthlac's death with a series of papers on the saint's life, his cult, and the surviving sources.  The Guthlac Roll is also on display in the British Library's newly refurbished Treasures Gallery.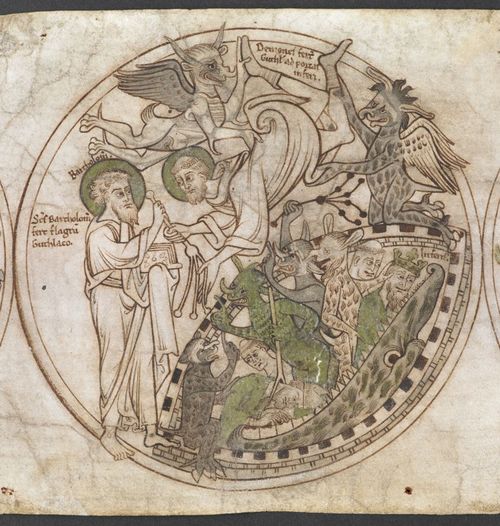 Drawing of Guthlac being carried to the gates of Hell by demons and being given a scourge by St Bartholomew with which to repel them, Harley Roll Y 6, roundel 8.  For more Hell-mouths in BL manuscripts, see 'Prepare to Meet Your Doom'.
The Guthlac Roll was made around the late twelfth or early thirteenth centuries.  It is regrettably incomplete: a fifth piece of parchment, containing perhaps two or three roundels illustrating the earlier stages of his life, has been lost.  What survives is a series of seventeen compelling and skilful pen-drawings in roundels of Guthlac's life and deeds – including an entertaining trio illustrating his torment by and ultimate vanquishing of demons, aided by St Bartholomew – plus a final roundel illustrating the benefactors of his shrine at Crowland, in present-day Lincolnshire.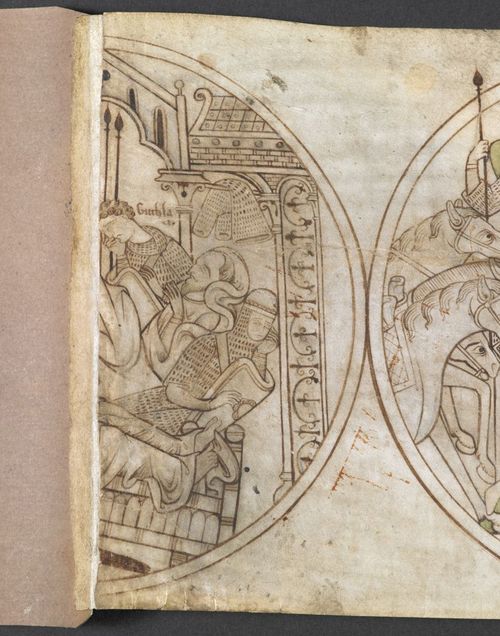 Drawing of Guthlac deciding to devote himself to a life of religion, Harley Roll Y 6, roundel 1 (incomplete).
Born into the Mercian royal dynasty, Guthlac spent his early adult life as a warrior, leading apparently successful raids and battles against hostile neighbouring tribes.  The roll in its present state opens with half of a roundel that illustrates the sleepless night on which the young Guthlac, surrounded by his slumbering fellow-soldiers, resolved to devote himself to a life of religion.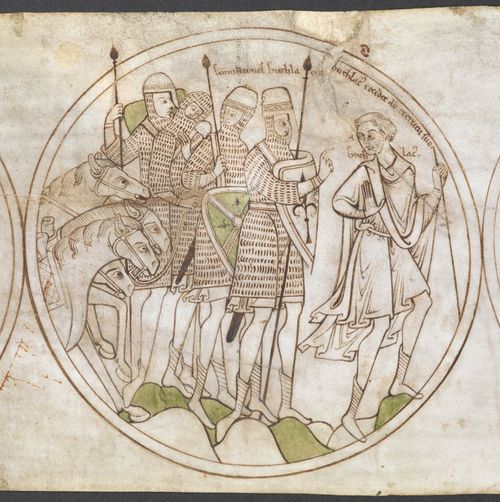 Drawing of Guthlac leaving military service, Harley Roll Y 6, roundel 2.
The roundel scenes are given particular animation by the skill with which the anonymous artist captured facial expressions.  Note the bewilderment of Guthlac's men as he bade them and the military life farewell.  Stumped by his decision, they turn to one another questioningly; one looks down at the ground, seemingly lost in a moment of doubt.  The soldier at the front appears to be appealing to Guthlac – but too late: his back turned, he is departing with a simple wave.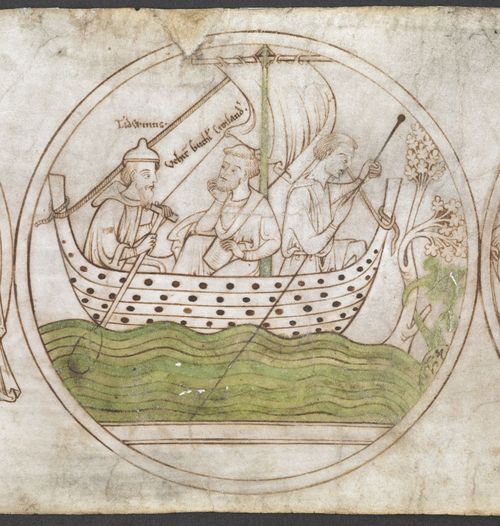 Drawing of Guthlac sailing to Crowland with Tatwin, Harley Roll Y 6, roundel 4.
Having received the tonsure at Repton Abbey, Guthlac set sail for Crowland, at that time an island amidst the Fens.  The roundel shows that his life of contemplation had already begun: with an open book on his lap, his gaze tilted upwards, he is lost in thought, oblivious to the paddling of Tatwin and his helper (who appears to be using a quant pole).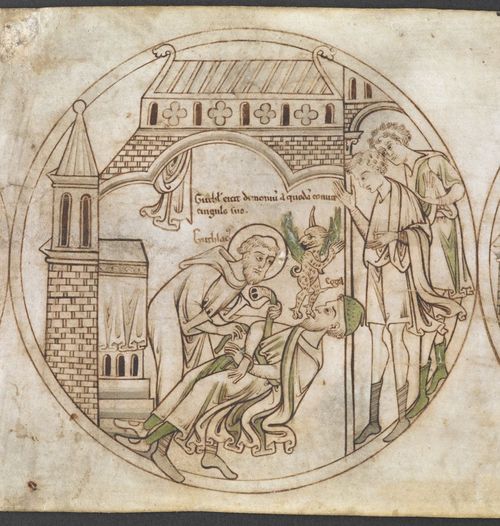 Drawing of Guthlac exorcising a demon from Ecgga, Harley Roll Y 6, roundel 10.
In a later roundel, two men look on in wonderment, one open-mouthed, as Guthlac is exorcising a demon from Ecgga.  The scene reinforces Guthlac's saintliness: that he possessed holy powers that were witnessed by his contemporaries.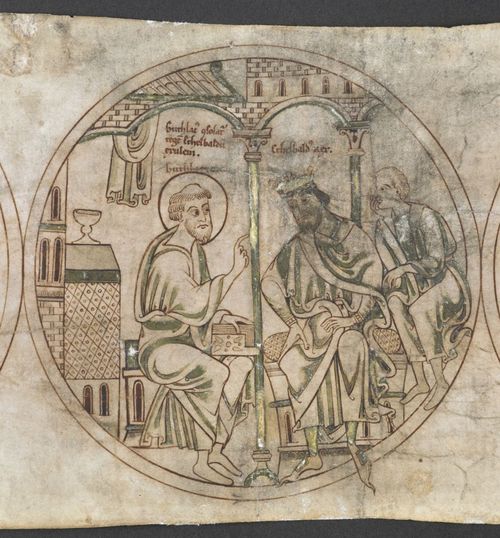 Drawing of Guthlac counselling Æthelbald, Harley Roll Y 6, roundel 12.
According to Felix of Crowland's Vita Sancti Guthlaci, the main source for the roll, word of Guthlac's deeds attracted wide attention.  While in exile, Æthelbald, King of the Mercians, sought Guthlac's advice.  The artist depicted Æthelbald sitting with his eyes fixed upon Guthlac, listening intently to his teaching, his attentive pose echoed by the rapt gaze of his attendant.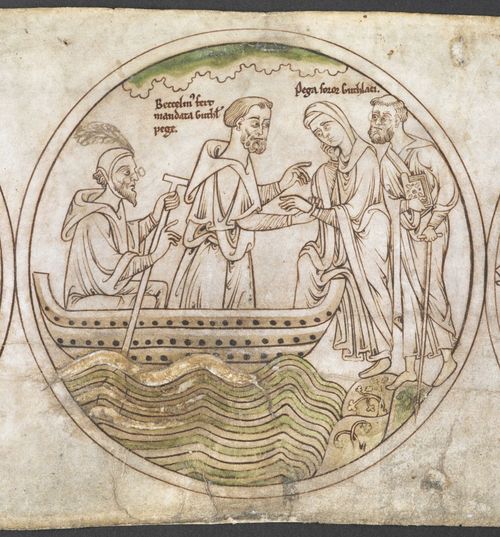 Drawing of Pega setting sail for Crowland with Beccelm, Harley Roll Y 6, roundel 15.
After Guthlac's death, his sister Pega came to Crowland for his burial.  The fifteenth roundel shows her, grief-stricken, being met by Guthlac's disciple, Beccelm.  Her brow is wrinkled, her eyes downcast; she is holding one hand up to her face mournfully.  Her emotional state is echoed by her unsteady pose: with one foot on land and the other on the boat, she is balanced by Beccelm, who is lending her his hand.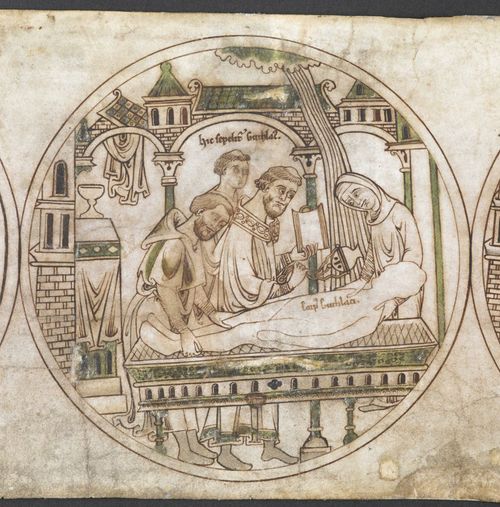 Drawing of Guthlac's burial, Harley Roll Y 6, roundel 16.
The next roundel illustrates Guthlac's burial.  Observe the care with which one of the monks is holding Guthlac's legs, how tenderly Pega is cradling the saint's head in the crook of her arm, as they lower his shrouded body gently into the coffin.  The depiction of Guthlac in silhouette – rather than wrapped in dramatic loops and whorls of drapery as in the earlier death-bed scenes – was a deliberate artistic decision.  It encapsulates the sudden absence of the central figure in this cycle of roundels and the emptiness of his mortal remains following the departure of his soul.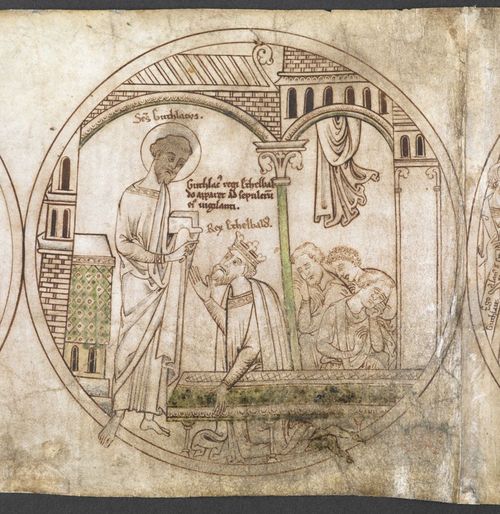 Drawing of Guthlac's appearance in a vision to King Æthelbald during the vigil at his tomb, Harley Roll Y 6, roundel 17.
It also emphasises the miraculousness of Guthlac's startling reappearance in the next roundel: standing before Æthelbald, who is now looking up in wonder at the newly designated saint.
- James Freeman