A Calendar Page for November 2014
For more information about the Huth Hours, please see our post A Calendar Page for January 2014.
These two calendar pages for the month of November show a typical labour for this part of the agricultural season – the fattening of pigs for autumn.  On the opening folio, beneath the beginning of the saints' days for the month, is a roundel of a peasant in the woods.  He is armed with a long stick, and is engaged in knocking acorns from oak trees to feed the pigs that are rooting around near his feet.   On the following folio, we can see a small miniature of a centaur with a bow and arrow, for the zodiac sign Sagittarius.  Beneath him is another peasant, heading home after a day of feeding pigs.  He looks fairly miserable – understandably enough, as he is walking through a heavy rainstorm.  Surrounding this roundel and the continuation of the saints' days is a frame made up of golden columns, circled by banners with the initials 'MY' and 'YM'.  These initials might be clues to the original owner of the manuscript, whose identity/identities are still unknown.  For more on this mystery, see here.

Calendar page for November, with a roundel miniature of a man feeding pigs in the woods, from the Huth Hours, Netherlands (Bruges or Ghent?), c. 1480, Add MS 38126, f. 11v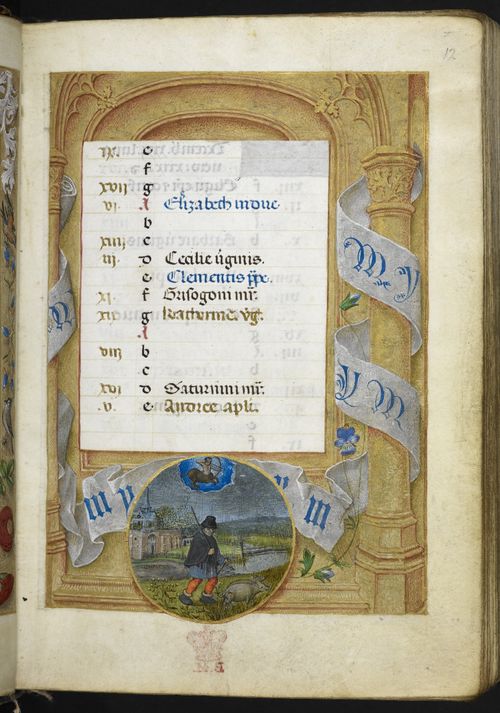 Calendar page for November, with a roundel miniature of a man heading home in a rainstorm, with the zodiac sign Sagittarius, from the Huth Hours, Netherlands (Bruges or Ghent?), c. 1480, Add MS 38126, f. 12r
- Sarah J Biggs