18 November 2014
A Royal Beast and the Menagerie in the Tower

Detail of a miniature of a crowned lion as 'King of Beasts' in a Book of Hours ('The Taymouth Hours'), ?England (?London), c. 1325–c. 1350, Yates Thompson MS 13, f. 18r
In light of the recent news that London may be without lions for the first time in 800 years, and with further inspiration from the Royal Beasts exhibition at the Tower of London, we take a turn towards the role of the lion in the medieval imagination.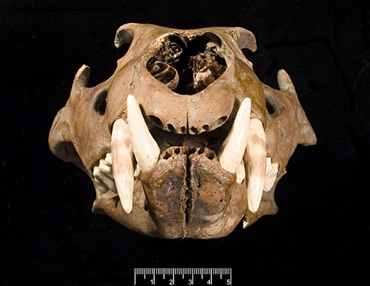 A skull of a 'Barbary' lion, excavated from the moat of the Tower of London in 1937, image courtesy of the Natural History Museum, London
Visitors to Royal Manuscripts: The Genius of Illumination may remember the lion skull kindly lent to the British Library by the Natural History Museum. This was one of two skulls unearthed at the Tower of London, where King John (d. 1216) had established a Royal Menagerie which was to become home to an assortment of exotic beasts including lions, bears and one short-lived elephant.

Detail of an historiated initial showing the King of England mounted on a lion, from the Bohun Psalter, England (S.E., ?London), 2nd half of the 14th century, Egerton MS 3277, f. 68v
The skulls were radiocarbon dated to 1280–1385 and to 1420–1480, suggesting that these particular lions were the private exhibits of either Edward I, II or III, in the first instance, or of the Lancastrian Henry VI or Yorkist Edward IV, in the second. These 'Barbary' lions, hailing from northwest Africa, were doubtless an exciting embodiment of the Royal Arms of England for any English monarch.

Detail of a miniature of crafty method for catching lions (potentially) by placing a goat in one hole and waiting for a lion to fall down the second hole, from a Bestiary, England (?Salisbury), c. 1225–c. 1250, Harley MS 4751, f. 2v
Whether royal mascots or diplomatic gifts, numerous archival records indicate a long history of lions at the tower. Exactly how they came to be at the tower, how they were crated and transported, is unknown, but trapping a lion using the method depicted in the Bestiary above (involving two holes and a tethered goat) would be quite a feat. The earliest noted payments to their keepers came from King John in 1210-1212, with records becoming more detailed under Henry III (d. 1272).

Detail of an historiated initial showing a man being devoured by lions (I Kings 20:36), Egerton MS 3277, f. 104r
In 1240, the sheriffs of London were instructed to make provisions for a lion and a keeper, William de Botton, including 14 shillings for 'buying chains and other things for the use of the lion'. By 1314, the sheriffs were providing a quarter of mutton every day for the maintenance of numerous lions. The polar bear seems to have had it better in this respect. As part of a cost-saving measure for the City, this (chained) Norwegian captive could at least fish for its own supper on the bank of the Thames.
The keeper's own wages could be slow to materialise, as experienced by William Bounde who was owed £55 by 1408: he would be imprisoned by his creditors, he claimed, and the lions would go unfed. The office was granted to Robert Manfeld in 1436, who would double up as marshal of the hall within the royal household. Perhaps delegating duties became a challenge since it was in the same year that all of the lions in the tower apparently died. Had he simply fed the sick lions a monkey, as recommended by the Bestiary, they may well have been cured.

Detail of a miniature of lion and his irrational fear of the white rooster, in a Bestiary, England (?Rochester), c. 1230–c. 1300, Royal MS 12 F XIII, f. 5v
The Bestiary describes the power, courage and intelligence of the lion – a fitting emblem of monarchy – who fears nothing save the white rooster, scorpion and snake.

Detail of a miniature of cubs born dead and reanimated by their fathers who breathe life into them, in the Bestiary, England (?North or Central), c. 1200–c. 1210, Royal MS 12 C XIX, f. 6r
When hunted, the Bestiary relates, the lion sweeps his tail over the ground to conceal his tracks; he also sleeps with his eyes open to avoid capture, and he has the ability to resurrect his stillborn cubs. He never attacks women and children, nor the man who prostrates himself before him.

Detail of a miniature of Josiane (luckily a virgin of royal blood) with two lions, Yates Thompson 13, f. 8v (this miniature featured earlier this year in our Valentine's Day blog post, An Illustrated Guide to Medieval Love)
Lions were able to ascertain, by mysterious means, both virginity and royal blood, which is why Josiane was immune to being trapped in a cave with two lions.

Detail of a miniature of Beves of Hampton slaying the two lions pestering Josiane, Yates Thompson 13, f. 12r
Beves of Hampton, by contrast, was forced to employ all his knightly prowess to avoid being devoured alive.

Detail of a miniature of Joanna of Paris embracing a lion, from the 'Topographia Hiberniae' of Gerald of Wales, England (?Lincoln), c.1196–1223, Royal MS 13 B VIII, f. 19v
Occasionally, a 'woman's tricks' might be held responsible for encouraging the amorous affections of the lion, as Gerald of Wales reports was the case at the French court of King Philip.

Detail of a column miniature showing Habakkuk (suspended by the hand of God) delivering a jug of stew to Daniel in the lions' den, from Guyart de Moulins, Bible historiale, France (?Paris), 1357, Royal MS 17 E VII, f. 107v

Detail of an historiated initial 'A' showing Daniel and two lions in the den, from a Bible, England, c. 1250–c. 1275, Royal MS 1 D I, f. 377r
The popular stories associated with biblical heroes Daniel, Samson and David gave frequent cause for lions in manuscript miniatures. Daniel's benign and friendly companions emphasise his miraculous delivery from the lions' den.

Marginal drawings of David keeping his sheep safe by grappling with a lion and a dog (above) and fighting Goliath (below), from the Worms Bible, Germany (Frankenthal), c. 1148, Harley MS 2803, f. 126v
Other popular subjects include David – shepherd boy and future king – protecting his sheep from a lion, a prolepsis of his battle with Goliath.

Detail of a miniature of Samson taking a honeycomb from the lion's body, from the 'Queen Mary Psalter', England (?London or East Anglia), between 1310 and 1320, Royal MS 2 B VII, f. 44r
Samson was renowned for possessing the strength to tear apart a lion with his bare hands. The illuminator who executed the Samson miniature chose to depict the moment when Samson revisited the dead lion to find bees nesting in its carcass, allowing him to take honey from the lion's body.

Detail of an historiated initial containing an Evangelist portrait that represents Mark as a lion, from a Book of Hours, Italy (?Bologna), c. 1390 – c.1400, Add MS 69865, f. 2v
The lion can be seen, more frequently, distinguishing the Gospel of Mark from the other Evangelists (this particular Mark has morphed into a lion-human hybrid).

Detail of an historiated initial showing Jerome and lion, from Jerome, Pseudo-Jerome and others, Epistles and treatises, Italy (?Venice), c. 1390, Egerton MS 3266, f. 8r
Similarly, Saint Jerome can be identified by his red Cardinal's hat and his attribute, a lion.

Detail of the border of a Calendar page for July, showing Leo and a man harvesting and gathering sheaves of wheat,  from a Book of Hours, France (Paris), c. 1410, Egerton MS 1070, f. 9r
In the bestselling devotional books of the Middle Ages, the calendar pages often display a zodiac sign paired with a typical activity for the month. Leo, the sign for July, heralded the harvest and he is frequently juxtaposed with scenes of peasants sharpening sickles or threshing grain.

Detail of Leo as a lion apparently forced into the July calendar by chain, Royal 2 B VII, f. 78r
The lion is often very well portrayed in manuscripts and this may be linked to their popularity as an exhibit in the Tower. The improvements to Matthew Paris' depictions of elephants, for example, are the result of his journey from St Albans to the Menagerie to draw Henry III's elephant from life. Looking at the miniature above, you can almost imagine William de Botton with his chains worth 14 shillings, cajoling his captive ...
To learn more about the lions and other exotic creatures, their keepers, and the vanished menagerie that was a distant predecessor of London Zoo, check out the Royal Beasts exhibition at the Tower of London.
- Holly James-Maddocks