05 January 2015
Melvyn Bragg and The Road to Magna Carta
To mark the 800th anniversary of Magna Carta, BBC Radio 4 is broadcasting a four-part series on this iconic document. Presented by Melvyn Bragg, Magna Carta was recorded in part at the British Library, and features Claire Breay (our Head of Medieval Manuscripts) and other members of the Magna Carta Project, including Professor Nicholas Vincent (University of East Anglia), Professor David Carpenter (King's College, London) and Professor Louise Wilkinson (Canterbury Christ Church University).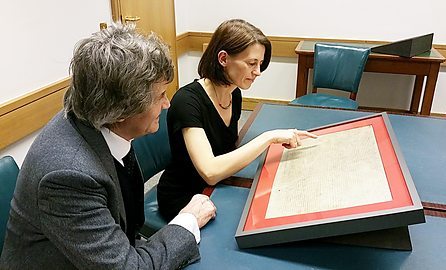 Melvyn Bragg looking at Magna Carta with Claire Breay
Episode 1, The Road to Magna Carta, is broadcast on BBC Radio 4 on Monday, 5 January, at 09:00, and will subsequently be available to listeners in the United Kingdom via the BBC iPlayer. The remaining episodes, Runnymede, 1215, The Aftermath of Magna Carta, and The Legacy of Magna Carta, will be aired at the same time this Tuesday, Wednesday and Thursday, 6-8 January.
2015 represents a very exciting year for Magna Carta at the British Library. We are holding our own blockbuster exhibition, Magna Carta: Law, Liberty, Legacy, opening to the public on 13 March, and curated by Claire Breay and Julian Harrison. In addition to displaying our two manuscripts of the original 1215 Magna Carta, we will be featuring other key documents, books and artefacts associated with the history and legacy of the Great Charter, including two major loans from the United States of America.We will be blogging more about the exhibition in the coming months. Meanwhile, in February we will be hosting all four 1215 Magna Carta manuscripts, from the British Library, Lincoln Cathedral and Salisbury Cathedral, when they are brought together for the very first time. 
Listen if you can to BBC Radio 4 this Monday -- we hope you enjoy the programme!
Julian Harrison