26 August 2015
British Museum Loans in Magna Carta: Law, Liberty, Legacy
As the British Library's major exhibition Magna Carta: Law, Liberty, Legacy draws to a close — it's been an amazing 5 months — we'd like to take this opportunity to showcase some of the key British Museum loans in the display. The Library and the Museum have a long, shared history and a very close working relationship; and so we were absolutely delighted when the British Museum so kindly agreed to lend us some amazing objects for our exhibition. We're very grateful to our counterparts in the Departments of Coins and Medals, Prehistory and Europe and Prints and Drawing for making this possible. It's another great example of collaboration between two national institutions (here's another blogpost about the loans from The National Archives). Magna Carta: Law, Liberty, Legacy would not have been the same without these key loans from our friends at the British Museum.
We hope that you enjoy reading about these British Museum loans and that, if you're in London, you have the chance to see them before the exhibition closes on 1 September. You may like to know that they can still be viewed in virtual form after that date on our dedicated Magna Carta website.
The seal matrix of Robert fitz Walter (British Museum 1841,0624.1): this, one of the finest silver seal matrices in existence, was used by Robert fitz Walter (d. 1235), one of the chief organisers of the baronial rebellion in 1215. Lord of Little Dunmow in Essex and holder of Castle Baynard within the city of London, fitz Walter styled himself during the rebellion as 'Marshal of the Army of God'. His seal shows him triumphing over a dragon or basilisk; on a separate shield in front of the horse are the arms of the de Quincy family, once thought to represent a fellow rebel, Saer de Quincy (d. 1219), Earl of Winchester, but more probably added later in the 13th century when the matrix was re-used by one of fitz Walter's descendants.
Double-edged sword (British Museum 1858,1116.5): this 13th-century sword has gained an added notoriety recently, since it was the subject of our blogpost focusing on its mysterious inscription. The sword itself was found in the River Witham, Lincolnshire, in July 1825, and was presented to the Royal Archaeological Institute by the registrar to the Bishop of Lincoln. Weighing 1.2 kg (2 lb 10 oz), and measuring 964 mm (38 in.) in length and 165 mm (6½ in.) across the hilt, it has a double-edged blade and, if struck with sufficient force, could have sliced a man's head in two.
Reliquary depicting Thomas Becket's martyrdom (British Museum 1854,0411.2): King John, like his father, Henry II, had an often very strained relationship with the Church. The martyrdom of Archbishop Thomas Becket in Canterbury Cathedral on 29 December 1170 cast a long shadow over the years leading up to the granting of Magna Carta. This champlevé enamel casket, made in Limoges, shows in the lower register Becket standing before an altar while an assailant attacks him with a sword; above Becket is placed in his tomb in Canterbury Cathedral.

Engraving of Stephen Langton showing the coronation charter of Henry I to the barons (British Museum 1830,612.88): this image represents a scene in which Stephen Langton, archbishop of Canterbury (d. 1228), purportedly showed a copy of Henry I's Coronation Charter to an assembly of barons in the abbey church at Bury St Edmunds. Although attired in medieval clothing, the drawing of each baron in the engraving was based on their 19th-century descendants, drawn from life. Their hair styles, replete with sideburns, betray their true era.
King John Delivering Magna Carta to the Barons (British Museum 1877,0609.1832): the majority of visitors to our exhibition are probably oblivious to this 18th-century print's sorry history. Reproducing a painting by John Hamilton Mortimer (d. 1779), the print imagines the scene of the granting of Magna Carta at Runnymede in 1215. The engraving from which this print was produced was begun by William Wynne Ryland in 1783, but later that year he was convicted of handling forged bills and was hanged at Tyburn in London. Ryland's widow, Mary, raised a subscription for this print to be published in her husband's memory.
The Savernake hunting horn (British Museum 1975,0401.1): this hunting horn must win the competition as the most beautiful object in our Magna Carta exhibition. Positioned in the section of the show which deals with the Forest Charter, the horn belonged to the Wardens of Savernake Forest, Wiltshire, but was made in Italy, of elephant ivory. The top band is divided into 16 compartments, 12 of which depict hunting dogs and animals of the chase. The remaining four compartments contain engraved figures of a king and a bishop, each with a hand raised, together with a forester blowing a horn, and a seated lion.
The Embleme of England's Distractions, 1658 and 1690 (British Museum 1848,0911.242, 1932,1112.4): this celebrated engraving, known unofficially as 'Cromwell Between Two Pillars', underwent a transformation between these two versions, published in 1658 and 1690 respectively. The original version, attributed to William Faithorne the Elder (d. 1691), depicted Oliver Cromwell (d. 1658), the Lord Protector, upholding the rule of law and the Protestant faith. The pillar on the right is decorated with allegorical figures of England, Scotland and Ireland, that on the left with several legal ideals, among them 'Magna Charta'. The original print was reworked by Joseph Claver in 1690, when Cromwell's head was replaced with that of King William III (r. 1689–1702). In the aftermath of the Glorious Revolution (1688–89), Jacobite opponents to the new regime likened the new monarch to Cromwell, since they considered both men to be illegitimate usurpers of the English Crown. By refashioning the engraving with William III's head, the meaning of the print had been fundamentally altered.

The Contrast (British Museum 1861,1012.47): originally engraved by Thomas Rowlandson (d. 1827) in 1792, this print contrasts the virtues of 'British Liberty' with the dangers of Jacobin 'French Liberty'. Comprising two roundels, Britannia is depicted on the left holding 'Magna Charta' and the scales of Justice, with a lion reposing peacefully at her feet. On the right, a gruesome French Medusa, carrying a trident impaled with hearts and a severed head, tramples a decapitated corpse underfoot, with a man hanging from a lamp-post in the background.
Earthenware mug depicting British and French Liberty (British Museum 1982,1101.1): this 18th-century earthenware mug from Staffordshire reproduces Thomas Rowlandson's engraving of The Contrast. The image was transfer-printed on to the mug, using an innovative decorative technique introduced in 1753.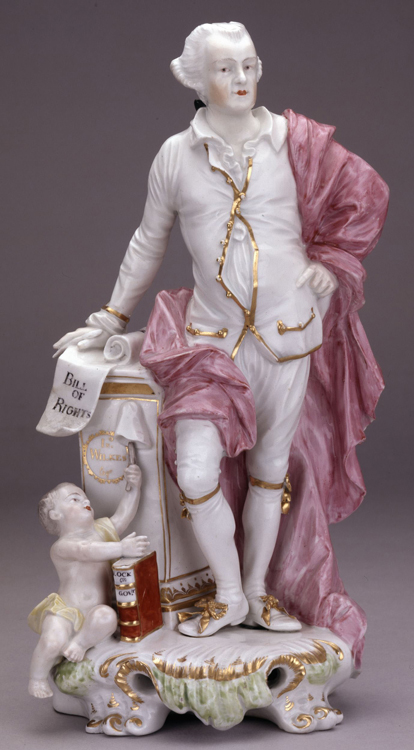 Porcelain figure of John Wilkes (British Museum 1887,0307,II.46): this figurine is our Loan Registrar's favourite item in the exhibition. John Wilkes (d. 1797) had been imprisoned for libelling King George III in 1763. Shown hand on hip, Wilkes poses nonchalantly among symbols of English liberty. The plinth upon which he leans has two scrolls, one inscribed 'Magna Carta' and the other 'Bill of Rights'; at his feet a putto holds a Phrygian cap and a treatise on government by John Locke (d. 1704).
Design for a column at Runnymede (British Museum 1952,0403.3): imagine if this column had ever been erected on the floodplain at Runnymede! Proposed by the followers of the statesman, Charles James Fox (d. 1806), some £1300 was subscribed to fund the erection of a statue to King William III (r. 1689–1702) atop an enormous Doric column, dedicated to the Glorious Revolution. This drawing by William Thomas is its only material legacy.

Revolution Pillar (British Museum 1868,0808.5828): Charles James Fox didn't get off lightly with the proposed scheme to build a column at Runnymede. He was lampooned by his opponents in this contemporary print, which depicts a fox hanging from a gibbet and excreting 'Runny Mead' from its backside!

A New Cure for Jackobinism (British Museum): in 1810, Sir Francis Burdett, MP (d. 1844), was imprisoned in the Tower of London for breaching parliamentary privilege. His imprisonment caused an outcry, and many popular prints represented him, Magna Carta in hand, as a noble defender of English liberty. Hand-coloured by Charles Williams, this print depicts Burdett behind bars in the Tower menagerie, appealing to King George III (r. 1760–1820) who scrutinises him through his glass. Presenting a paper bearing the inscriptions 'Magna Charta' and 'Trial by Jury', Burdett declares 'Magna Carta violated'; the King's guide explains that Burdett 'raves much about a thing call'd Magny Charty, which some say is nothing but nonsence'.

Procession Attending the Great National Petition to the House of Commons (British Museum 1880,1113.2756): during the 19th century the Chartists campaigned to have the franchise extended to working men. They presented several petitions to Parliament, the largest of which, submitted in 1842, was written on paper some 6 miles (10 km) long and weighed over 48 stone (more than 300 kg). The petition contained the signatures of 3,317,702 people, one-third of the adult population of Great Britain. The central view of the print shows the great Chartist procession that accompanied the petition along Whitehall to Parliament, with flags unfurled proclaiming 'Reform' and 'Liberty'.

Inkstand in the form of King John's tomb (British Museum 1987,0609.1): we love this novelty inkstand, made by Chamberlain & Co. (later known as the Worcester Royal Porcelain Company) during the 19th century. This example is based on a famous local monument, namely the 13th-century tomb of King John in the choir of Worcester Cathedral. The inkstand is made of bone china, with the effigy of John on the lid, flanked by St Oswald and St Wulfstan. The base is in the shape of the tomb chest, and contains cavities for three inkwells, together with a pen-tray. A decorated version of the inkstand cost four guineas in 1841; a version altered to form a paperweight also sold for four guineas, with a 'stone colour' version of the same priced at two guineas. The inkstand is of considerable antiquarian interest because it depicts the effigy with its original, medieval colours, traces of which were still visible until 1873 when the monument was gilded.
Engraving of the burnt Magna Carta (British Museum 1861,0513.331): this is probably one of the most important items in our Magna Carta exhibition, since it replicates the original condition of one of the four surviving copies of the 1215 Magna Carta, before that manuscript was damaged by fire in 1731. This engraving was published by John Pine (d. 1756) in 1733, by command of the commissioners appointed to investigate that fire. The coats of arms of King John's barons around the edge of the text are an embellishment, added by Pine. 
Magna Carta: Law, Liberty, Legacy, the British Library's current major exhibition, closes on 1 September 2015 (late openings have now been extended to Monday-Thursday).
Julian Harrison, Co-curator, Magna Carta: Law, Liberty, Legacy