07 August 2015
Magna Carta Catalogue On Special Offer
Our wonderful Magna Carta exhibition is coming to an end — it closes on 1 September 2015. But all the exhibits can also be viewed in the accompanying illustrated catalogue, edited by curators Claire Breay and Julian Harrison. The catalogue features essays by leading experts on the history of Magna Carta, together with descriptions and colour images of the exhibits, and a modern English translation of the 1215 Magna Carta. And we're delighted to say that the paperback version of the catalogue is now on special offer at the British Library and the Library's online shop, for only £15 (ISBN 9780712357630). If you're unable to come in person to the show, you want a memento of your visit, or you're simply interested in the story of Magna Carta, this is the book for you!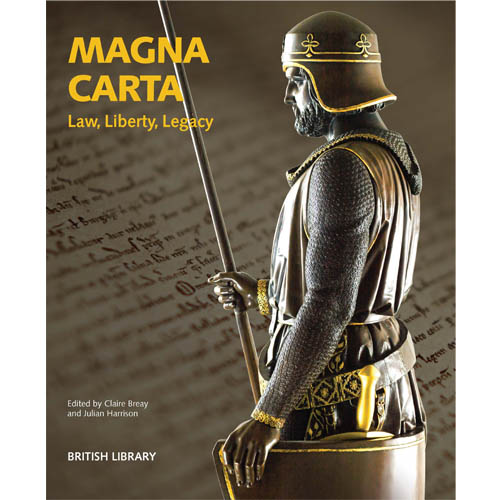 The exhibition catalogue contains the following essays, in addition to the descriptions of the exhibits:
'Kingship and Crisis', by Nicholas Vincent (University of East Anglia and Principal Investigator of the Magna Carta Project)
'Runnymede and the Granting of Magna Carta', by Nicholas Vincent
'Revival and Survival' by David Carpenter (King's College, London)
'English Liberties' by Justin Champion (Royal Holloway) and Alexander Lock (British Library)
'Colonies and Revolutions' by Matthew Shaw (British Library)
'Radicalism and Reform' by Alexander Lock and Justin Champion
'Empire and After' by Zoë Laidlaw (Royal Holloway)
'Magna Carta in the Modern Age' by Joshua Rozenberg (legal commentator and journalist)
An early 17th-century portrait of King John from the National Portrait Gallery, described and illustrated on pp. 118–19 of the Magna Carta catalogue
The reviews of this catalogue, as of the exhibition, have been overwhelmingly positive, with Tim Tatton-Brown in Current Archaeology (June 2015) describing it as a "splendid catalogue ... wonderful and very full".
The Old English Hexateuch, 11th century, from the British Library, described and illustrated on pp. 26–27 of the Magna Carta catalogue
Magna Carta: Law, Liberty, Legacy is on at the British Library until 1 September 2015. Tickets cost £12 with many concessions available, and under 18s enter for free.
A Chartist poster, 1839, from The National Archives, described and illustrated on pp. 186–87 of the Magna Carta catalogue