14 October 2015
The Unicorn Lives On
On 20 September of this year our eagle-eyed friend and former colleague Dr Alixe Bovey drew our attention to that day's edition of The Sunday Times.  In that issue was an article about the latest work by the artist Sir Peter Blake, who is perhaps best known for designing the iconic album cover for the Beatles' Sgt. Pepper's Lonely Hearts Club Band.  Sir Peter had created a mural to celebrate the 800th anniversary of the Lord Mayor's Parade, compiling dozens of images to capture the spirit of the parade across the centuries.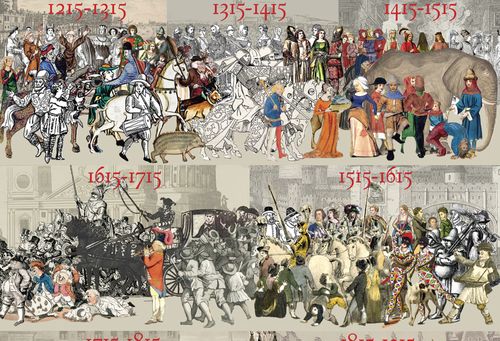 In the earliest years of the parade can be found the familiar figure of our 'unicorn lady'; can you spot her amongst the crowds?  She first made an appearance on 1 April 2012 in our post Unicorn Cookbook Found at the British Library, and now you can see her between the years 1315-1415 and 1514-1515 (click the above image for a larger version).  It is a testament to the power of medieval images that they can continue to be reused and remixed today in such interesting ways, and to such astounding effect.  We are absolutely thrilled.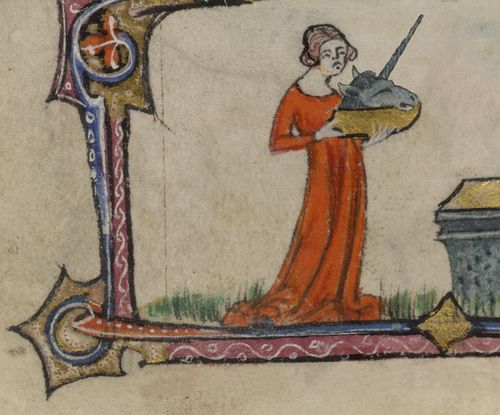 Bringing the unicorn to table, from the Unicorn Cookbook
We've found a number of other images from British Library manuscripts in Sir Peter's work, including the dancing nun of the Maastricht Hours (for more on that manuscript, see Monkeying Around with the Maastricht Hours).  Please do let us know if you discover any others, either in the comments below or on Twitter @BLMedieval. 
-   Sarah J Biggs